by Eldon MacDonald (edited by @ChrisRalphTHW)

The Big Dilemma
I contemplated not doing any NHL draft rankings or writing this season due to a variety of life events, but I watched a New Jersey Devils' game recently and I had an epiphany of sorts. The Devils had two rookies in the line-up who I have followed for a long time: Reid Boucher, a personal favourite of mine and Éric Gélinas, a player who always had the size and skills but never seemed to be able to put it all together. For me, the game was like a father seeing his kids succeed in life. As a result, I decided to breakout the spreadsheets and once again reveal some analyses that comes out of THW's NHL Draft War Room. It will also be interesting to compare NHL Central Scouting's rankings with TSN's Bob MacKenzie's Midterm Rankings to be released later today.
Rationale Behind the Combined Rankings
As you are aware, NHL Central Scouting produces a segregated set of rankings. That is, they are separated based on North American skaters and goalies as well as European skaters and goalies – four lists in total. I combined the four rankings from NHL Central Scouting by employing the following methods:
Round One: Took the average of the December or January rankings from some of the major scouting services and inserted the player from the European or Goalie rankings where the average suggested.
Rounds Two and Onward: For the remaining rounds, I simply inserted 5 European skaters and 3-4 goalies per round based on the results of the 2013 draft.
The Quest for Number One?
There are five prospects that have a legitimate chance of being selected number one for the 2014 draft. NHL Central Scouting has them ranked as follows:
1. Sam Bennett – Kingston – Centre – 6'0, 178 lb.
If you were surprised NHL Central Scouting selected Sam Bennett as the top prospect thus far in 2014, see Brock Otten's (OHL Prospects Blog) comment below. Sam is that all around player with high-end leadership abilities that coaches covet.
Why is Sam Bennett getting 1st overall consideration? In the 4 games he's been out, Kingston is 0-4 and has been outscored 21 to 9, #OHL

— OHL Prospects (@BrockOtten) January 20, 2014
2. Leon Draisaitl – Prince Albert – Centre – 6'2, 208 lb.
Leon has the potential to be that big number one centre that many teams are missing – size, scorer, set up man. Ryan Kennedy of the Hockey News has him rated number one.
My mid-term 2014 draft rankings are out and Leon Draisaitl is No. 1 overall: http://t.co/xmJSr7t6WG

— Ryan Kennedy (@THNRyanKennedy) January 15, 2014
3.  Aaron Ekblad (One-on-One Interview) – Barrie – Defense – 6'4, 216 lb.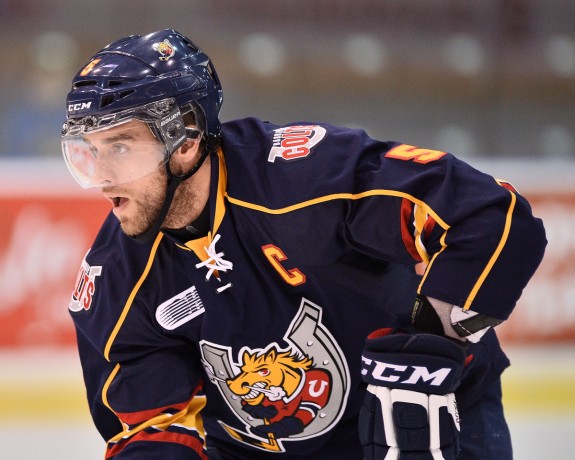 The man-child, Shrek the Ogre, as he is nicknamed, is a Shea Weber type defensemen who doesn't just run over forwards when he pinches at the blue line, he obliterates them. He also has a heavy shot that he manages to get on goal just when it counts. He is my personal choice for number one; however, he could fall to four or five if the teams drafting need a centre – similar to the Seth Jones scenario last year. Aaron can have a huge impact on a game, as evident in the below quote:
@TPS_Guy @ProHockeyLife_ @NHLCentralScout Ekblad: Complete D with Off and Def amazingly efficient. Tough to find a franchise D-man like this

— Félix Perreault (@Perreault_Felix) January 22, 2014
4. Sam Reinhart (One-on-One Interview) – Kootenay – Centre – 6'1, 185 lb.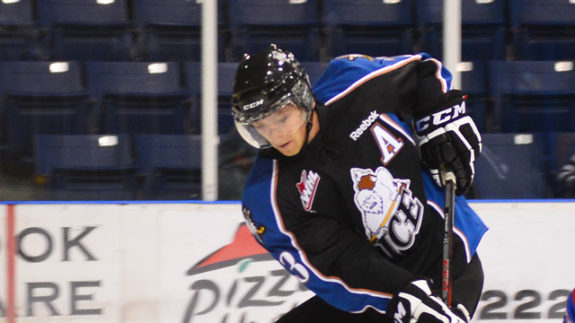 Sam is a guy with high-end skill and leadership qualities. He was the only 2014 draft-eligible forward selected by Team Canada to play at the 2013 U20 World Juniors. Since he is a centre, he is my bet to go number one. He is the Sam many rankings have as the number one prospect. His Dad, Paul Reinhart, was selected 12th in the 1979 draft and played eleven seasons in the NHL. His brother, Griffin, was drafted 4th overall in the 2012 draft and his brother, Max, was drafted 64th overall in the 2010 draft.
VIDEO: Sam Reinhart ties it up for Canada: http://t.co/tWhMXhdInP #TSN #2014WJC

— TSN (@TSN_Sports) December 28, 2013
5. Michael Dal Colle – Oshawa – Left Wing/Centre – 6'2, 179 lb.
Dal Colle may have the highest offensive potential in this group of five; however, he doesn't possess the elite leadership and all around qualities of some of the others in this top tier of prospects. Michael does have the ability to turn it up more than a notch and could ultimately still end up as numero uno.
#OHL at #BMOTP! @MDalColle71 of @Oshawa_Generals, @TonyDee07 of @StingHockey, @Alex_Nedel39 of @PWhalers with media pic.twitter.com/9RU5KPTGKF

— OntarioHockeyLeague (@OHLHockey) January 14, 2014
2014 NHL Draft Rankings War Room:
Combining Central Scouting's Midterm Rankings*
*Editor's Notes:
The table display approximately 30 of the prospects at a time; simply scroll down to view the other prospects.
Only a portion of the table displays by default; you can scroll over to see the rest of the player demographics and stats or select "View full-size workbook" option, which is the icon in the bottom right hand corner, to view the full table.
The 1st column on the left is players' rankings based on the combination of NHL Central Scouting Service's four separate rankings.
The 3rd column is NHL's grade for the player.
The 4th column (E-Mac) is Eldon MacDonald's January rankings. (Not to be confused with THW's official The Next Ones rankings which will be released at a later date).
On the bottom of the table,  if you click on "E-Mac January Rankings" tab, the rankings will sort based on E-Mac's rankings.
A link to Elite Prospects statistics for most of the players is also included (click on individual player name).