There is good news for the Calgary Flames during the current rebuild.
In the early stages of a rebuild in Calgary, the team is sticking with many of its young prospects in Calgary, Abbotsford and the junior leagues. If patience is a virtue, the Flames and their fans will require a heaping helping before the team is ready to compete for a playoff spot.
Young Flames
In Calgary, Sean Monahan made the big club as an 18 year-old and has already shown maturity beyond his years. His attitude and work ethic should allow him to cope with the long rebuild. T.J. Brodie has played well on defense and his pairing with captain Mark Giordano gives him valuable experience and a great mentor. Brodie's passing and skating skills should be part of the Flames' future.
Mikael Backlund has been inconsistent since being drafted in the first round in 2007 but there is no reason he can't be part of the team's rebuilding plans. When paired with a talented player like Jiri Hudler, he can provide additional scoring and has played better lately with more responsibility and ice time.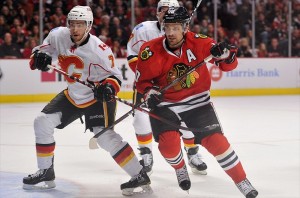 Lance Bouma is the type of forward who brings energy and a willingness to do whatever he can to help the team win. Joe Colborne is the big center the Flames have been lacking for a long time. He is starting to use his size more and has the potential to become a Joel Otto type of player must have during a rebuild. At 26, Kris Russell is still young for a defenseman and brings speed and passing ability on the back end.
The Flames have the starting blocks of a team in Calgary but needs to draft top end talent, forwards to play in their top six rotation and defensemen to be minute crunchers on defense. Only time will tell if some of these players will come from Abbotsford but the Flames' farm team is young and competitive in the AHL this season.
Future Flames
Ben Street leads the Heat in scoring with 17 goals and 16 assists for 33 points and was recently recalled by the Flames. The Heat have six players with at least 25 points so far this season: Chad Billins (31), Max Reinhart (30), Corban Knight (28), Markus Granlund (28, including 16 goals), and Ben Hanowski (25). Sven Baertschi started the season in Calgary but was sent down in December when management felt he needed more time to develop in the AHL. The 2011 first rounder has a lot of offensive talent and shows promise of developing into an offensive threat.
While the Flames may be lacking a Duncan Keith type of player in their system, they do have a number of defensemen that could be part of the lineup down the road. Tyler Wotherspoon, John Ramage and Patrick Sieloff could provide solid depth on defense.
Goaltender Joni Ortio has been very good for the Heat playing in over 20 games and sporting a 2.30 average GAA. He has a 16-4 record so far, including one shutout.
The Flames have more solid prospects in their system, particularly in U.S. colleges. Four players are in contention for the Hobey Baker Award, given to the most valuable player in the U.S. Boston College teammates Johnny Gaudreau and Bill Arnold are among the top three scorers in Hockey East. Gaudreau leads all skaters with 21 goals and 47 points in only 23 games (2.04 point per game average) while Arnold is third in scoring with 33 points in 23 games. Both Flames prospects were chosen in the fourth round, Arnold in 2010 and Gaudreau in 2011. This is the kind of drafting very successful teams need to pull off in order to be competitive in the playoffs.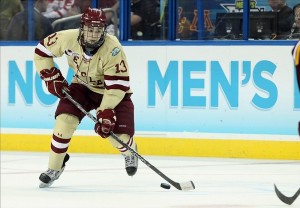 Jon Gillies is considered the best goaltender prospect for Calgary, providing consistent netminding for Providence College. He went 11-3-4 and posted a 2.00 GAA and .936 save percentage. He was the #1 goaltender for Team USA at the World Junior Tournament last month despite the disappointing result for the U.S. Also in the running for the Hobey Baker is Kenny Agostino, who leads Yale in scoring with 15 points in 17 games.
Beside Monahan, the Flames chose Emile Poirier and Morgan Klimchuk in the first round of last year's draft. Poirier has 60 points in 42 games for the Gatineau Olympiques and is sixth in scoring in the QMJHL while Klimchuk has 40 points in 33 games for the Regina Pats, despite missing a few weeks due to a lower body injury. Both forwards should be part of the Flames' future forward ranks.
There are more potential prospects that Flames management is keeping an eye on. Brett Kulak is averaging a point a game with the Vancouver Giants, Ryan Culkin is now in Drummondville and Mark Jankowski in Providence. It has been a long time since Calgary has had such good prospects and it needs to continue adding top end talent to make this rebuild successful.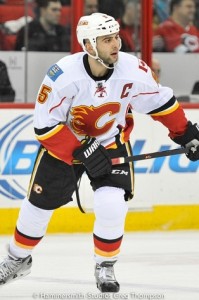 Balance of Youth & Experience
With all these young players, leadership is important and players like Hudler, Matt Stajan, and captain Mark Giordano can be crucial in these tough times. Hudler has been a pleasant surprise as a consistent point getter, bringing experience from his successful days in Detroit, including as part of the 2008 Stanley Cup champion team. Stajan just signed a new long-term contract and will help guide young centres like Backlund, Monahan and Colborne. Giordano is an excellent captain and mentor for the young team. The key to the Calgary rebuild is balancing the potential of youth with experience and leadership, and continue to add quality assets.
Check out our partners at TiqIQ for the best deals on Calgary Flames tickets for all 2013-14 games.