by Eldon MacDonald (edited by @ChrisRalphTHW)
The 2015 NHL Draft Rankings War Room: October Edition brings you the Top 60 ranked prospects as compiled by THW's Eastern Canada based hockey bird dog, Eldon MacDonald. The Next Ones Early Look (a.k.a. Chris's List) can be found here.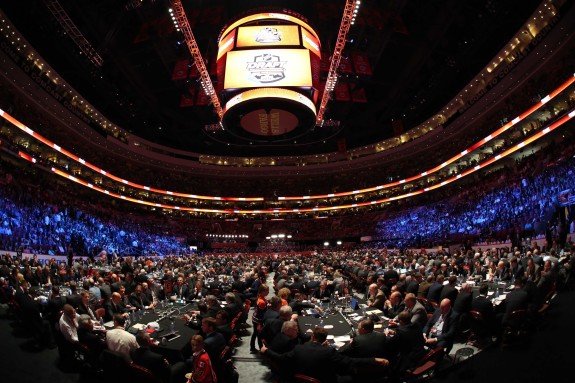 Update: Prospects Covered Expanded from 400 to 575
This update expands the previous list of prospects covered from 400 to 575, updates the projected 2014-15 teams for many of the prospects and also updates the height and weight for most of the major junior prospects – OHL, QMJHL, USHL, WHL.
2015 NHL Draft War Room Top 60
The previous rankings were completed prior to any hockey being played this year. Often, a player that enters his draft year performs at a completely different level of play – bigger, stronger, faster, more responsibilities, more ice time, more power play time. Dylan Strome, like his older brother Ryan Strome (NY Islanders – 2011 – 5th overall) is an excellent example of this. Both brothers brought their game to a completely new level in their draft year. It will be interested to see if Dylan can go higher than Ryan did; I currently have Dylan 4th but the season has only just begun.
The Fantastic Fifteen
Here are a few brief thoughts on the top 15 – yes, there are fantastic prospects beyond the top 15.
Connor McDavid – Erie, OHL – C, 6'1, 187
With twenty-two points after eight games and the OHL scoring lead, I think it is safe to say this superstar in the making is doing all right. He may be a generational type star like Sidney Crosby.
Jack Eichel – Boston University, Hockey East – C, 6'2, 194
The other superstar in the making, Jack Eichel, looks like he is prepared to give Connor McDavid a real run for number one. He was very impressive after the first period in the US Top Prospects game period (nobody looked that good in the first period other than the goalies) playing on a line with Jeremy Bracco. There doesn't appear to be a lot separating the two potential superstars and a team could easily swing for the big body feel that a Jack Eichel in your lineup could provide.
Noah Hanifin – Boston College, Hockey East – D, 6'3, 205
Noah Hanifin also had a very good US Top Prospects game although he didn't stand out as much as Jack Eichel and Jeremy Bracco. Noah is that NHL-sized defenseman with an elite skating ability and all the physical and mental tools that NHL teams are looking for in a defenseman these days.
Dylan Strome – Erie, OHL – C, 6'3, 187
It was apparent right from the first puck drop in the Ivan Hlinka tournament that Dylan Strome was going to be that special player that many thought he could be this year. Bigger, stronger, faster, providing real offense, Dylan has almost kept up with his famous teammate, Connor McDavid, with twenty-one points a game after eight games. He was also a real sniper in the Ivan Hlinka – getting a goal per game in the tournament.
Oliver Kylington – Farjestads, SHL (top Swedish professional league) – D, 6'0, 181
Just one look is all it should take to see that Oliver Kylington is poetry in motion – the ease and naturalness of his skating and passing are at the highest level. While his overall game, both offense and defense, has not yet reached the elite level that his physical tools would suggest, I am betting heavily that they will improve enough that Oliver Kylington will be drafted in the top ten and likely in the top five.
Pavel Zacha – Sarnia, OHL, C, 6'3, 210
Pavel Zacha is that big-bodied center with separation speed, good hockey sense and passing ability that team's drool over. He is still in the process of acclimatizing himself to the OHL (nine points in nine games) but when that process is over, watch out OHL. Zacha is trending upwards, playing a lot better the last couple of games).
Evgeny Svechnikov – Cape Breton, QMJHL, LW, 6'3, 205
Big body, excellent skater and passer, likes to swoop to the net like Valeri Nichushkin (Dallas – 2010 – 10th overall). Even with 18 points after 13 games, I don't feel we have seen anywhere near the best from this player yet.
Mathew Barzal – Seattle, WHL, C, 6'0, 177
Mathew Barzal is that Sam Reinhart (Buffalo – 2014 – 2nd overall) type thinker that outthinks his opposition. Mathew also possesses elite passing and stickhandling abilities. Mathew had a good Ivan Hlinka tournament where he helped bring the gold back to Canada with seven points and a plus five rating in five games. He also is looking good out of the gate in the WHL with eleven points in ten games.
Mitch Marner – London, OHL, C, 5'11, 164
I liked Mitch Marner last year in London where he had 59 points in 63 games. His even strength points per sixty minutes (ES 60) of 3.1 were the best of the first year draft eligible players for 2015 in the CHL not named Connor McDavid who had 3.9. This year, he was, in my estimation, Canada's best skater at the summer Ivan Hlinka tournament (seven points and a plus five rating in five games). What I particularly like about Mitch is that he is a complete player with size his only major shortcoming. Unfortunately, Mitch, like the rest of the London Knights, is off to a rather slow start (five points in nine games). I expect Mitch to pick it up substantially as the season moves on.
Mikko Rantanen – TPS, Liiga (top Finnish professional league), C/RW, 6'4, 196
The Finnish Bull likes to go the net like a big man should; he also likes to erase the graffiti of ugly defenseman along the walls. This kid has got "game" in him and has decent skills to boot. He too is off to a slow start with just five points in eleven games. He will have to pick it up if he wishes to remain in the top ten. However, I would not expect for him to fall far if he does at all as his big man game is just too attractive to most teams.
Paul Bittner – Portland, WHL, LW, 6'4, 202
Paul Bittner is yet another big physical power forward who is not afraid of traffic or playing in front of the net. He also has the skating, vision and passing skills to accentuate his big-bodied physical presence. Paul had an excellent pre-draft year. His ES 60 of 2.8 was tied for third best of first year 2015 draft eligible players in the CHL (the others being, Lawson Crouse and Tyler Soy). Like his Portland Winterhawks team, Paul is off to a slow start with just three points in nine games. However, he is getting his chances. He had two breakaways in the US Top Prospects game but just couldn't bury them. Paul just has too much talent not to break out from his slow start.
Jordan Greenway – US U18 NTDP, USHL, LW, 6'5, 222
Jordan Greenway is a player of great size, possessing very good skills and decent vision. He is a player that would look very nice in the top ten if he were to improve his consistency and be all he could be most of the time. Where he ends up on draft day is still a mystery, a mystery that only Jordan can solve. Jordan has started the season at almost a point a game pace after eight points after nine games.
Lawson Crouse – Kingston, OHL, LW, 6'3, 200
So who is Lawson Crouse? Here is what I believe: Lawson Crouse is a power forward with good skills, a good work ethic and a willingness to do what it takes to win – the type of player all teams covet. What I am still unsure of is how much of a scorer Lawson will be at the NHL level. Is he that elite scorer that he showed at the Ivan Hlinka tournament where he tied for the lead in goals scored (six) with Brock Boeser of Team USA or is he a secondary scorer worthy of a second or third line. NHL scouts think highly of Lawson as Bob MacKenzie's pre-season poll of ten NHL scouts has him fifth overall. I like him a lot but I am still uncertain what his scoring level will be. I am sure he will straighten it all out for me as the season progresses. Lawson has six points in his first eight games in this year's OHL season.
Jérémy Roy – Shawinigan, QMJHL, D, R, 6'0, 182
Should be called an offenseman since he is always starting or participating in the rush. The only major factor holding him back is his modest size, but he is so solid on his skates that this will not hold him back from being successful in the bigs. He is a treat to watch.
Jeremy Bracco – US U18 NTDP, QMJHL, C, R, 5'9, 173
You have to love this guy even at 5'9. He looked amazing at the US Top Prospects game playing with Jack Eichel. I am not sure if he made Jack look good or Jack made him look good (I suspect a little of both; in fact, I am sure a little of both). Jeremy is also off to a rousing start with twenty points in eleven games.
The Others
Although many of the top prospects do not yet have the results expected of them as a result of their skillsets and/or their play last summer, most will come around. However, some like Nicolas Roy (ranked at 22) will have to turn up their game substantially or risk being left behind. I tuned in to see him last night versus Québec but he was so invisible that I switched to the Barrie-Kitchener and Halifax-Cape Breton games.
There is also at least one prospect each year who will fool everybody such as Hudson Fasching (Los Angeles – 2013 – 118th overall). I had him in the first round most of the year because he was that big power forward that everyone was looking for. However, I had to move him to the third round at one point because of intensity and consistency issues. Eventually I ended up rating him as a late second as a result of a decent U18, but the Kings did not take him till the fourth round. Fast forward to last season and Hudson's intensity and consistency issues seemed to have been left behind and you have that big power forward that everyone coveted in the first place. Hudson was traded to Buffalo last year as part of the deal for Brayden McNabb.
New Prospects to the First Round
Brock Boeser (24) – Waterloo, USHL, C, L, 6'1, 192 (6-6-3-9)
Jansen Harkins (25) – Prince George, WHL, C, L, 6'1, 180 (11-3-14-17)
Jakub Zboril (26) – Saint John, QMJHL, D, L, 6'2, 185, (12-1-5-6)
Matthew Spencer (28) – Peterborough, OHL, D, L, 6'2, 194 (7-1-3-4)
New Prospects to the Second Round
Brandon Carlo (31) – Tri-City, WHL, D, R, 6'5, 185, (11-0-5-5)
Christian Fischer (36) – US U18 NTDP, USHL, C, R, 6'1, 212, (11-5-6-11)
Filip Chlapik (38) – Charlottetown, QMJHL, C, L, 6'1, 183, (13-6-7-13)
Jesse Gabrielle (48) – Brandon, WHL, LW, L, 6'0, 214 (10-7-3-10)
Gustav Bouramman (56) – Sault Ste. Marie, OHL, D, R, 6'0, 185 (8-2-4-6)
Gabriel Gagné (58) – Victoriaville, QMJHL, RW, R, 6'5, 183, (12-3-4-7)
Justin Lemcke (59) – Belleville, OHL, D, R, 6'2, 202, (8-2-2-4)
New Honourable Mentions (61 to 70)
Guillaume Brisebois (HM) – Acadie-Bathurst, QMJHL, D, L, 6'2, 173, (13-1-5-6)
Jake DeBrusk (HM) – Swift Current, WHL, LW, L, 6'0, 177, (13-8-8-16)
Joel Ek Eriksson (HM) – Färjestad J20, SWE J20, C , L, 6'2, 181, (12-9-4-13)
Jesper Lindgren (HM) – MODO J20, SWE J20, D, R, 6'0, 161, (9-3-8-11)
Matt Luff (HM) – Belleville, OHL, RW, R, 6'2, 181 (8-2-5-7)
Blake Speers (HM) – Sault Ste. Marie, OHL, C/RW, R, 5'11, 185, (8-4-9-13)
The Sleepers
Roger Karrer (SL) – GC Küsnacht Lions, NLB (second tier Swiss professional league), D, 5'11, 176, (12-0-2-2) – Was good at the Ivan Hlinka this summer but did not dominate like he did at the U18 last spring. Size is a concern but this is a player with game and he plays bigger than his size would suggest.
Denis Malgin (SL) – ZSC, NLA (top tier Swiss professional league), C, 5'9, 176, (6-0-4-4) – Started the season as the first line center for ZSC of the top tier Swiss professional league so obviously the kid got talent. Hopefully we will see Denis at the U20 in Canada this December so we can gauge how well he plays on the smaller rink.
Médric Mercier (SL) – Sault Ste. Marie, OHL, D, L, 6'4, 202, (8-1-2-3) – I liked this guy a lot more than I anticipated I would. He is big, mobile and agile. However, I still need to see more of him to get a good handle on his defensive game but I liked what I have seen so far.
Jiri Smejkal (SL) – Moose Jaw, WHL, LW, L, 6'3, 195, (10-0-5-5) – Czech kid settling in with the Warriors playing in all situations, plays a North American style game, got in his first fight, has been more of a passer so far, plays an energy style game suited for an NHL third line.
Bailey Webster (SL) – Saint John, QMJHL, D, R, 6'5, 210, (9-0-0-0) – Started the season slowly and tentative, was not noticeable and kept his game very simple. However, in the last game or so I started noticing him use that big body like he should on occasion. Bailey is still very much a work in progress but there is hope.