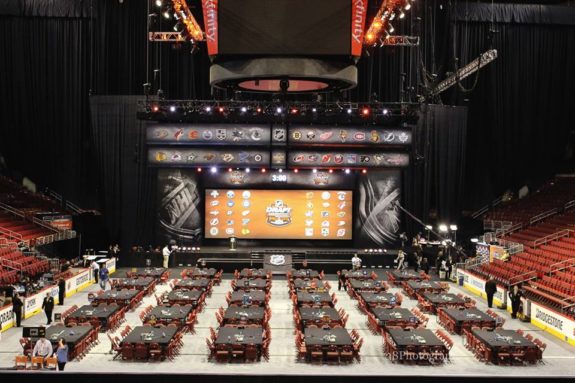 With the 2014 NHL
City of Brotherly Love 
Draft long since in the books,  let's take an early season glimpse at some of the talented young guns to keep an eye out for for the 2015 NHL Draft to
 be held on June 26–27, 2015 at the 
BB&T Center
 in 
Sunrise, Florida
. This is a talent-laden draft  with some potentially franchise-altering players available.
There will undoubtedly be plenty of jockeying for position amongst the eligible prospects with almost a  full season of hockey yet to be played.
The McDavid-Eichel-Hanifin Sweepstakes
Two #Massachusetts natives could be among top 3 draft picks. McDavid, Eichel top #NHL Central Scouting watch list http://t.co/PfzuAyNc6g

— Shawn Hutcheon (@ShawnHutcheon) September 23, 2014
One hopes franchises do not tank to land a prized prospect, but it has happened in the past. This season, like others, has some catchy phrases highlighting the next wave of phenoms at the head of the class. Whether a team is displaying Dishonour for Connor [McDavid], going to Slack for Jack [Eichel] or Tankin' for [Noah] Hanifin,  for the top three picking franchises there are potential cornerstone players available. Beyond those three consensus top picks remains a plethora of talent extending beyond the first round.
2015 NHL Draft Rankings:
The Next Ones Fall Edition – Top 30
Only a portion of the table displays by default; you can scroll over to see the rest of the player demographics and stats or select "View full-size workbook" option, which is the icon in the bottom right hand corner, to view the full table.
The 1st column is The Next Ones ranking of the prospect
A link to Elite Prospects statistics for most of the players is also included (click on individual player name).
The table is searchable – CTRL/Command "F" on the table brings up the search feature.
About Chris's List – The Next Ones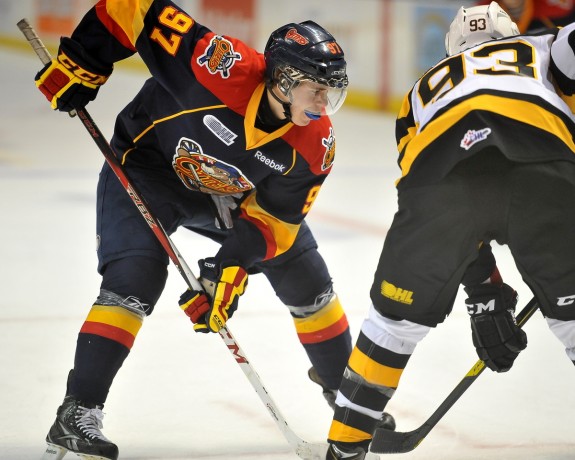 A common query is how these particular rankings are formulated. There is now an abundance of sources of hockey prospect information. For instance, many hockey fans flock to TSN, which has Craig Button's Craig's List, which is a "monthly rankings represent his individual assessment of where players are slotted in the NHL draft. They will be posted in addition to Bob McKenzie's consensus NHL rankings, which is compiled four times a year. Bob's rankings represent the consensus NHL team view of where players are slotted in the NHL draft."
In contrast, The Next Ones rankings take into account many influences. While I obviously cannot reveal all my trade secrets, the following are some of the considerations contemplated when compiling the rankings:
First of all, my personal prospect analysis and scouting reports from live player viewings (due to geography restraints mainly limited to WHL and to Hockey Canada events/camps) and video analysis.  Admittedly, there is nothing comparable to live viewings, but video does have its place, albeit with limitations.
Secondly, my personal ranking system with influences from contacts whom I consider respected, knowledgeable, passionate hockey people with unique insight from all over this great hockey universe of ours. Many thanks to those who passionately offer up their unequivocal outstanding scouting analysis to me – you know who you are.
Thirdly, I utilize some unique statistical analysis for guidance purposes only. Compiling and merging all of data along with copious amounts of research results in Chris's List (a.k.a The Next Ones rankings) coming to fruition.
The Next Ones – Prospect Focus
Emphasis is placed on prospects who thrive with respect to hockey sense, puck skills and puck movement, as well as skating.

Intangibles are key as well

Defense can be taught

Physical attributes: prospects will obviously grow – pairing with appropriate trainer can improve this area immensely, so not too concerned if not optimal at time of drafting.

Player Development

If somehow The Next Ones team of prospect profilers were responsible for a professional hockey team's scouting: hypothetically, would be gearing towards prospects who support the vision of a team with great puck possession capabilities and a relentless, situational awareness puck pursuit mentality.
_________________________________________