With the 2015 free agent class behind us for the most part, we begin to look forward to the class of 2016. Unlike this year, where the class was very weak compared to usual, 2016 could possibly be one of the strongest markets in recent history. Here are the top 10 superstars that are pending free agents come July 1st, 2016.
1) Steven Stamkos – Tampa Bay Lightning
Previous Contract: Five Years, $7.5 Million per
Steven Stamkos is one of the elite goal scorers in the NHL today. The 25-year-old has scored 40 goals in four seasons, with 51 and 60 being his career highs. Not to mention a lockout shortened season and a year which he broke his leg where he was on pace to score 50 and 55, respectively. He is possibly the most natural scorer in the league, if not second to Ovechkin. He is due for a major raise which could see a cap hit around $10 million per year. There have been rumours that he would want to return to his home team of Toronto, but those are purely speculation and it is almost certain that Stamkos will sign an extension with the Lightning. The term of his contract will likely include a no trade clause that keeps his in Tampa for another eight years.
2) Jakub Voracek – Philadelphia Flyers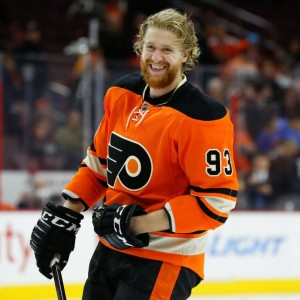 Previous Contract: Four Years, $4.25 Million per
Jakub Voracek enjoyed a breakout season in 2014-15, scoring 22 goals and 81 points in all 82 games for Philadelphia. At 25-years-old, if Voracek can repeat last season he could be in line for a very nice pay day come July 1st, 2016. The Flyers are likely going to have to fork out a large part of the salary cap in order to keep their dynamic dup of Claude Giroux and Voracek, two of the best playmakers in the NHL today. The Flyers are only $4.5 million under the cap ceiling for next year, but have a plethora of upcoming free agents for next summer. They may have to let go of a few important pieces to keep Voracek around, or risk letting another team offer him something they cannot match. They are reportedly already in contract talks. Voracek would likely want a five or six year deal worth around $7 to 8 million per year.
3) Marc Giordano – Calgary Flames
Previous Contract: Five Years, $4 Million per
Marc Giordano finally started to realize his potential in 2013, at the rather old age of 29. However, that will not stop him from having another 10 or so years of success. He was on a Norris Trophy pace last season until a torn bicep derailed his campaign. Not only did Giordano recored 11 goals and 48 points in his 61 games, but he also logged 3:10 minutes of power play time and 2:07 minutes of shorthanded time each game to total over 25 minute of ice time each game. He officially established himself as an elite defenceman while also making the Flames a serious contender. He's in line for a huge raise, but with only five forwards and no goaltenders signed through 2016, Calgary may find themselves in a tough cap situation. He would be looking for around $6 to 7 million per year.
4) Anze Kopitar – Los Angeles Kings
Previous Contract: Seven Years, $6.8 Million per
Anze Kopitar is known as one of the best two-way forwards in the game today, next to Jonathan Toews. He has brought the only two Stanley Cups to Los Angeles in it's history and should likely be captain over Dustin Brown. Kopitar has been roughly a 75-point player his whole career, but had a slight off year in 2014-15, scoring just 16 goals and 64 points. It's the analytics guys that love Kopitar though, as he posted the highest SAT (shot attempt differential) in the league last year with a 363 rating. The 27-year-old Slovenia native would likely want a long-term contract to keep him in Los Angeles at about $7 million a year. The Kings have a solid salary cap right now and should be able to re-sign him without problems.
5) Eric Staal – Carolina Hurricanes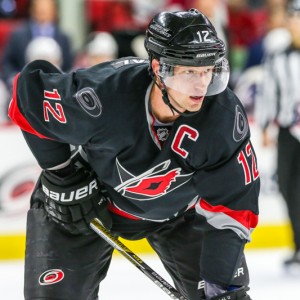 Previous Contract: Seven years, $8.25 Million per
Eric Staal is an incredible player stuck on a bad Carolina team. He would put up at least 30 goals and 70 points a season until the last two season where he's scored 44 goals and 115 points total. He had the 9th best SAT in the NHL last year, despite being on a below average team. The 30-year-old hasn't necessarily slowed down, but may be looking for a change of scenery after 11 years. Plus, the Hurricanes are in a rebuilding phase, whereas he may be looking for another championship. The Hurricanes only have five forwards and three defensemen signed through 2016 and may be looking at a total rebuild in the following years. Staal will likely actually take a pay cut to around $6 million a year. Carolina may even try to trade him at the 2016 Trade Deadline instead of letting him walk for nothing.
6) David Backes – St. Louis Blues
Previous Contract: Five Years, $4.5 Million per
David Backes is another solid two-way forward who can score around 25 goals and 60 points a year, while also packing up over 100 penalty minutes. The St. Louis Blues may be looking to go in a different direction after so many disappointing postseasons, seeing has they have recently traded away T.J. Oshie to the Washington Capitals. Despite decent production, the only Blues with a worse SAT than Backes were Steve Ott, Maxim Lapierre, and Ryan Reaves. Backes would likely warrant $5 to 6 million per year. The future of Backes is blurry, as he could be on his way out or stay for the foreseeable future, no one knows just yet. If the Blues are struggling around the trade deadline, you may see a deal of Backes, but otherwise he will probably sign an extension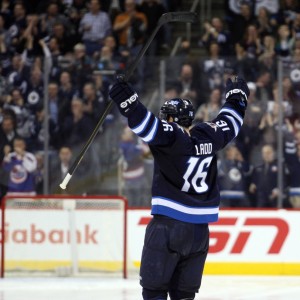 7) Andrew Ladd – Winnipeg Jets
Previous Contract: Five Years, $4.4 Million per
Andrew Ladd captained the Winnipeg Jets back to the postseason for the first time since they returned. He is a key cog in their system and should be signed to an extension during the year. The 29-year-old had a career high in points last year with 62 and scores at least 20 goals a year. Ladd was ranked fifth on the Jets in SAT with a 167 rating in 2014-15. The Jets should have enough cap space to re-sign their key stars after next season, so Ladd will likely return on a 5-year deal worth around $6 million per year. Ladd has won a Stanley Cup with the Hurricanes in 2006 and the Blackhawks in 2010, so bringing one to Winnipeg is certainly his next goal.
8) Jiri Hudler – Calgary Flames
Previous Contract: Four Years, $4 Million per
Jiri Hudler enjoyed a breakout season last season along with the Calgary Flames, scoring 30 goals for the first time as well as his first season with more than 60 points, totalling 76 in 78 games. If Hudler can repeat his success from last year, he could be in line for a great contract. However, it's hard to bet on a 31-year-old to surpass his previous high in points by 20, two years in a row.  In the same situation as his teammate Giordano, it's hard to know if Calgary will have the cap space to re-sign both of their stars considering they have so many pending unrestricted and restricted free agents for July 2016. If Hudler can repeat his 2014-15 season, he could get a cap hit of $6 million or so, but if he regresses back to his norm, it will only take about $4.5 to 5 million of cap space.
9) Dustin Byfuglien – Winnipeg Jets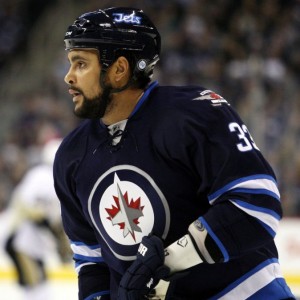 Previous Contract: Five Years, $5.2 Million per
The Winnipeg Jets second major free agent for 2016 in Dustin Byfuglien, a fan favourite for his physicality and emotion on the ice each night. Although he's often subject to criticism from around the league due to his over the top actions, he was definitely an important part of the Jets run back to the playoffs this past spring. Byfuglien can play both forward or defence, but is more effective on the back end where he can still score 20 goals and up to 60 points a year. As with Ladd, Winnipeg should have enough cap room to re-sign Byfuglien to a deal that sees a cap hit of up around $5.5 to 6 million. The Jets are a team on the rise and Byfuglien could be a huge part of their future success.
10) Kyle Okposo – New York Islanders
Previous Contract: Five Years, $4.5 Million per
The former 7th overall pick in 2006 in finally starting to find some consistency in his game over the past couple of years. At 27-years-old, Kyle Okposo had developed into a top-6 forward that has the skill to keep up with John Tavares and play alongside him. In fact, Okposo was second in Islander forwards only to Tavares in SAT this year with a 156 rating. Annually, you can expect around 25 goals and upwards of 60 points from Okposo. He led the Islanders in power play time per game, playing 3;46 minutes each night. Okposo will likely look for another five-year contract worth about $5 to 5.5 million a year.
---
The class of 2016 free agents is no doubt an extremely deep and talented one, but there is no denying that a good portion of these stars will sign extensions with their current teams before July 1st, 2016. In any case, it will be an exciting year in contracts and perhaps a new standard of cap hits of superstar players.
Which of these superstars do you think will be on the move within one year? Let us know in the comments below!