With NHL teams surging (Panthers) and fading (Canadiens) as the hockey season wears on, so too do NHL Mock Drafts change considerably (see Fallout Edition Mock Draft). NHL Central Scouting has just released their segregated Midterm Rankings, found here, coinciding with The Next Ones latest Mock Draft – Midterm Edition.
The World Juniors Effect
In what is typically a 19-year-old dominated tournament, the 2016 World Junior U20s in Helsinki saw 2016 NHL draft eligibles have a tremendous impact, led by a trio of elite Finnish prospects, who went on to win gold on home ice. Six of the top nine scorers were first time draft eligibles, led by Finland's Jesse Puljujärvi's exceptional tournament with 17 points in 7 games played. Blue liner Olli Juolevi just happened to tie for the tournament lead in scoring by defensemen with 9 points. The player contributions went well beyond the stat sheet as many of the draft eligibles were integral to their respective nation's success.
The Perils of Mock Drafting
"Whether it be the Boston Bruins going off the board to take Zachary Senyshyn, the rapid rise or fall of a Swedish blueliner's stock, or Nikita Korostelev free-falling to the seventh round, a mock draft can go off the rails quicker than Auston Matthews can execute a dynamic, game-changing play. This draft class, though maybe not as heralded as the 2015 McEichel special one, possesses great depth."
The Order
NHL Draft Order determined by team points per game up to January 19th, 2016 and simulation ran (once) via NHL Draft Lottery Simulator.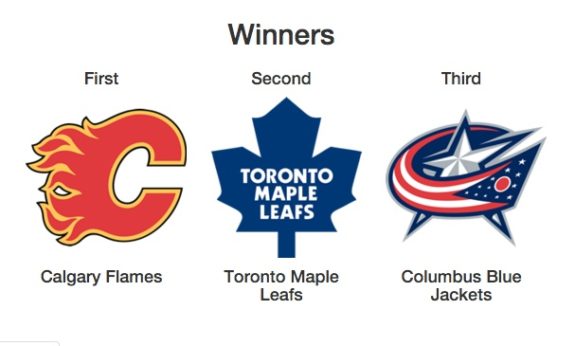 The Calgary Flames move up five slots to win the coveted first overall slot. As mentioned, the simulation was ran once and once only. The rest of the draft order for current lottery eligible squads would then look like this: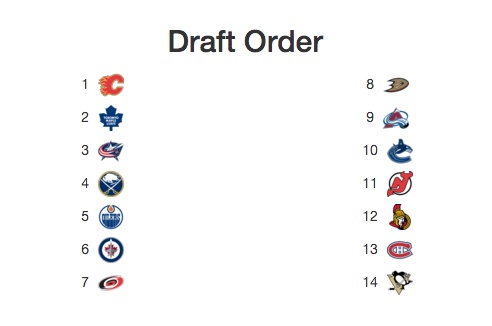 For the rest of the order, outside the lottery picks, Tankathon, was utilized. For the purposes of this mock draft, no trades were conducted.
The Picks
http://gty.im/502693796
1.  Calgary Flames:  Jesse Puljujarvi, RW, Karpat (FIN)
(pronounced pool-you-YAR-vee)
The Flames have Sean Monahan and Sam Bennett forecasted to man the middle of the top two lines in years to come. Thus, they opt to draft the Finnish Ultimate Weapon to terrorize NHL defenses everywhere from the right wing. Since they stray from the consensus number one pick, Auston Matthews, they would likely be able to pry an asset from the Maple Leafs for a swap of the top two picks. Puljujarvi capped off a dominating performance at the World Juniors with a gold medal win. He notched 17 points in 7 games to lead the tournament. To give some perspective, knowing it is difficult to compare years, generational talent Connor McDavid registered 11 points in 7 games at the 2015 World Juniors. Size. Powerful skating with afterburner acceleration. Hockey Sense. Puljujarvi is a legitimate threat to supplant Matthews as the first overall selection.
2.Toronto Maple Leafs: Auston Matthews, C, Zurich (SUI)
Were he born two days earlier, Auston "Powers" would have given Jack Eichel a run for his money for the 2nd overall pick in the 2015 Draft. Team USA and is eventual NHL team hopeful he develops into an American version of Jonathan Toews. Leafs land a true franchise player at number two.
http://gty.im/460890288
3. Columbus Blue Jackets: Patrik Laine, LW, Tappara (FIN)
(pronounced LIE-nay)
Gifted Finnish forward can certainly finish,  finished tied for goal-scoring at World Juniors lead with Auston Matthews – 7 goals apiece. Impressive offensive instincts. Rocket shot. Slick puck handling. 6'4″. Highly desirable talent. Blue Jackets hope for Matthews, but still thrilled to land this Finnish sniper.  Some scouts have stated they prefer Laine over Puljujarvi.
4.  Buffalo Sabres: Matthew Tkachuk, LW, London (OHL)
Son of Keith is a chip off the old block and is currently torching the OHL, producing at a nearly two points per game clip. Another of the draft eligible standout performances at the World Juniors, he tied Matthews for Team USA scoring lead with 11 points. 

5.  Edmonton Oilers: Jakob Chychrun, D, Sarnia (OHL)
Tantalizing combination of size, skating ability, skill and hockey smarts. Chychrun plays a smooth transition game and brings a physical game when the situation calls for it. Oilers are tempted to draft yet another talented forward, but opt for the best overall blueliner in the draft. 
6. Winnipeg Jets: Alexander Nylander, LW/RW, Mississauga (OHL)
Alex's brother is Maple Leafs prospect William Nylander, both sons of former NHLer, Michael (once dubbed The Swedish Gretzky). His brother went down early in the tournament with an injury; Alex put his talents on display with 9 points in 7 games, finished tied for sixth in scoring at the World Juniors. The cerebral winger has also transitioned nicely to the the North American game as evidenced by his production in the OHL.
Oh, and his full name, for the record (via Elite Prospects): 
Alexander Maximiliam Michael Junior Nylander Altelius 
 7. Carolina Hurricanes: Olli Juolevi, D, London (OHL)
(Pronounced YU-oh-leh-ve)
Juolevi is yet another of the 2016 Finnish draft eligibles who struck gold in Helsinki at the most recent instalment of the World Juniors. Like his wingmen, he was an integral part of the team, far from a passenger. He is extremely poised on the blueline, times his attacks to perfection, and is strong defensively.
8. Anaheim Ducks:  Mike McLeod, C, Mississauga (OHL)
The relentless, crafty centreman is a speed demon. He is a responsible forward and helps his team's possession game with his strength in taking face-offs. 
9. Colorado Avalanche: Mikhail Sergachyov, D, Windsor (OHL)
Talented two-way Russian defender has the talent to potentially dominate at both ends of the rink. He is a powerful and smooth skater, tenacious, has exceptional anticipation, and exudes confidence with respect to puck skills.
10.Vancouver Canucks: Max Jones, LW, London (OHL)
Some have pegged Jones as the Lawson Crouse of this year's draft class. The power forward is skilled and difficult to play against. 
11. New Jersey Devils: Tyson Jost, C, Penticton (BCHL)
The University of North Dakota commit possesses tremendous speed, vision and hockey IQ. At December's World Jr. A Challenge, Jost was MVP for gold medal winning Canada West, leading the tournament in scoring with 9 points in 4 games.
https://t.co/XjymQcv3NG
#9 Tyson Jost @josty_17
Smarts, skills & competitiveness to make a difference throughout all areas of the game.

— ISS Hockey (@ISShockey) January 15, 2016
12. Ottawa Senators: Julien Gauthier, RW, Val-d'Or (QMJHL)
Size. Shot. Skating. A offensive power forward's hat trick of goodness. 30 goals in just 32 games played thus far.
13. Montreal Canadiens: Pierre-Luc Dubois, C/LW, Cape Breton (QMJHL)
Dubois possesses desirable size, outstanding compete level, and is simply a well-rounded forward overall who will do whatever it takes to win.
14. Pittsburgh Penguins: Kieffer Bellows, C/LW, USA U-18 (USHL)
American Sniper, the hockey prospect.
15. Nashville Predators: Jake Bean, D, Calgary (WHL)
Super-poised blueliner is an apprentice to Philadelphia Flyers' first rounder Travis Sanheim, and himself looks more than capable of running a NHL powerplay QB, and log plenty of all-situation minutes. He's a smooth, sublime skater with outstanding puckhandling skills. The Preds do what they do best – draft defensemen.
Jake Bean with a marvelous sequence of eluding checks and dishing passes leads to a Hitmen PP goal. #WHL #NHLDraft

— Zenon Herasymiuk (@ZenonHerasymiuk) October 10, 2015
16. Arizona Coyotes:  Clayton Keller, C, USA U-18 (USHL)
Slightly undersized centreman is an adaptive, explosive offensive catalyst with the shot of a marksman. He's a Boston University commit.
17. Boston Bruins (via San Jose Sharks):  Dante Fabbro, D, Penticton (BCHL)
Fabbro, like Jost, is from the high octane Penticton Vees of the BCHL. He is a mobile two-way blue liner with a penchant for the offensive side of the game. He is composed and makes good decisions with the puck. He currently sits fourth in the BCHL in points-per-game, scoring at a 1.48 PPG clip. For perspective, the next closest defensemen is 20 year old Yanni Kaldis at 22nd, with Mitch Meek next closest at 61st. Like Keller, he's a Boston University commit.
18. Philadelphia Flyers: Logan Brown, C, WIndsor (OHL)
The son of veteran NHL blueliner Jeff Brown is a mammoth, mobile 6'6" centre who possesses an enticing skill-set, with good puck skills, and he uses his frame effectively.
 19. Minnesota Wild: German Rubstov, C, Team Russia U18 (MHL)
Robstov is the classic prospect that seemingly comes out of nowhere in his draft year to have an astronomical rise up many draft rankings. He had a standout World Jr. A Challenge for Russia with his magician-like hands on display. He's a skilled and powerful player who makes his teammates better, while being a matchup nightmare for the opposition.
20. Tampa Bay Lightning: Rasmus Asplund, C, Färjestad BK (SHL)
Asplund is one of the youngest players in the Sweden Elitserien League (SHL). He was impressive at the World Juniors, putting his speed and outstanding hockey IQ on display.
Goal: #74 RASMUS ASPLUND (1) #2016NHLDrafthttps://t.co/PgrQ8ucmVS

— SHL Prospect GIFS (@SHLProspectGIFS) October 19, 2015
21. Boston Bruins: Sam Steel, C, Regina (WHL)
One of the best names of this draft class, the slick centreman possesses patience and poise with the  puck.
 22. Arizona Coyotes (via NY Rangers): Charlie McAvoy, D, Boston University (H-EAST)
Mature, confident two-way defenseman with good hockey instincts plays a game that should translate seamlessly to the NHL.
 23. New York Islanders: Tyler Benson, LW, Vancouver (WHL)
Has been highly touted since he was a 14-year-old. His game was really seeming to come together after some difficulties with injuries, and he still could be a riser as the season progresses. He had 17 points in his last 13 games to close out 2015, but again finds himself in the infirmary. When healthy, he's tough on the puck and hard to handle.
 23. Detroit Red Wings: Alex DeBrincat, RW, Erie (OHL)
Scoring at almost a two points-per-game clip in OHL. If he was 5'11'', we're likely talking top 5 pick. He has superior hockey sense, elusive mobility, and dynamic offensive ability. He had a frustrating World Juniors tournament – one of those scenarios in which he did not help his stock, but won't greatly suffer as a result either.
25. Florida Panthers: Chad Krys, D, USA U-18 (USHL)
Undersized, puck-moving, two-way defender makes up for size concerns with his high hockey IQ and the way he processes the game.
26. St. Louis Blues:  Samuel Girard, D, Shawinigan (QMJHL)
Sublime skating, savvy blueliner is undersized, but another player with the ability to overcome this perceived shortcoming. He is one of the top scoring defenseman in the CHL this season.
ICYMI, 2016 NHL Draft: ISO video of Samuel Girard https://t.co/FXkqQDoemL

— HockeyProspect.com (@ScoutingService) January 20, 2016
27. Carolina Hurricanes (via Los Angeles Kings):  Luke Kunin, C, University of Wisconsin (NCAA)
Complete player with high compete level all over the ice, Kunin plays with speed and has a laser precision shot, and gets it off his stick quickly. He's impressively averaging nearly a point-per-game in college.
28. Dallas Stars: Vitali Abramov, LW, Gatineau (QMJHL)
Undersized dynamic forward is lighting up the QMJHL. Will he slip in the draft due to size or be a draft day riser because of The Gaudreau Effect?
 29. Chicago Blackhawks: Kale Clague, D, Brandon (WHL)
Don't let the stat line fool you when it comes to this smart, smooth skating two-way defender. He is positionally sound with tremendous offensive upside.
 30. Washington Capitals: Nathan Bastian, RW, Mississauga (OHL)

Stock rising on this banging and crashing big power forward who is smart with the puck.
Player I'm curious about is Mississauga's Nathan Bastian – how high can he rise?

— Jeff Marek (@JeffMarek) December 17, 2015
1st Round Traded Draft Picks
as per MyNHLdraft
Boston receives San Jose's 2016 1sts round pick and Sean Kuraly for Martin Jones.
Arizona receives the NY Rangers 2016 1st round pick (lottery protected), a 2015 2nd round pick, Anthony Duclair, and John Moore for Keith Yandle (50 percent of his salary retained by the Coyotes), Chris Summers and a 2016 4th round pick.
Carolina receives Los Angeles's 2016 1st round pick and Roland McKeown for Andrej Sekera.
*Toronto receives Pittsburgh's 2016 1st round pick (conditional – lottery protected) and a 3rd round pick, Kasperi Kapanen, Scott Harrington and Nick Spaling for Phil Kessel, Tyler Biggs, Tim Exiron and Pittsburgh's 2016 2nd round pick (previously acquired, and is conditional).
_________________________________________