While he may not have had a season filled with consistency as many Calgary Flames' fans would've liked, Johnny Gaudreau did have a Lady Byng worthy season. At the NHL Awards, he was awarded the Lady Byng trophy as the player who exhibited sportsmanship and gentlemanly conduct combined with high quality of play on the ice.
JOHNNY! pic.twitter.com/tYygJOaWqH

— Calgary Flames (@NHLFlames) June 22, 2017
This was the first time in his young career that the Flames' forward was awarded the Lady Byng trophy and the second time in three years that a Flames' forward has been given the trophy (with Jiri Hudler winning the award in 2014-15).
As mentioned, while he didn't have a consistent season, Gaudreau did finish the year with some good numbers. He tallied just 18 goals but 61 points in 72 games for the Flames in 2016-17. But it was his four penalty minutes all season long that had him nominated for this award in the first place. That's an average of just 0.05 penalty minutes per game over the 72 games.
The last player to have single digit penalty minutes over a season was in 2013-14 when Ryan O'Reilly (a member of the Avalanche at the time) tallied just two penalty minutes over 80 games that season.
Looking at the Runner-Ups
Alongside Gaudreau, were St. Louis Blues' Vladimir Tarasenko and Minnesota's Mikael Granlund.
Tarasenko played all 82 games for the Blues this season notching 39 goals and 75 points. While he's averaged 0.31 penalty minutes per game over his NHL career, he had just 12 minutes over the span of the 2016-17 season. That's an average of just 0.15 per game.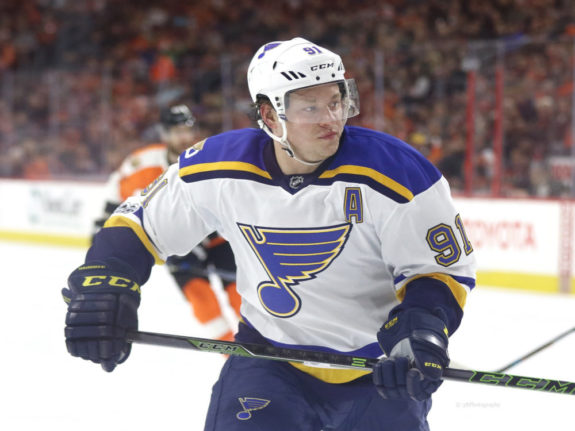 Granlund had similar numbers to Tarasenko. While his career numbers are more in line with this season's penalty minute totals, he was nearly on par with the Blues' forward. He played 81 games for the Wild in 2016-17 – scoring 26 goals and 69 points. He had just 12 penalty minutes of his own – an average of just 0.15.
While both had impressive seasons, Gaudreau was one step ahead of them in the sportsmanship category which likely won him the award.
Compared to 2016
It was the Los Angeles captain – Anze Kopitar – that was awarded the Lady Byng Trophy in 2015-16. It was the first time that Kopitar received the award and it was in large part to his 16 penalty minutes in 81 games last season. That's an average of just 0.20 per game.
It helped that he was also able to notch 25 goals and 74 points over that span.