It was never going to be anybody else. With all due respect to Andrew Cogliano and Derek Ryan, there was simply no chance that Craig Anderson was going to be leaving Las Vegas without the 2017 Masterton Trophy, the award given to the player who best exemplifies the qualities of perseverance, sportsmanship, and dedication to hockey. Playing in 40 games this past season at the age of 35, Anderson compiled a record of 25-11-4 with a 2.28 goals against average, an impressive .926 save percentage and five shutouts. No shutout was bigger for Anderson, however, than the one he recorded on Oct. 30 against the Edmonton Oilers when he recorded 37 saves in a 2-0 win.
Craig Anderson wins Bill Masterton Memorial Trophy.

— Bob McKenzie (@TSNBobMcKenzie) June 22, 2017
Just a few days earlier, Anderson's wife Nicholle told him "your team needs you" when Senators' backup goalie Andrew Hammond went down with a lower-body injury against the Calgary Flames on Oct 28. Anderson was missing from the Senators due to the fact that he took several leaves of absence to spend time with his wife who was diagnosed with a rare form of throat cancer earlier in the month of October. The entire hockey community got behind Anderson this past season, regardless of their allegiance to a team. When he returned to shutout the Oilers that night, the entire crowd in Edmonton gave him a standing ovation as Anderson was awarded the game's First Star.
Looking at the Runner-Ups
When thinking of Andrew Cogliano, it's impossible to not also think of the title "Ironman." This is the fourth time in his six seasons as a member of the Anaheim Ducks that Cogliano has been nominated for the Masterton Trophy and it really isn't hard to see the reason behind it. Playing in all 82 games last season with the Ducks, Cogliano recorded 16 goals and 35 points. That in itself isn't impressive. The fact hat Cogliano has yet to miss a game since making his debut with the Edmonton Oilers in the 2007-08 season is what earned Cogliano this nomination and finalist nod. Playing in 786 consecutive games and counting, only one player in history has played in more consecutive games to start a career, and that record is held by the all-time ironman himself, Doug Jarvis who played in 964 consecutive games from 1975-88. Cogliano's current streak is the fourth-longest in NHL history and is the definition of perseverance and commitment to hockey.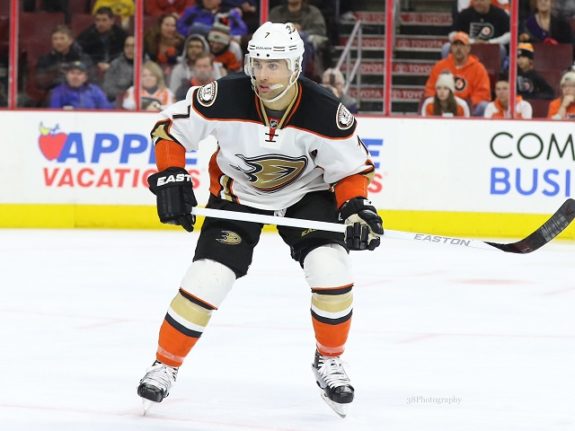 Ryan's story is a slightly different one to that of Cogliano. While Cogliano has been a mainstay in an NHL lineup his entire career, it took Ryan nearly 30 years to finally make the jump to the NHL as a regular player this season. With 11 goals and 29 points in 67 games, including three game-winning goals, Ryan made his mark with the Hurricanes after a long journey to make it to the pros. Playing three full seasons with the Spokane Chiefs of the WHL, Ryan didn't get drafted. He went to the University of Alberta for four seasons before playing overseas in Europe for four seasons. In Jun 2015, he signed a contract to with the Hurricanes and joined their AHL club in Charlotte. In the 2015-16 season, Ryan played in six NHL games. To start this past season, Ryan played in the AHL before joining the NHL club and becoming the older player in franchise history to score a goal at the age of 29 years and 63 days old.