The field is set for the 2018 Mastercard Memorial Cup, with the WHL's Swift Current Broncos, OHL's Hamilton Bulldogs and QMJHL's Acadie-Bathurst Titan capturing their respective league titles on Sunday — each prevailing in six games to punch their tickets to Regina, joining the host Pats in the four-team tournament and 100th anniversary of the major junior championship.
The round-robin portion starts Friday with Regina opening against Hamilton before Swift Current faces Acadie-Bathurst on Saturday. The semifinal is slated for May 25, with the final on May 27.
It should be a fascinating tournament with no clear favourite coming in and no recent winners involved in this year's showcase.
As THW colleague Dave Jewell noted on Twitter, none of these franchises have made it to the Memorial Cup since 2008 when Hamilton was still the Belleville Bulls prior to relocating to Steeltown in 2015. Regina (2001), Acadie-Bathurst (1999) and Swift Current (1993) have all endured lengthy droughts and will be looking to make the most of their long-awaited opportunity on the national stage.
Several prospects will also be eager to shine, including a few first-round NHL draft picks, one expected to be selected in the top 10 at next month's draft, another who isn't eligible until 2019, and a handful who have been outperforming their draft positions over the course of this season and throughout their playoff runs.
Here are 10 players to watch at the 2018 Memorial Cup:
1) Noah Dobson, Acadie-Bathurst Titan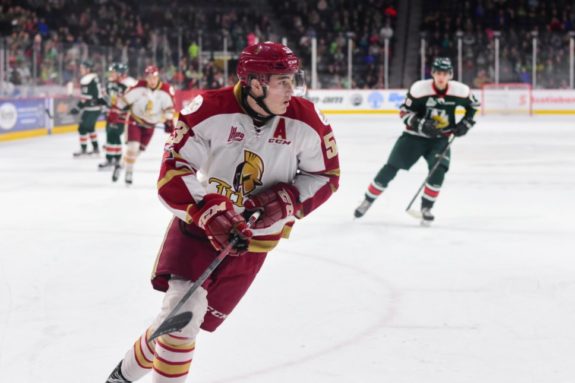 One of the biggest risers from the 2018 draft class is also the last standing, with this smooth-skating, right-shot defenceman getting a final chance to impress the scouts in attendance at Regina.
There will be many there to watch Dobson, in particular, and to see this 6-foot-3 product of Summerside, P.E.I., quarterbacking Acadie-Bathurst's power play. Dobson wasn't on a lot of top-31 lists to start the season, but now it seems he's a lock for the top 10 as the fifth-ranked North American skater by NHL Central Scouting.
Another strong showing in the Memorial Cup and Dobson might enter the top-five conversation.
2) Robert Thomas, Hamilton Bulldogs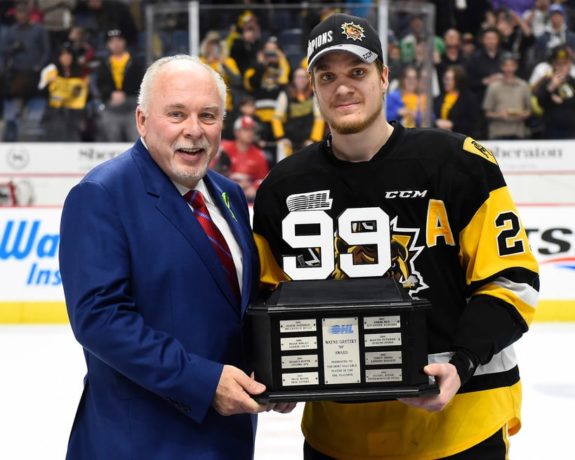 A trade-deadline ringer, Thomas rewarded Steve Staios for loading up by racking up 32 points, including 12 goals, in 21 post-season games en route to being named the OHL playoff MVP in leading Hamilton to the J. Ross Robertson Cup.
Thomas didn't exactly light it up to end the regular season following his trade from London after representing Canada at the World Juniors — only producing four goals in 22 games down the stretch for Hamilton, albeit with 29 points — but the 200-foot centre stepped it up when it mattered most, scoring four goals in the championship series to knock off the favoured Sault Ste. Marie Greyhounds.
A first-round pick (20th overall) for the St. Louis Blues in 2017, Thomas tallied seven points over those six games to finish third in the OHL playoff scoring race behind his WJC linemates Boris Katchouk (37) and Taylor Raddysh (34) of Sault Ste. Marie.
3) Stuart Skinner, Swift Current Broncos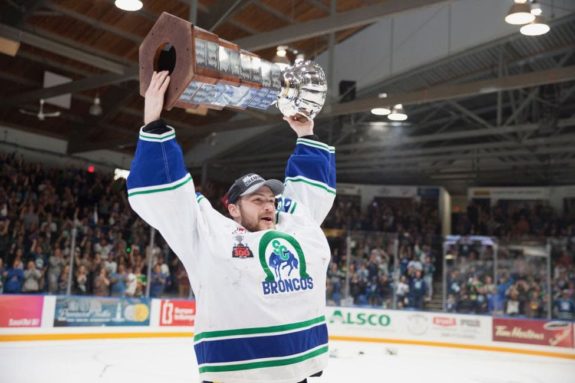 Skinner didn't win WHL playoff MVP honours but did sign with his hometown Edmonton Oilers the day after outduelling Carter Hart in the championship series.
Oilers prospect Stuart Skinner ties WHL record with 6th post-season shutout (31 saves), in a 3-0 victory as Swift Current wins the WHL Title in 6 games over Everett.
Skinner stopped 197/208 SOG (.948 svp) in series outdeulling Team Canada WJC Carter Hart 158/172 (.918 svp)

— Bob Stauffer (@Bob_Stauffer) May 14, 2018
Those numbers don't lie, Skinner was the better of the two in that showdown between 19-year-old Edmonton-area goalies. Until Swift Current's victory and Skinner's shutout in the clincher, Hart had been the more heralded of the two as the WHL's player of the year award winner this season — as the regular-season MVP — and Canada's starting goaltender at the past two World Junior Championships, backstopping the country to gold in Buffalo this January. Hart also earned the WHL's top goaltender award for a record third straight year.
Skinner had the better supporting cast in the WHL final, make no mistake, but he rose to the occasion and was fully deserving of his turn in the spotlight. Until now, Skinner had always been in the shadow of Hart throughout their junior careers.
Hart was also drafted higher, in the second round (48th overall) by Philadelphia in 2016, than Skinner, a third-round pick (78th overall) by the Oilers in 2017. Skinner won't be the highest-drafted goalie at the Memorial Cup either — Acadie-Bathurst's Evan Fitzpatrick was a second-round selection (59th overall) for St. Louis in 2016 — but Skinner is arguably playing the best of any of the netminders entering the tournament.
4) Sam Steel, Regina Pats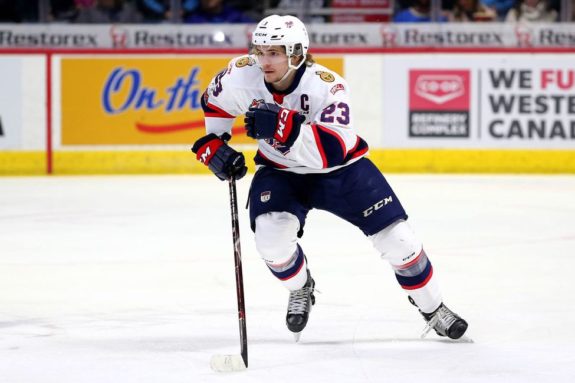 Steel captains the host team, which hasn't played since April 2 when the Pats lost to the eventual champion Broncos 3-2 in Game 7 of their hard-fought, first-round series.
Another member of Canada's gold medal-winning team at this year's World Juniors, Steel was last season's WHL player of the year after leading the entire Canadian Hockey League with 131 points, including 50 goals, in just 66 games.
A signed first-round pick for the Anaheim Ducks — 30th overall in 2016 — Steel's encore left a bit to be desired, but now he has a chance to end his junior career on the highest note possible in front of his adoring fans. The Edmonton product turned 20 in February and will be determined to go out on top despite the long layoff.
Not that 83 points, including 33 goals, in 54 games is a bad season by any means, but Steel only managed to score once on Skinner in that first-round exit. Steel did total 11 points over those seven games, but he'll be looking to get the upper hand when they meet again next Wednesday night in the marquee matchup of the round robin.
5) Arthur Kaliyev, Hamilton Bulldogs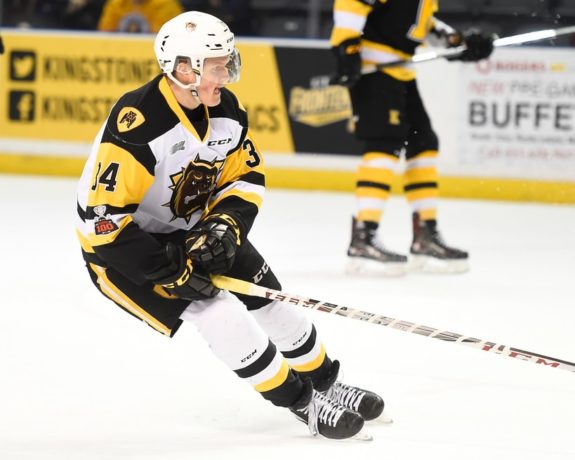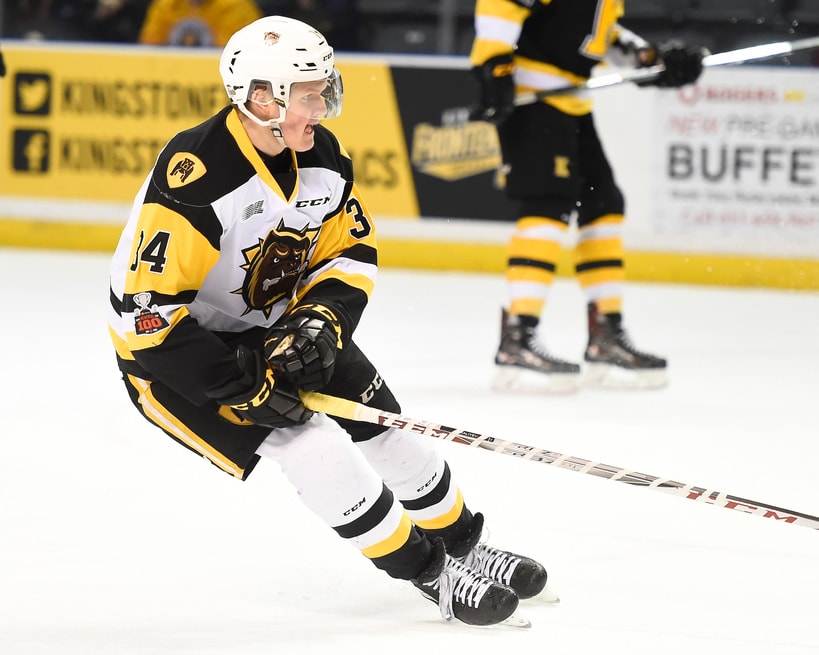 This name may be foreign to many hockey fans, especially those west of Ontario, but Kaliyev is definitely a kid to keep an eye on.
Now projected as a first-round pick for 2019, he scored 31 goals as a 16-year-old rookie in the OHL and finished the playoff run on a five-game point streak despite only producing 11 points (3 goals, 8 assists) over Hamilton's 21 post-season games. Consistently showing up on the scoresheet against a powerhouse Sault Ste. Marie team — at his age — speaks to Kaliyev's potential upside.
Arthur Kaliyev's 11 points the 4th most among U17 forwards in the OHL playoffs in the 2000's. Ahead of him? Tavares, McDavid, and Seguin. #goodcompany

— OHL Prospects (@BrockOtten) May 13, 2018
It'll be interesting to see what kind of role Kaliyev plays at the Memorial Cup, but the scouts will be watching him almost as closely as Dobson. For those curious, Kaliyev is of Russian descent but was born in New York and raised in the United States, similar to Montreal's Alex Galchenyuk.
6) Aleksi Heponiemi, Swift Current Broncos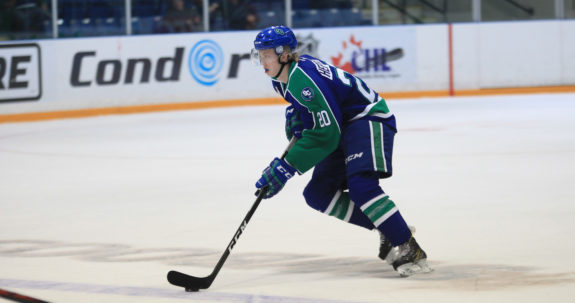 The playmaking catalyst on Swift Current's dynamic top line, this Finnish import might possess the most pure skill of any player in the WHL this season. That would be hotly debated, but Heponiemi led the league in assists, with 90, and finished with 118 points in 57 regular-season games as a sophomore with Swift Current after winning the WHL's rookie of the year award last season.
Heponiemi is looking like a steal for Florida in the second round (40th overall) in 2017, and a strong case could be made for him to crack the top 31 in a re-draft as of today. He might also crack the Panthers' roster out of training camp in the fall, but junior fans will get to enjoy the last of his exploits at this level during the Memorial Cup.
Heponiemi wasn't as dominant in the playoffs — with just five goals among his 30 points over 26 games, which was still good for fourth in the scoring race — but he came through in the clutch against Everett, assisting on what stood up as the championship-winning goal and netting an insurance marker in the 3-0 win that claimed the Ed Chynoweth Cup for Swift Current. Heponiemi had points in five of those six games (2-4-6) in the WHL final.
7) German Rubtsov, Acadie-Bathurst Titan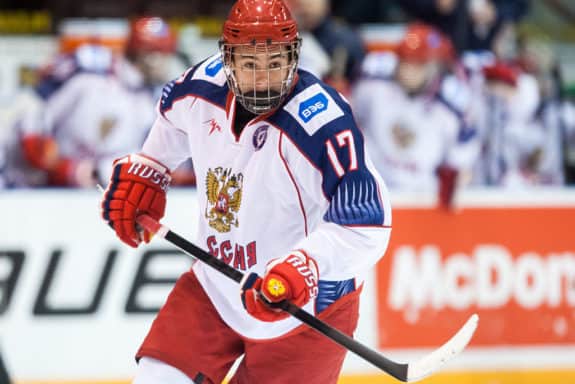 A first-round pick (22nd overall) for Philadelphia in 2016, this Russian import is still adapting to the North American game but has gained momentum since getting traded to Acadie-Bathurst from Chicoutimi.
It has been an adjustment, trying to carve out a role on a defensive-minded team, but Rubtsov chipped in five goals and 10 points over 19 post-season games during his first playoff experience on this side of the pond.
Granted, that only tied him for 10th in team scoring, but Rubtsov was named the first star in Game 3 of the QMJHL final — scoring the opening goal in a 5-2 win that gave Acadie-Bathurst its first lead in the championship series over the Drake Batherson-led Blainville-Boisbriand Armada. That power-play marker was Rubtsov's only point over the six games, but he has the talent to break out at the Memorial Cup if given the opportunity to be a go-to guy for the Titan.
8) Josh Mahura, Regina Pats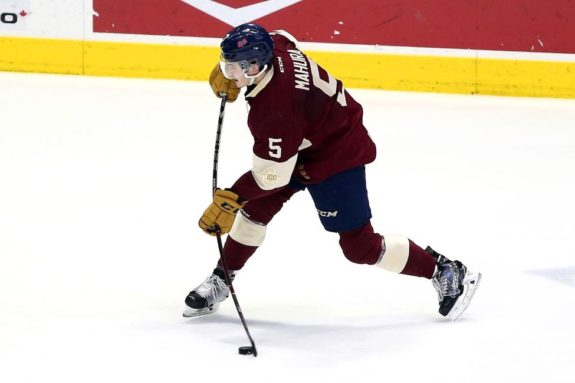 The final cut for Canada's world-junior team, Mahura is one of the WHL's better defencemen despite not yet being a household name in the hockey world. The Memorial Cup could be a coming-out party of sorts for him.
Mahura flies a bit under the radar because of his draft position — a third-round steal (85th overall) for Anaheim in 2016, due to limited exposure because of injuries during his draft year — but the Ducks snagged a clone of Brandon Montour. Similar in style, Mahura likes to be a rover on offence but has the skating ability to recover on the defensive end. He's the type of blueliner that is excelling in today's NHL.
At the junior level, Mahura logs big minutes for Regina, quarterbacking the power play and developing the same kind of chemistry with Steel as Ethan Bear displayed with Matt Barzal on Seattle's championship team last season. Mahura and Steel will continue to be teammates upon turning pro in the fall, perhaps with Anaheim or down in San Diego on the farm team.
9) Libor Hajek, Regina Pats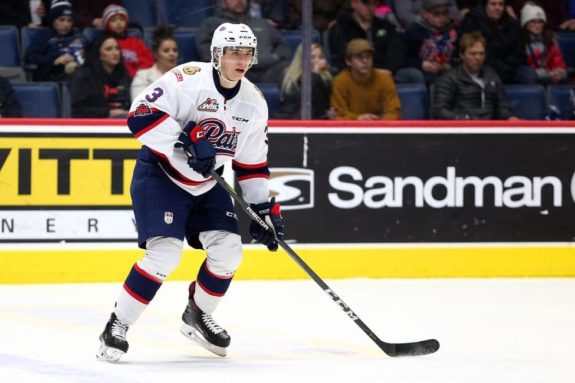 Another stud defender who is closer to NHL-ready than most people probably realize, Hajek will look to open more eyes at the Memorial Cup.
He was somewhat hidden in Saskatoon, playing on a Blades team that missed the WHL playoffs in both of his seasons there, but Hajek immediately stood out as a trade-deadline acquisition for Regina. His point total didn't jump — he was already productive on a bad team — but Hajek's poise with the puck and smarts without it were really magnified as a member of the loaded-up Pats.
Hajek thinks the game at the next level, and Regina may have beat out the Broncos had he not been sidelined by injury for the final three games of that series. Hajek could be a difference-maker in this tournament and show everybody why Steve Yzerman and the Tampa Bay Lightning traded up to take him in the 2016 draft — moving Anthony DeAngelo straight up for the 37th overall pick in the second round.
10) Tyler Steenbergen, Swift Current Broncos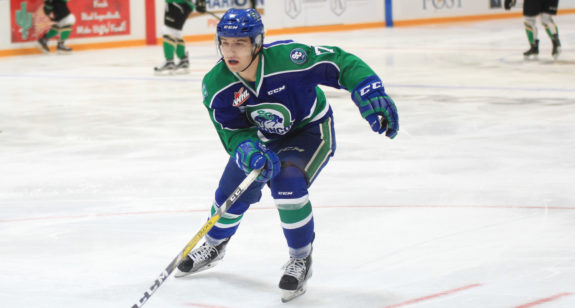 Steenbergen scored the golden goal for Canada at this year's World Juniors and is another member of Swift Current's potent top line, along with Heponiemi and WHL playoff MVP Glenn Gawdin, who scored a hat trick in the championship series and is equally deserving of rounding out this list.
Steenbergen got the nod as a bigger name than Gawdin, more recognizable thanks to his heroics on the world stage when he capitalized on a rare shift late in the gold-medal game against Sweden after serving as Canada's 13th forward for much of that tournament.
Steenbergen has a much more prominent role for Swift Current and his big-game experience should serve the Broncos well in the Memorial Cup. A fifth-round pick (128th overall) for Arizona in 2017, he was a point-per-game player in the WHL playoffs, with 27 points (12 goals, 15 assists) in 26 games.
---
Memorial Cup Prediction
I couldn't resist weighing in on the tournament after finishing an impressive 13-for-15 in my WHL playoff predictions, getting the number of games right in six of those 13 series. That included correctly calling Swift Current over Everett in six games in the final.
As for the Memorial Cup, my OfficePools.com bracket had Sault Ste. Marie winning the national championship and I was among many who felt the Greyhounds were the team to beat this season.
Now that Hamilton has beat Sault Ste. Marie — to be the best, you have to beat the best — I believe the Bulldogs are the top dogs.
However, the teams from out east will be facing the added challenges of playing in a different time zone and all new surroundings whereas Regina is at home and Swift Current is just down the road from its stomping grounds. It will almost feel like there are two home teams this year, the Pats and the Broncos.
Acadie-Bathurst is the underdog and appears, to me, to be the weakest of the four teams on paper, so I don't like the Titan's chances.
I'd be shocked if Hamilton wasn't at least in the semifinal game, and my money is on the Bulldogs getting the bye to the final.
I foresee Swift Current and Regina facing off for the other berth, and I'm going to say the Broncos prevail again over the Pats in a barnburner of a semifinal, before finding a way to edge the Bulldogs for the championship.
I have Swift Current winning the Memorial Cup, and if that's how it plays out, the fans will be the real winners after watching those final two games. It should be some great hockey regardless and must-see TV for those of us not making the trip to Regina. Enjoy the finale to another fun season!