With the 5th Pick in the 2018 NHL Entry Draft, the Arizona Coyotes Have Selected Barrett Hayton From the Sault Ste. Marie Greyhounds in the OHL.
About Barrett Hayton
A two-way forward who has a high ceiling and an even higher floor, Hayton has the ability to play up and down the lineup and do what it takes to win. It's often said that players who know how to do little things well are the ones who succeed – while Hayton may have been a bit of a surprise at this spot, there's no denying his ability and potential to be an impact NHL player.
THW Prospect Profile Excerpt:
The Sault Ste. Marie Greyhounds enjoyed a magical regular season. Imagine a team losing just seven times in regulation over a 68-game season. Imagine a team winning so much that they almost broke the OHL record for most consecutive wins. The Greyhounds accomplished both of those tasks.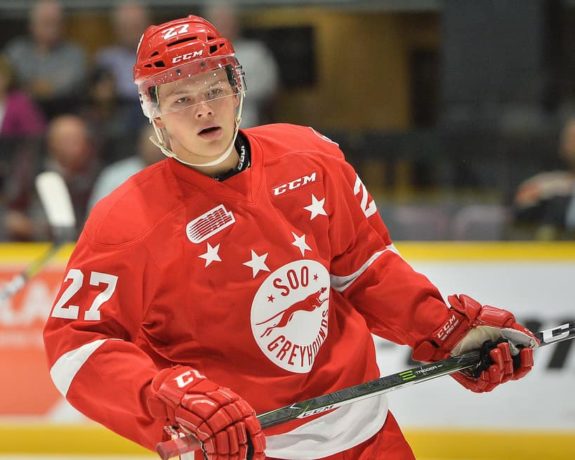 While most of the attention went to established prospects Boris Katchouk, Morgan Frost and eventually Taylor Raddysh after being traded from Erie, the Greyhounds had a draft-eligible prospect that was arguably one of their most important players throughout the season. He played the role of 2C beautifully while contributing at both ends of the ice. He could be the best overall available center in this draft. Meet Barrett Hayton.
Hayton's season started as well as it could possibly start. He was part of the Team Canada team that won a gold at the Ivan Hlinka. Then he enjoyed a monster OHL season. Mind you, he played second line minutes virtually the entire season. He scored 21-39-60 in 63 games and added 8-13-21 in 24 playoff games. So not only was he almost a point per game on line two, he saved his best for later in the playoffs. When the games got tougher, Hayton shined. Whether it was a big goal or an excellent penalty kill, Hayton did things to keep his team in games.
Full player profile can be found here
How This Affects the Coyotes' Plans
The Arizona Coyotes have been one of the lower teams in the NHL standings for nearly a decade but despite this, they've only made a top-five pick one time since the 2008 season when they selected Dylan Strome third overall in 2015 behind only Connor McDavid and Jack Eichel. While Strome hasn't yet made an impact with the Coyotes, his ceiling is still high and he could find his stride in 2018-19 if given the opportunity.
While the Coyotes have collected a bevy of assets and young players to try and develop in recent years, it's clear that there has been something missing from the equation. In Hayton, the Coyotes are hoping that they can quickly develop him and make him an impact player sooner than later. It was an interesting decision to draft Hayton as he was expected to be available outside of the top-10 but this was the player the Coyotes felt comfortable with.
Despite this, Hayton should spend time in the OHL to truly develop and reach his potential before being exposed to the NHL.