With the first round of the 2018 NHL Entry Draft complete, here is a full list of the players that were selected and the teams that took them. Included with each player is a snippet from their player profile on The Hockey Writers as well as a link to their full profile which includes their age, size, draft team, position, number, draft projection, NHL projection, strengths, weaknesses and more.
Buffalo Sabres – 1st Overall – Rasmus Dahlin, D
THW Draft Profile Excerpt:
There is no better prospect in the 2018 NHL Entry Draft than Rasmus Dahlin. The 6-foot-2 defender only just turned 18 years old and has already proven to be a dominant blueliner despite playing against mature competition in the SHL.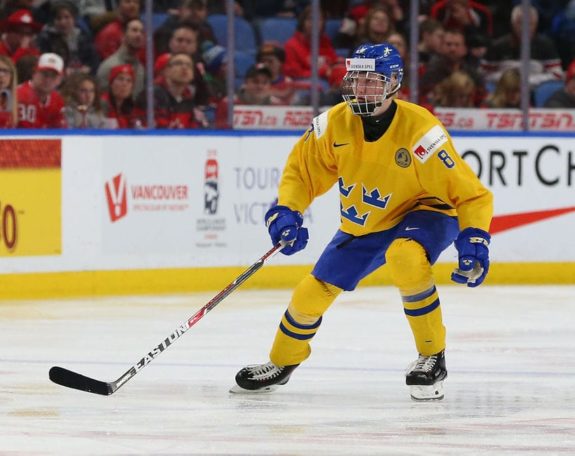 Scoring only a goal and three points in 26 games in his first season with Frolunda in the SHL at 16 years old, Dahlin was able to raise his draft stock simply due to his defensive ability while playing against competition way more experienced than himself.
In his second year with the club, Dahlin showed more of the same defensively and was a stalwart all season with Frolunda. Despite playing under a microscope with the entire hockey world knowing the name Dahlin before the puck even dropped on his first game of the season, Dahlin managed to up his offensive game and score an impressive seven goals and 20 points in 41 games at only 17 years old.
Full profile can be found here
Carolina Hurricanes – 2nd Overall – Andrei Svechnikov, RW
THW Draft Profile Excerpt:
Say what you will about the overall talent in this year's NHL Draft, but there are a number of players that stand out for their individual qualities that will garner a lot of interest as the big day approaches. Of those players, there's one Russian that has put on a masterful show this season with the OHL's Barrie Colts and that's Andrei Svechnikov.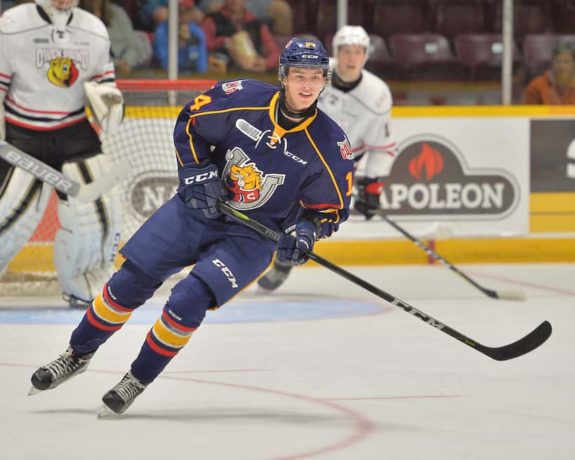 While most have him going in the top two picks, this guaranteed top-end prospect has a full bag of talent when it comes to playing the game of hockey. While he did deal with injuries in his first season in the OHL, the 18-year-old winger still managed to tally 40 goals and 72 points in just 44 games for the Colts – adding 11 more points in eight playoff games.
RELATED: THW's 2018 Draft Guide
But he's not strictly an offensive threat. While his defensive game could use some work, he plays with a physical edge that gives him that upper hand on most purely skilled players. He stands at 6-foot-3 and just under 190 pounds with some growing to do and he uses that frame in all aspects of the game.
While discipline can be an issue at times, having racked up 67 penalty minutes in his 44 games this season, he does play the game passionately which can be altered through maturation. The raw talent this kid possesses should excite the teams holding down the top three picks as he's bound to go somewhere atop the draft this year.
Full profile can be found here
Montreal Canadiens – 3rd Overall – Jesperi Kotkaniemi, C
THW Draft Profile Excerpt:
The top of the NHL Draft is usually known for a good crop of centers that are available for lottery teams in order to help build their teams for the future. This draft, however, is different than the norm. Depending on how the first round goes, we might not see a center go in the top-10. That is almost unheard of.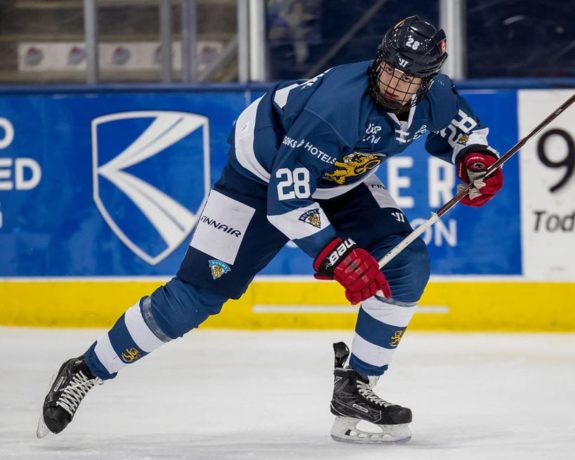 The top of the draft is full of star potential defensemen and wingers. This presents a unique opportunity for teams that need a center later in the lottery or after. Perhaps at the top of this list is Finland's Jesperi Kotkaniemi.
Kotkaniemi just completed his first full season in Finland's top men's professional league Liiga. At just 17 years old, he put on a display against grown men. His line of 10-19-29 in 57 games is extremely impressive for someone of his age. Surely teams must be taking advantage of his defensive flaws. Well, that's not necessarily true either as demonstrated by his -1 rating for the season. He's a good defender as well.
Full profile can be found here
Ottawa Senators – 4th Overall – Brady Tkachuk
THW Draft Profile Excerpt:
We've all seen what Matthew Tkachuk has done for the Calgary Flames in his brief NHL career. Some good, some bad and certainly some ugly, but most of it has been good. Now, consider that there's a player with the ability to agitate like the Flames youngster, but with more speed and skill. What if I told you he has the same last name? Meet Brady Tkachuk. He's Matthew's younger brother and should be a top-five pick in the upcoming NHL Draft.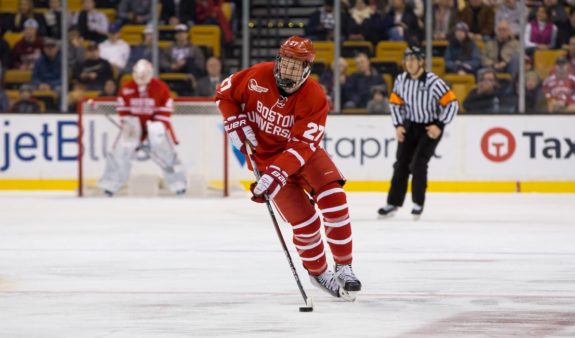 He's tenacious and gritty, like his last name would suggest, but he's incredibly quick and has the ability to make plays in tight spaces. His uses all types of shots – snap, wrist or slap – to get things done in the offensive zone and doesn't shy away from dishing off the puck to reward his teammates as well.
After spending time with the U.S. National Development Program in 2016-17, Tkachuk committed to playing at Boston University in 2017-18 and had a great season in his freshman year. He tallied 8 goals and 31 points in 40 games during the regular season – adding 61 penalty minutes – and was named to the NCAA's all-rookie team for Hockey East.
Full profile can be found here
Arizona Coyotes – 5th Overall – Barrett Hayton, C
THW Draft Profile Excerpt:
The Sault Ste. Marie Greyhounds enjoyed a magical regular season. Imagine a team losing just seven times in regulation over a 68-game season. Imagine a team winning so much that they almost broke the OHL record for most consecutive wins. The Greyhounds accomplished both of those tasks.
While most of the attention went to established prospects Boris Katchouk, Morgan Frost and eventually Taylor Raddysh after being traded from Erie, the Greyhounds had a draft-eligible prospect that was arguably one of their most important players throughout the season. He played the role of 2C beautifully while contributing at both ends of the ice. He could be the best overall available center in this draft. Meet Barrett Hayton.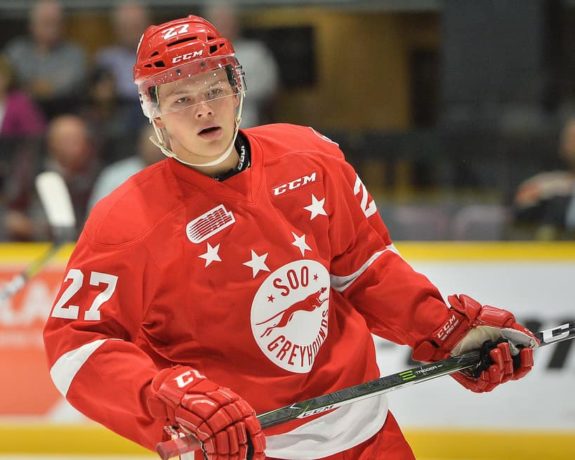 Hayton's season started as well as it could possibly start. He was part of the Team Canada team that won a gold at the Ivan Hlinka. Then he enjoyed a monster OHL season. Mind you, he played second line minutes virtually the entire season. He scored 21-39-60 in 63 games and added 8-13-21 in 24 playoff games. So not only was he almost a point per game on line two, he saved his best for later in the playoffs. When the games got tougher, Hayton shined. Whether it was a big goal or an excellent penalty kill, Hayton did things to keep his team in games.
Full profile can be found here
Detroit Red Wings – 6th Overall – Filip Zadina, LW
THW Draft Profile Excerpt:
The Halifax Mooseheads have produced some top-notch NHL talent over the last few years. Some of the most notable examples include Nico Hischier (first overall in 2017), Nathan MacKinnon and Jonathan Drouin (first and third overall in 2013), Nikolaj Ehlers (ninth overall in 2014) and Timo Meier (ninth overall in 2015). That trend should remain steady this season with Filip Zadina primed to go early in the 2018 NHL Entry Draft.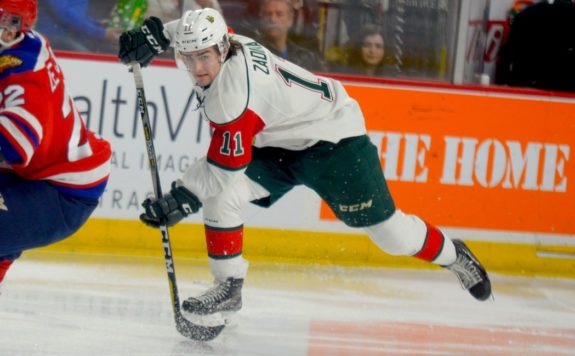 The winger has exceeded all expectations this season – an impressive feat. given how highly touted he was prior to ever stepping foot on a QMJHL sheet of ice. His combination of size, speed and skill make him an intriguing prospect who has all the makings of a star. His lateral movements and straight-line speed make him more than just a threat on offense, however, as he's a potent penalty killer too.
From start to finish, Zadina made the best of the 2017-18 regular season in Halifax and has only bolstered opinions of him leading up to the draft.
Scoring a very impressive 44 goals and 82 points in only 57 games with the Mooseheads in his rookie season in the QMJHL, Zadina quickly showed everybody exactly what he was all about. From his size and strong skating ability to his skill and elite shot, Zadina has a tendency to make plays that can wow even the most avid hockey fan.
Full profile can be found here
Vancouver Canucks – 7th Overall – Quinn Hughes, D
THW Draft Profile Excerpt:
Fast risers always get attention in the hockey world. Perhaps one of the fastest risers in the last several years is Michigan standout defenseman Quinn Hughes. His rise began with the same team as the great Connor McDavid, the Toronto Marlboros.
Hughes was one of the leading scorers on that Marlboros' team despite being one of the youngest on the roster. It was from that moment that there was something special developing. It came to light after he joined the USNDT. He became the first player in USHL history to average a point per game in the seasons leading up to the draft. This is better than the likes of Charlie McAvoy and Seth Jones.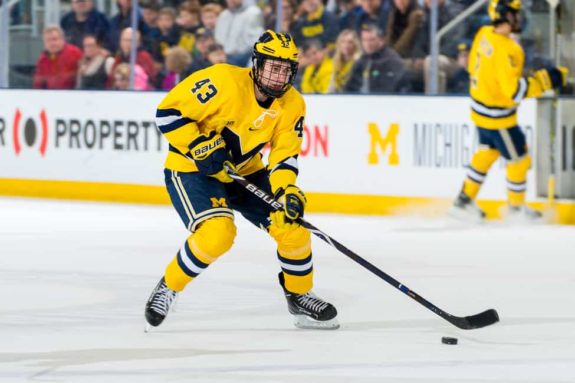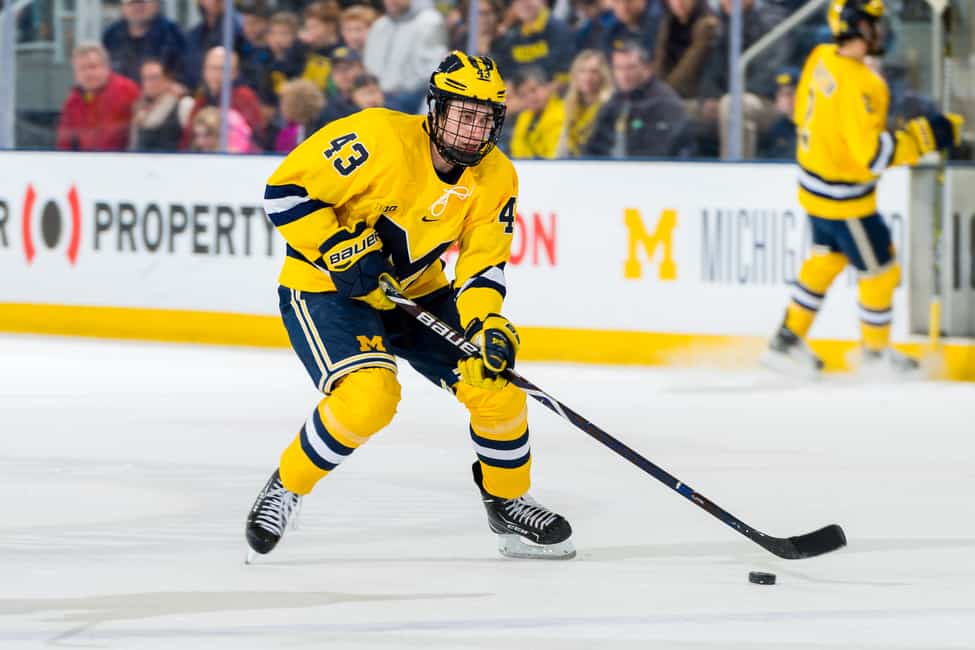 Hughes then went to Michigan and put up a very respectable line of 5-24-29 in 37 games. As a comparison, Zach Werenski put up a line of 9-16-25 in 35 games in his draft season at Michigan. Hughes and the Wolverines got to the Frozen Four before losing a tough game to Notre Dame. Werenski went back to Michigan for one more season but was 17 at the time of the draft. Hughes has a late birthday and is already 18. It'll be interesting to see if he gives Michigan one more try.
Full profile can be found here
Chicago Blackhawks – 8th Overall – Adam Boqvist, D
THW Draft Profile Excerpt:
While all the attention of this upcoming draft is focused on the top-three of Rasmus Dahlin, Andrei Svechnikov and Brady Tkachuk, there's a player available if you miss out who has a lot of Erik Karlsson in him. Sounds interesting, right?
High-end offensive defensemen are hard to find. But there is one available in Adam Boqvist who could make a lot of aspects of your team better. It starts with what he is able to do with the puck on his stick.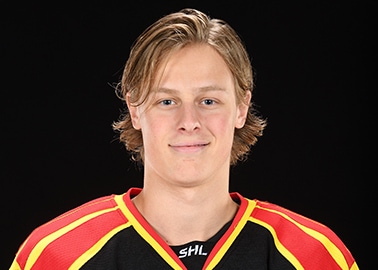 Boqvist is as good a playmaker as he is a shooter. He is equally dangerous in both offensive aspects. He can score from anywhere on the ice. If he doesn't have the shooting lane, he can complete almost any pass. It's usually the right pass and on the tape. He does all of this at a high rate of speed as he is a dynamic skater. Need an example of how offensively gifted he is? When his team needed a shootout goal, he was called upon to deliver and usually did.
Full profile can be found here
New York Rangers – 9th Overall – Vitali Kravtsov, RW
THW Draft Profile Excerpt:
Things go in cycles in the National Hockey League, and particularly in drafting and development. In the past, there's been a lot of chatter about the "Russian Factor" – the nervousness that a Russian-born player might not cross the ocean to North America if they're drafted. That nervousness has diminished somewhat by several Russian players coming over – before the NHL Draft and after it – and having success. Vitali Kravtsov of the Kontinental Hockey League's Traktor Chelyabinsk is a Russian who's stayed in his motherland thus far, but is generating a lot of buzz from NHL scouts.
Full profile can be found here
Edmonton Oilers – 10th Overall – Evan Bouchard, D
THW Draft Profile Excerpt:
To call the 2017-18 season a positive for draft-eligible defenceman Evan Bouchard is an understatement. His London Knights made the bold decision to trade away arguably their top four players in Max Jones, Robert Thomas, Cliff Pu and Sam Miletic leading up to the deadline and in the midst of a playoff-bound season. Still, Bouchard carried the Knights.
He took on a leadership role, named the captain of the OHL's storied franchise shortly after the trades, and averaged more minutes on a nightly basis than any other Knights player.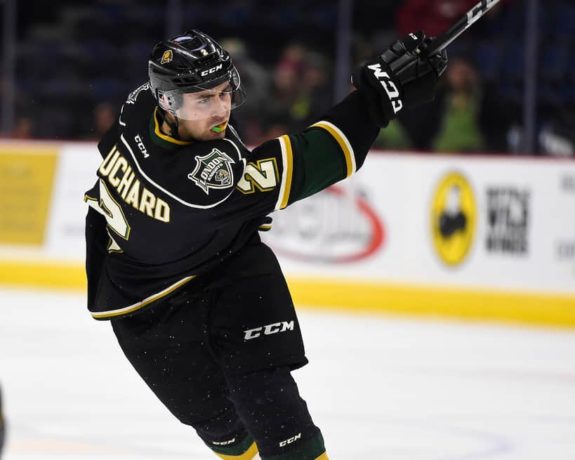 He climbed the franchises all-time lists with a 25-goal and 87-point season and helped the Knights into the playoffs where they were eventually swept by the Owen Sound Attack in the first round. Still, Bouchard's on-ice intelligence and hockey sense are unlike so many others.
Full profile can be found here
New York Islanders – 11th Overall – Oliver Wahlstrom, C/RW
THW Draft Profile Excerpt:
When you attend high school at Shattuck St. Mary's in Minnesota, chances are good that you are a really good hockey player with a bright future. Speaking of bright futures, that's what Oliver Wahlstrom has at the next level.
Wahlstrom is a dual citizen of both Sweden and the United States. His father Joakim played hockey in the Swedish Elite league after playing hockey at the University of Maine. But it was what Wahlstrom did as a nine-year-old that got him early national attention.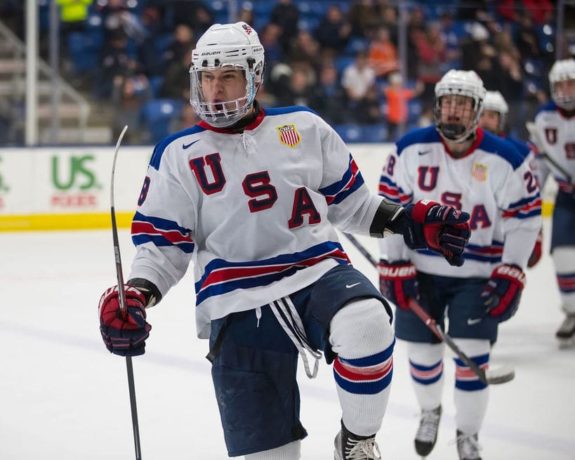 While at a mini one-on-one competition at Boston's TD Garden, Wahlstrom scored one of the prettiest shootout goals you will ever see. He put the puck on his stick, did a spin and whipped the puck lacrosse style into the net. This goal went viral in the earlier days of social media. Both ESPN and CBS had him on national television as a result.
Full profile can be found here
New York Islanders – 12th Overall – Noah Dobson, D
THW Draft Profile Excerpt:
Imagine winning everything you wanted to win in a given year. Let's quickly recap the season of Noah Dobson. He started out by winning a gold medal at the Ivan Hlinka. Check. He then helped the Titan win the QMJHL in just 20 playoff games. Check. He then helped the Titan win four straight at the 100th Mastercard Memorial Cup including a shutout in the championship game against the host team on their home ice. Check.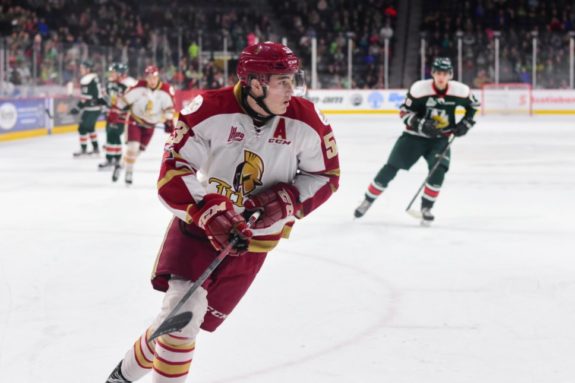 For Dobson, this will be a season he'll never forget. He won it all. Not many prospects bring that kind of resume to the NHL Draft. Teams who miss out on the top talent have a chance to bring in a winner, a leader and someone who can help you in so many ways.
Dobson is one of the best two-way defensemen available in this draft. Want offense? You got it. He posted 17-52-69 in 67 games from the blue line and added 3-10-13 in 20 playoff games. Then to top it all off, he added 2-5-7 in four games in Regina. He was just outstanding.
Full profile can be found here
Dallas Stars – 13th Overall – Ty Dellandrea, C
THW Draft Profile Excerpt:
The Flint Firebirds were excited at the start of the 2017-18 season. They came off a season in 2016-17 that saw them make the playoffs before losing in five games to the Sault Ste. Marie Greyhounds. Things were looking up. They even started the season 3-0. Then things went south in a hurry.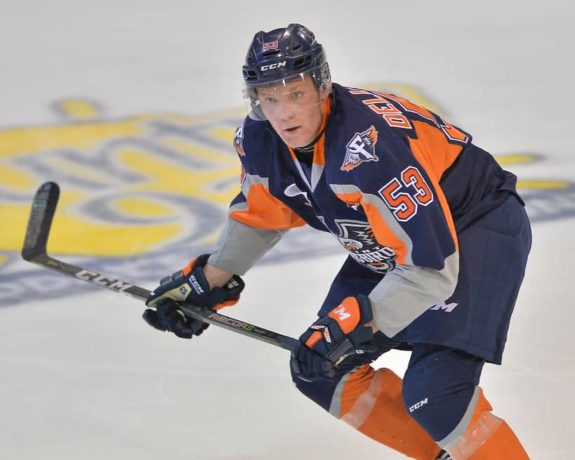 The Firebirds lost nine in a row in October and November to fall out of the playoff race. Then they traded two of their best players in Nick Caamano and Ryan Moore. A promising start to a season faded into a long winter. But there was good news that came from this. The stage now belonged to Ty Dellandrea.
Dellandrea didn't disappoint. Although the Firebirds couldn't get back into the playoff race, we got a good glimpse of just how bright their future was with him running the show. He finished the season with a line of 27-32-59 in 67 games. Considering how much defensive attention his line got every night, this is an impressive line given he's one of the youngest players available in this draft.
Full profile can be found here
Philadelphia Flyers – 14th Overall – Joel Farabee, LW
THW Draft Profile Excerpt:
Imagine playing on a line with two players that are projected top-five picks in their respective draft years. That's where Joel Farabee finds himself. He gets to play with Oliver Wahlstrom and Jack Hughes on the USNT.
While most of the attention goes to Wahlstrom and Hughes, Farabee more than holds his own on the ice. In fact, he is the captain of the USNT. His performance at major tournaments in his career to date is impressive.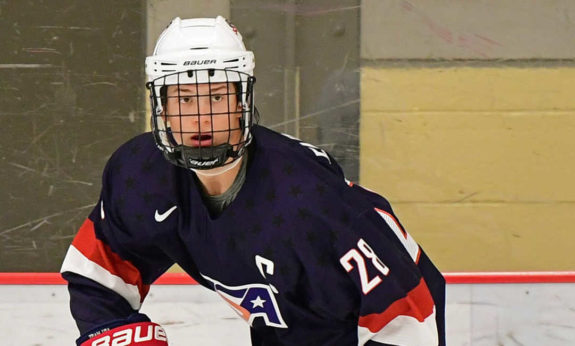 At the most recent Five Nations Tournament in Plymouth, MI, Farabee scored twice and averaged a point per game. But it is at the U18 World Junior Championships where Farabee put his name on the map. He scored twice in the gold-medal game for Team USA and led them to a 4-2 win over Finland. Overall, he put up a line of 3-3-6 in seven games and was one of the best players in the entire tournament.
Full profile can be found here
Florida Panthers – 15th Overall – Grigori Denisenko, LW/RW
THW Draft Profile Excerpt:
If we exclude the top five players in the 2018 rankings, probably no other player has the same raw talent as Grigori Denisenko among the draft eligible. As a traditional Russian winger, Denisenko can boast in his arsenal tremendous puck-handling skills, excellent skating with high top speed, and a good nose for spotting an open partner. All this packed in a compact 5-foot-11, 175-pound body that will surely cause him to slip down a bit in the draft day, even if size in the NHL has not a dramatic impact as it used to have.
Denisenko has spent most of his year with the national junior team and playing in the MHL, the Russian junior league, where he posted very good numbers for a player of his age, with nine goals and 22 points in 31 regular season games. With the national team, he was particularly good, amassing six goals and 11 points in the different tournaments. At the end of the season, Denisenko had his KHL debut, playing in the playoff against SKA, without scoring any point but having a good number of great offensive plays.
Full profile can be found here
Colorado Avalanche – 16th Overall – Martin Kaut, RW
THW Draft Profile Excerpt:
What does it take to get noticed in the hockey world? With so many players trying to make a name for themselves, it can be anywhere from difficult to almost impossible to stand out in a crowd, especially after a disappointing start to a season. That's where Czech winger Martin Kaut found himself after a poor showing at the Five Nations tournament.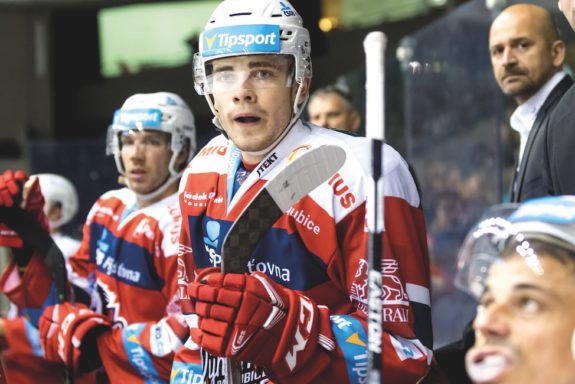 That didn't stop Kaut from making the World Junior Championship a personal showcase of how talented he is. He finished the tournament with seven points in seven games. He played on a line with Martin Necas and Filip Zadina and looked comfortable playing the playmaking role. Whether he was distributing the puck with precision, as evidenced by his three primary assist game, or burying his chances, Kaut was one of the best players of the entire tournament.
How much attention has Kaut received since? He beat out his fellow countryman Zadina for a spot on the World Championship roster for the Czech Republic. This says something about Kaut and the kind of player he is.
Full profile can be found here
New Jersey Devils – 17th Overall – Ty Smith – Defense
THW Draft Profile Excerpt:
The NHL Draft tends to go in cycles through the three Canadian major junior leagues, and also between positions. The 2018 NHL Draft is widely considered a weaker Western Hockey League draft class but a very defender-heavy draft at the higher end. Spokane Chief's blueliner Ty Smith represents the cream of the WHL crop for the 2018 class. He's an intelligent, mobile, puck-moving defender who has the misfortune of being one of many strong defenders in this year's draft.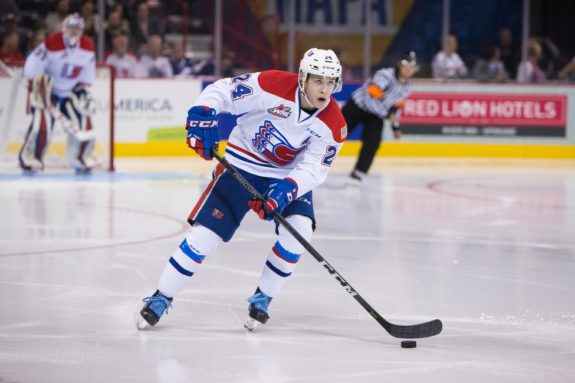 There are a lot of things to like about Smith's game. The first overall selection in the 2015 WHL Bantam Draft, he joined the league full-time in 2016-17 and was solid if unspectacular as a freshman. He showed occasional flashes of excellence that season, and those flashes have become more the rule than the exception during an exceptional 2017-18 campaign for Smith. He more than doubled his points from his rookie season and nearly tripled his goals output – he finished second in the WHL in scoring by a defender, behind only Medicine Hat's David Quenneville (who's two years older). He even had a seven-point game against Prince George in February.
Full profile can be found here
Columbus Blue Jackets – 18th Overall – Liam Foudy, C
THW Draft Profile Excerpt:
He was a first-round pick by the London Knights in the 2016 OHL Priority Selection, but Liam Foudy didn't really breakout at the OHL level until the second half of the 2017-18 season with the Knights. The team has a tendency to play their older players – filling in the extra minutes with younger guys. That could be part of the reason why Foudy took a little longer to develop.
That said, he had 15 points in 58 games and limited time as a rookie coming out of the Markham Majors program. But, following the trades the Knights made at the deadline in 2017-18, Foudy found himself a new role with the young rebuilding squad.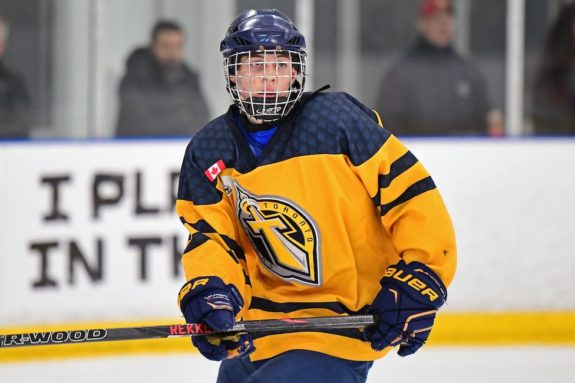 As a result, Foudy exploded for 24 goals and 40 points in 65 games in his second season with the Knights. While the team wasn't poised to go far in the playoffs, they did set themselves up nicely for the future – including Foudy is should take on an impactful leadership role in 2018-19.
As for the near future, Foudy is set to be part of Canada's U18 team and should get a chance to show his skill and hockey prowess on the bigger ice surface. Regardless of what he does at the tournament, Foudy should be considered a mid-round sleeper in this year's NHL Draft.
Full profile can be found here
Philadelphia Flyers – 19th Overall – Jay O'Brien, C
When it comes to the All-American Prospects Game in Buffalo, the vast majority of invitees come from either the USHL or the United States program in Michigan. To get an invite as a high school prep star says something significant about that player and what potential he has. Thayer Academy's Jay O'Brien certainly fits the mold of good potential at the next level.
Widely considered the best high school player in this draft, O'Brien got an invite to Buffalo and was only one of two New England prep players to get the honor. To go from playing on the prep ice to the ice at Key Bank Center is a dramatic change and one very welcomed by O'Brien. It showed the hard work he put in was paying off.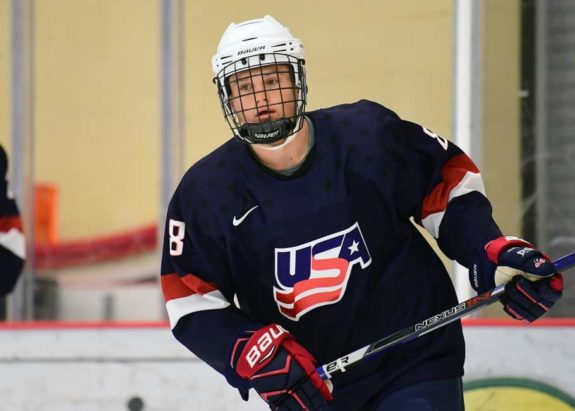 Thayer has produced some good talent of late. Minnesota's Charlie Coyle went there along with both Brian Gibbons and Northeastern's Adam Gaudette. O'Brien might have more upside than these three. He was by far their leading scorer this season. In just 30 games, he produced 43 goals and 80 points. He was easy to spot on the ice during games. The fast one was O'Brien. In terms of who his coach was, you might recognize the name. Former Ranger and Blackhawk great Tony Amonte runs the bench at Thayer. That's pretty good company to learn from.
Full profile can be found here
Los Angeles Kings – 20th Overall – Rasmus Kupari, C
THW Draft Profile Excerpt:
The Ivan Hlinka tournament in August is one of my favorite showcases of the next wave of talent out there. It gives us our first look at someone in their draft season on a big stage. Perhaps no one grabbed the bull by the horns at the Hlinka this past season more than Rasmus Kupari.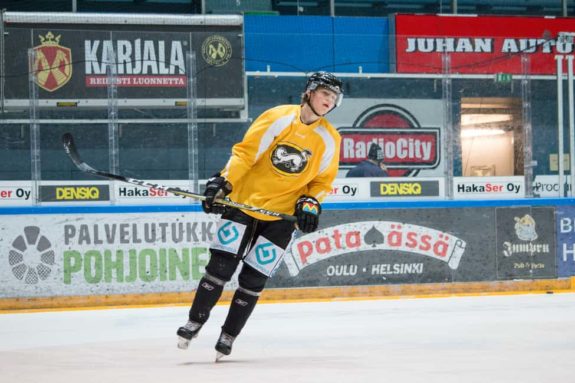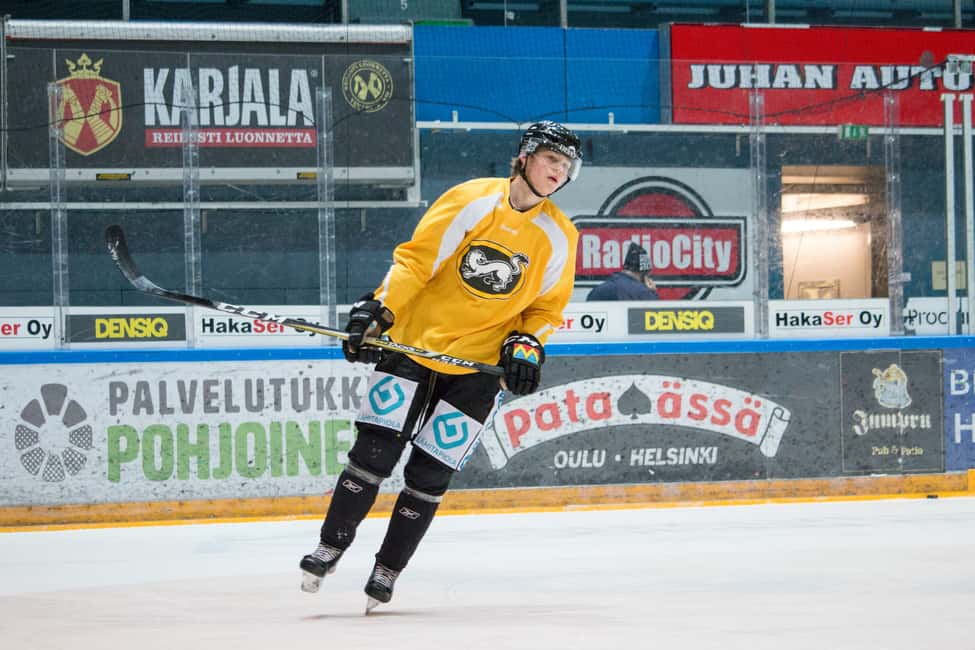 Kupari introduced himself to the world at this tournament. It was almost like watching a live video game with the offensive skill he displayed. With seven points in his four games including two goals, his playmaking skills were a treat to watch. Whether he rushed up the ice or showed off his hands with great passing, you couldn't help but think how dynamic he could be.
After the Hlinka, Kupari joined Karpat in Finland as a rookie playing against men. On that team which also had '17 draft prospect Kristian Vesalainen, they won a championship. Kupari did nothing to hurt himself throughout the season. He put together a line of 6-8-14 in 39 games and was on the plus side of plus-minus with plus-4.
Full profile can be found here
San Jose Sharks – 21st Overall – Ryan Merkley, D
THW Draft Profile Excerpt:
The Guelph Storm owned the coveted first overall pick in the 2016 OHL Priority Selection. There was no question who they would take with that pick. After scoring 44 points in 33 games for the Toronto Jr. Canadiens and being named the GTHL Player of the Year, Ryan Merkley was the obvious choice. The Storm had an elite offensive defenseman to build around.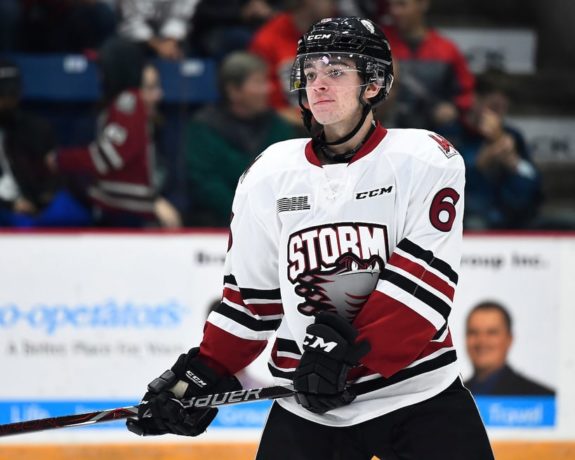 Merkley's first two seasons in Guelph has been anything but easy for his team. Although he's put up elite numbers in his 16 and 17-year-old seasons, his team missed the playoffs the first year and was ousted by the Kitchener Rangers in six games this season. Just look at these insane numbers. Keep in mind he's a defenseman. In 2016-17, he had 12-43-55 as a 16-year-old. He followed that up with a line of 13-54-67 in 63 games. This is easily NHL lottery pick territory.
But there are two sides to this story. While the offensive is undeniable, Merkley's defense is well, a work in progress. Although there were pockets of bright spots there, there is a long way to go in that department. Whether he made a bad pinch or a poor pass, errors of this kind were all too common. That would go to explain his -70 rating career to date. Talk about polar opposites in one player.
Full profile can be found here
New York Rangers – 22nd Overall – K'Andre Miller, D
THW Draft Profile Excerpt:
Forward-turned-defenceman, K'Andre Miller could be a special pick in the upcoming NHL Draft. He has size. He has skill. He skates among the best of them and he's had the chance to play both up front and on the back end.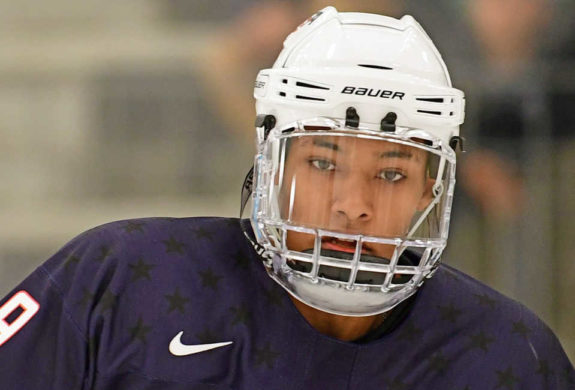 In 2015, the WHL's Saskatoon Blades drafted Miller in the ninth round and 177th overall in the WHL Bantam Draft. That said, Miller never made the jump to the WHL and remained in the U.S. Development Program.
In 2017-18, he played 22 games with the U.S. National Team Development Program Juniors and another 58 games with the U.S. U18 team. With the juniors, he tallied 4 goals and 16 points in those 22 games – adding another 9 goals and 29 points in 58 games with the U18 team.
Full profile can be found here
Anaheim Ducks – 23rd Overall – Isac Lundestrom, C/LW
THW Draft Profile Excerpt:
When anyone draws comparisons to the great Peter Forsberg, there must be a lot of hype for that player. That is certainly the case for Sweden's Isac Lundestrom.
Although he's a little lost in the shadow of fellow countryman Rasmus Dahlin, Lundestrom enters this draft as one of the leading candidates to be the first center taken. He is also expected to be the second Swedish player taken behind Dahlin. His overall body of work at such a young age helps him stand out.
Lundestrom has two years under his belt playing in Sweden's top professional league. He made a nice improvement in year two doubling his goal output and tripling his assist output from year one. He looks poised and comfortable playing against older competition. He also has a knack for making plays especially around the net.
Full profile can be found here
Minnesota Wild – 24th Overall – Filip Johansson, D
THW Thoughts:
Filip Johansson is a reliable defender who has decent speed and mobility. A prototypical defender in today's NHL, Johansson may not have been a highly-ranked player coming into this draft but the Minnesota Wild ultimately viewed him as a player worth picking at this point in the first-round.
RELATED: THW's 2018 Draft Guide
A potential top-pairing defender who should fit in no lower than on a team's second-pairing at the NHL level, Johansson still has some things to work out in his development to reach his potential. His offense could use work and he could certainly stand to add some mass to his body. If he can do so, he can add some solid mobility to the Wild's defense as a right-shot defender – an area that the Wild don't have any deficiencies in right now which should bode well for his development as the team won't need to rush him.
St. Louis Blues- 25th Overall – Dominik Bokk, RW
THW Draft Profile Excerpt:
If you're a hopeful prospect waiting for your chance to prove yourself at the next level, drawing comparisons to Edmonton's Leon Draisaitl is a great position for you to be in. That's where German-born winger Dominik Bokk finds himself these days.
"I'm a skilled forward, I like to shoot and like to pass"-Dominik Bokk pic.twitter.com/qiZRRIsgsB

— Scott Matla (@scottmatla) June 2, 2018
Bokk is one of the most interesting prospects in this entire draft because of everything he brings to the table. He could be the best prospect to come from Germany since Draisaitl. Although Bokk is a winger while Draisaitl can play both center & wing, the offensive comparisons are easy to see.
Want to see an elite skill set on display? Watch the tape on Bokk. In viewing the tape of a couple of his games in Sweden this season, he was perhaps one of my favorite prospects to watch in 2017-18. It just felt like something dynamic was about to happen. You usually find him racing down the right side with the puck. But the way he can handle the puck and make quick decisions at a high rate of speed is just magical to watch. Then if you play the pass, he has an NHL shot that goalies must respect.
Full profile can be found here
Ottawa Senators – 26th Overall – Jacob Bernard-Docker
THW Draft Profile Excerpt:
It seems like in every edition of the National Hockey League's entry draft there's a handful of standouts from Canada's junior A circuits who earn a lot of attention from scouts and analysts with gaudy offensive numbers. The 2018 NHL Draft doesn't have a runaway best junior A representative, as 2017 did with fourth overall pick Cale Makar of the Alberta Junior Hockey League's Brooks Bandits.
But there are three strong players vying to be the top junior A player taken this year, including the Ontario Junior Hockey League's Jack McBain and the British Columbia Hockey League's Jonny Tychonick. The third contender, Okotoks Oilers defender Jacob Bernard-Docker, can be described as a "poor man's Makar" but that's not meant as a slight – Bernard-Docker is a pretty exciting young player.
There's a lot to like about Bernard-Docker's game. He's a very good offensive player, boasting strong situational awareness, good hockey sense, high-end mobility and a cannon of a slap shot from the point. He jumped from seven goals as an AJHL rookie to 20 goals by virtue to gaining confidence in his shot, a prime factor in his overall offensive jump this past season. He's an effective puck distributor, too, and has become a very potent power play quarterback at the AJHL level due to his passing and offensive awareness.
Full profile can be found here
Chicago Blackhawks – 27th Overall – Nicolas Beaudin
THW Opinion:
Beaudin is the type of player who can play in all three-zones and has the ability to man a team's power play. A smart player, Beaudin's best trait might be his mind as he seems to always be a few steps ahead of the play which can be infuriating for opposing players.
RELATED: THW's 2018 Draft Guide
While Beaudin may have been expected to be a pick in the early second-round, the Blackhawks ultimately deemed him as a player that they simply couldn't pass up here and ultimately felt that he was the best player left on their own draft board. With a few aging defenders in the 'Hawks top-four, Beaudin could be the start of the new-age Blackhawks on defense who usher in the next potential dynasty in the Madhouse.
With 69 points in 68 games in the QMJHL last season as a defender, it's not hard to see what the Blackhawks liked so much about Beaudin.
New York Rangers – 28th Overall – Nils Lundkvist, D
THW Opinion:
A smart offensive defender who isn't afraid to jump up with his offense, Lundkvist is the type of player who can be a very valuable weapon at the NHL level. He was certainly picked higher than expected with the 28th selection but the Rangers had three picks in the first-round and has some options in terms of what they felt comfortable doing with this pick.
RELATED: THW's Live Draft Tracker
At 5 foot 11 and 172 pounds, Lundkvist is definitely on the smaller side of mobile defenders but in an ever-changing NHL, size is becoming less of a factor when considering how many successful players – even defenders, can get by despite not being more rugged.
It's unclear how long it might take Lundkvist to develop into an NHL-caliber defender but if he can polish the defensive side of his game, it isn't hard to envision Lundkvist turning into a top-four defender with power play upside.
Toronto Maple Leafs – 29th Overall – Rasmus Sandin, D
THW Draft Profile Excerpt:
If there is one thing that the Sault Ste. Marie Greyhounds are good at, it's that they can find great talent anywhere in the world. Once again this was demonstrated by them in the CHL Import Draft. With the 52nd pick in the 2017 import draft, they took talented Swedish defenseman Rasmus Sandin.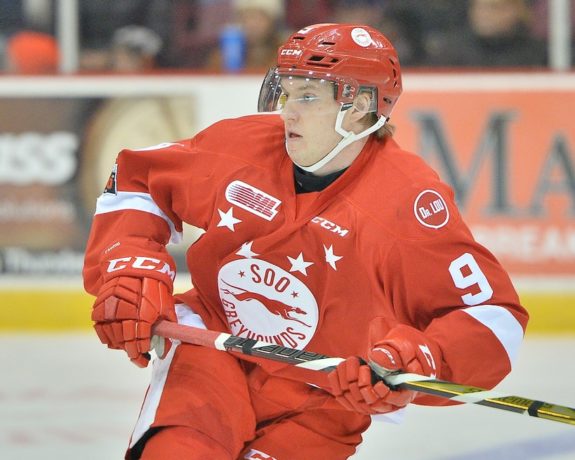 While he was off the map to the OHL world, it was only a matter of time before Sandin showed off the kind of player he was. He made his debut for the Greyhounds in October. While some thought there would be an adjustment period coming over to North America, he demonstrated how quick a study he is.
Sandin finished the season with 12-33-45 in 51 games and added 1-12-13 in 24 playoff games. He made his mark at different points of the season when stud Conor Timmins missed time. Sandin played the role of the man during those times. He played the part well and was confident doing it. He provided some great stability for the Greyhounds and helped propel them to 55 wins in 68 regular season games.
Detroit Red Wings – 30th Overall – Joe Veleno, C
THW Draft Profile Excerpt:
Joseph Veleno is the typical player who works hard and makes his teammates around him look better. Granted exceptional player status a few years ago, Veleno joined a short list of players to play in the CHL at only 15 years old.
Sort of a jack-of-all-trades, Veleno is capable of playing a 200-foot game while consistently producing offense. Playing a major role on any team he's ever been a part of, Veleno excels at being in the right place at the right time. This isn't luck, though, as Veleno seemingly sees the ice better than anybody else regardless of team.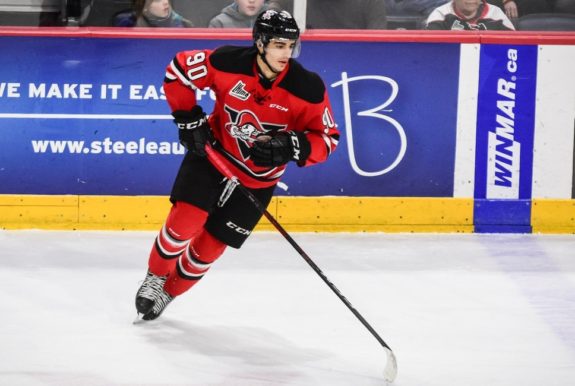 His six goals and 31 points in 31 games with the Saint John Sea Dogs lent to the notion that Veleno would be a top prospect in this year's draft. Scoring another 16 goals and 48 points in 33 games following a trade to the Drummondville Voltigeurs opened the eyes of anyone who may have been sleeping on him, however, as he proved to be more than just a pass-first center.
His five goals and 11 points in 10 playoff games this season weren't too shabby either.
Full profile can be found here
Washington Capitals – 31st Overall – Alexander Alexeyev, D
THW Draft Profile Excerpt:
For some reason, European defensemen have developed the reputation for excelling at the finesse game but shying away from the physicality that has punctuated the North American style of hockey in recent years – Philadelphia Flyers defender Ivan Provorov might be the best example of a player that combines both styles effectively. It may sound contradictory, but one of the best compliments one can pay to Red Deer Rebels defenseman Alexander Alexeyev is that he doesn't really play like a European defenseman. One of the most effective and dependable import blueliners in the Western Hockey League, he's eligible for selection in the 2018 NHL Draft and boasts a very balanced skill-set.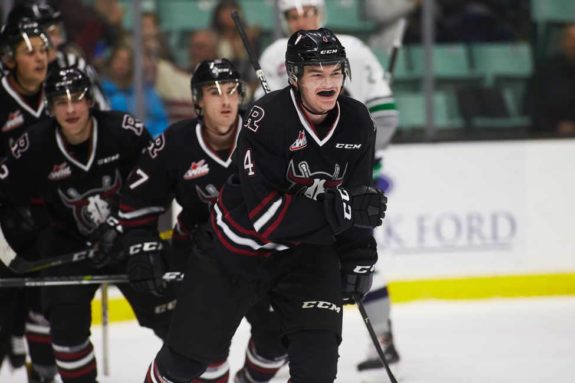 There are two notable traits that Alexeyev possesses that likely make him a tantalizing option for NHL clubs: his size and his particularly low-risk playing style. Alexeyev is a big kid, standing 6'3″ and weighing 190 pounds. He's big and uses his size well, but his size isn't a hindrance; he has mobility you wouldn't expect from a guy his size, and his on-ice awareness has helped him adjust very quickly to the smaller North American ice after growing up on the larger European playing surfaces.