With the first round of the 2018 NHL Draft in the books, it's time to turn our attention to the recap and some of the surprises on Day One. There wasn't the flurry of deals everyone was expecting. Some thought the Montreal Canadiens would trade down from the third spot to take Jesperi Kotkaniemi further down while picking up an asset along the way.
That didn't happen. Then there was the Ottawa Senators and the uncertainty with the fourth pick. Were they going to give it to the Colorado Avalanche to complete the Matt Duchene deal, or give them their 2019 first-rounder instead? The Senators kept the pick after all and took forward Brady Tkachuk.
Not as Many Trades on Draft Floor as Projected
All in all, there were just three trades. The Washington Capitals dealt goaltender Philipp Grubauer and defenseman Brooks Orpik (and his inflated cap hit) to the Colorado Avalanche for the 47th overall pick. Avalanche general manager Joe Sakic is expected to peddle Orpik's contract to another club.
Ottawa then traded down from the 22nd pick and received the 26th and 48th selections from the New York Rangers. They slid back and chose Jacob Bernard-Docker, while the Rangers moved up to snag rearguard K'Andre Miller at 22nd. Not to be outdone, their provincial rivals, the Toronto Maple Leafs also traded down.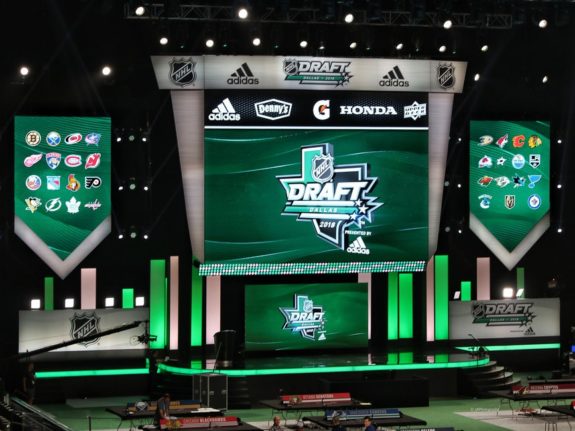 Toronto moved down from 25th and picked up the St. Louis Blues' picks at 29th and 76th. The Blues used that 25th pick on Dominik Bokk, while the Leafs traded down to snag Rasmus Sandin at 29th. Toronto still holds the third-round pick (76th), so we'll see what they do with that.
There was no Erik Karlsson deal, Max Pacioretty didn't get traded, nor did the New York Rangers package their trio of picks to get into the Top 10. There might have been very little regarding blockbuster deals, but the 2018 NHL Draft didn't go without surprises on Day One. Here are a few tidbits that caught us off guard.
Coyotes Go off the Board With Hayton
The first three picks went without much surprise. Rasmus Dahlin went first to the Buffalo Sabres, Andrei Svechnikov went second to the Carolina Hurricanes, and Kotkaniemi went third to the Montreal Canadiens. There was a mild shakeup in most draft boards that had Filip Zadina going fourth to the Ottawa Senators (they took Tkachuk as mentioned).
The real surprise was the Arizona Coyotes going off the board and taking center Barrett Hayton with the fifth overall pick. It was a surprise considering the names of defensemen that were still available. Quinn Hughes, Adam Boqvist, Evan Bouchard, Noah Dobson, and Ty Smith were still sitting there.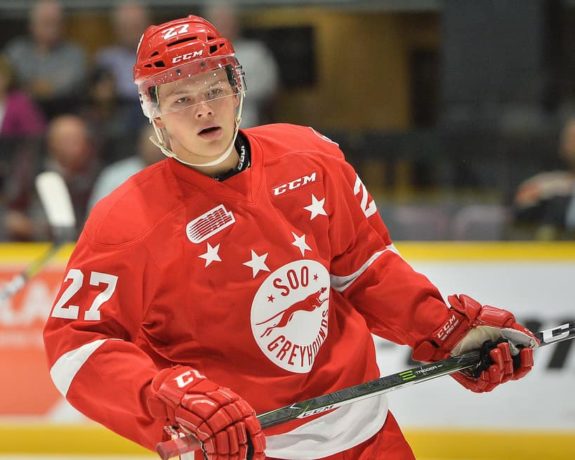 Filip Zadina and Oliver Wahlstrom were pegged as the two best forwards remaining. With the value so high on centers, and the Coyotes needing someone to fill a vacancy in the middle, they picked Hayton. He won't jump into the Coyotes lineup in 2018-19, but Arizona GM John Chayka has a sleeper on his hands here.
Related: Barrett Hayton – 2018 NHL Draft Prospect Profile
A lot of people see the 18-year-old taking a more prominent role with the OHL's Sault Ste. Marie Greyhounds and having a stellar draft-plus-one season. Hayton could develop into an excellent No. 2 center for the Coyotes.
Rangers Pass on Bouchard, Dobson & Wahlstrom
Everything was going according to plan until the Coyotes took Hayton (for the most part). Once they took the Greyhounds forward, it pushed a few players back which played out in favor for the Rangers. By the time New York GM Jeff Gorton was on the clock he had Evan Bouchard, Oliver Wahlstrom, and Noah Dobson still available to him.
Each of them was highly-touted and thought of an excellent Top 10 selections. Instead, Gorton and the Rangers decided on taking right winger Vitaly Kravtsov from the Traktor Chelyabinsk. He projects as a top-six winger in the NHL but has a reasonably raw game outside of his scoring ability.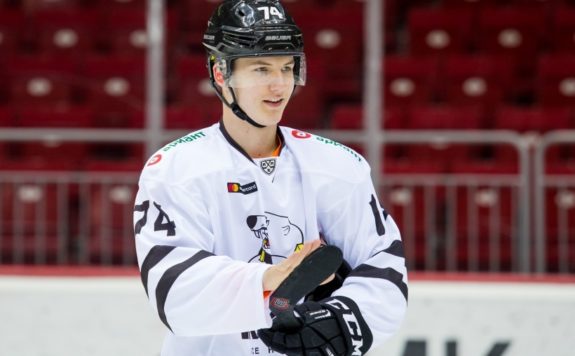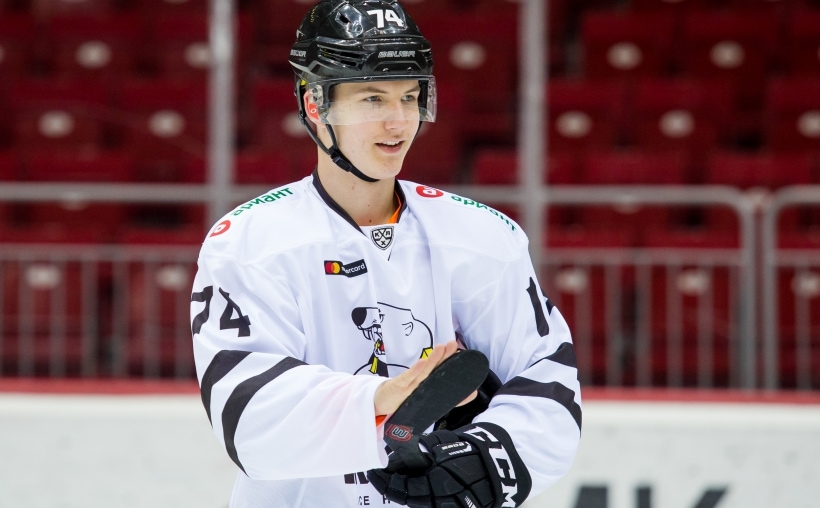 He's a speedster, fits well with the Rangers system, but you have to question the decision to pass on a Bouchard, Dobson, or Wahlstrom. If they wanted a goal-scoring winger, Wahlstrom has the potential to be a 40 goal scorer in the NHL one day.
Related: Vitali Kravtsov – 2018 NHL Draft Prospect Profile
We will find out in a few years if Gorton and the Rangers knew something the rest of us didn't. Kravtsov might take a year or two before he suits up in the Big Apple. He'll be a crucial piece in the Rangers rebuild as they try to restock the cupboards and get back to the top.
Oilers Take Bouchard, Isles Take Wahlstrom, Dobson
It seems as if the Edmonton Oilers and New York Islanders are tied together wherever we go. A few years ago it was the Griffin Reinhart trade that eventually cost the Oilers Mathew Barzal (Islanders took him 16th in 2015). Last summer it was the Jordan Eberle for Ryan Strome one-for-one deal.
This year it was the trio of picks from No. 10-12 that will cause debate among fans. With everything unfolding the way it did with the first nine selections, the Oilers had a king's ransom to choose from at No. 10. They took the highest scoring defenseman in the draft, Evan Bouchard. You know what that meant would happen next.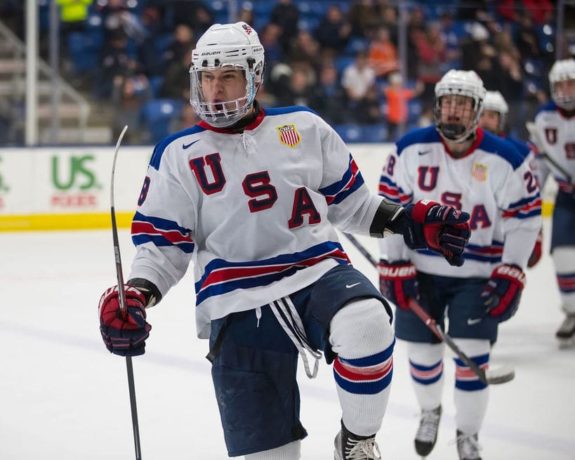 Lou Lamoriello and the Isles ran to the podium and took Wahlstrom and Dobson with the 11th and 12th picks respectively. The Islanders have got the best of the Oilers in the previous two scenarios, will they get the better of them for a third time? Peter Chiarelli and Edmonton's staff is hoping Bouchard develops into a No. 3 right shot power play hand.
Related: Oliver Wahlstrom – 2018 NHL Draft Prospect Profile
Lamoriello and his team have a goal scorer, in Wahlstrom,  who loves to shoot the puck and can play on their top two lines alongside the aforementioned Barzal, and John Tavares. Dobson could develop into a No. 2-3 defenseman with a solid all-around game. Time will tell again, but this could add more fire under Oiler fans that are growing angry with Chiarelli.
Stars Take Character Guy in Dellandrea at No. 13
Ty Dellandrea was expected to be a late first-round, early second-round selection. THW's Larry Fisher had Dellandrea going around 29th despite Mark Scheig predicting Dellandrea would surprise and go within the Top 20 picks.
It turns out Scheig might've been on to something as the Dallas Stars surprised folks by taking Dellandrea much earlier than scouts predicted. NHL Central Scouting had Dellandrea ranked 76th in their mid-term rankings, and he moved up to 25th amongst North American skaters by their final rankings.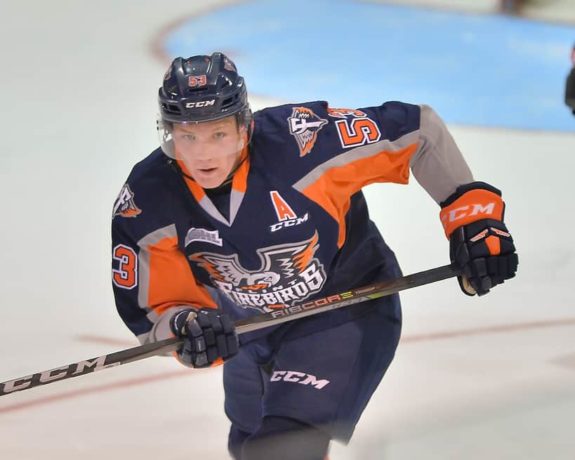 He finished the year with 27 goals and 59 points in 67 games, but it's not the scoring that people took notice of. He's a character guy, played very well on a Flint Firebirds team that was spinning their wheels, and projects to be a No. 2-3 center in the NHL.
Related: Ty Dellandrea – 2018 NHL Draft Prospect Profile
Don't let that scare you off, because it's about the quality of role he can play. Dellandrea can play both special teams and is a leader on and off the ice. This could turn out to be one of those picks folks will rave about years down the road. But if they wanted a skill center with similar, if not higher upside, Joe Veleno was still on the board.
Ty Smith Slips to Devils at No. 17
Heading into the draft, Ty Smith was just on the outside of that group of high-end defenders of Adam Boqvist, Quinn Hughes, Bouchard, and Dobson. All of them were off the board by the 12th pick. You figured he'd be the next blueliner taken off the board.
He was, but it wasn't until the New Jersey Devils called his name at No. 17. Smith looked like a Top 12 selection, but with the Coyotes and Rangers going off the board, it pushed him down (like everyone else). Then the Stars took Dellandrea at No. 13.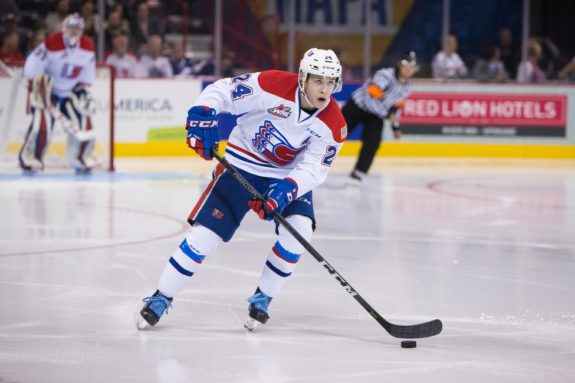 The Philadelphia Flyers (Joel Farabee), Florida Panthers (Grigori Denisenko), and Colorado Avalanche (Martin Kaut) all went with forwards. That meant that Smith would be ripe for the picking for the next team that wanted a defender or was looking for the best player available. Insert the Devils.
Related: Ty Smith – 2018 NHL Draft Prospect Profile
While he might not have elite-level potential, Smith projects as a safe No. 3-4 defender, very much in the Ryan Ellis mold. Ray Shero and the rest of New Jersey's staff lucked out in the first round with having Smith fall into their laps. The Devils don't have a top defense prospect, and now Smith fills that hole for them. It's a great pick overall.
Merkley Goes in the First Round After All
A year ago folks were talking about Ryan Merkley being bonafide can't miss Top 10 selection in the 2018 NHL Draft. Something changed, and suddenly Merkley was being considered the biggest wild card of the 2018 draft class. Some were even suggesting Merkley had fallen onto many clubs' "do not draft" list.
There was real talk of Merkley slipping all the way into the middle of the second round. The only way Merkley would've gone first in some eyes was him going to a team with multiple first-round picks. They'd get a guy they'd want with the first selection, and take a chance on him with the second choice.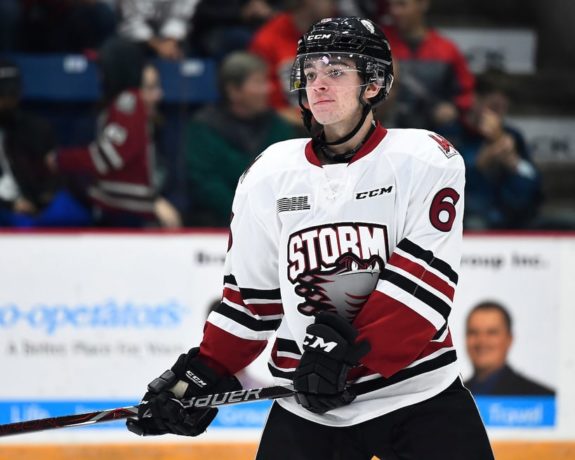 Regardless of all the talk about him having an attitude problem, not being coachable, having a chip on his shoulder, and everything in between, the San Jose Sharks took a chance on him with the 21st overall pick. If it all works out, Sharks GM Doug Wilson is going to have an elite-level scoring defenseman on his hands.
Related: Ryan Merkley – 2018 NHL Draft Prospect Profile
If it doesn't, it's a swing and a miss at 21, and the Sharks will live with the boom or bust aspect of this pick. If Merkley can get those issues and his defensive woes under control, he could end up being one of the better players in this draft. He could be anything from a No. 3-6 offensive defenseman in the NHL.
Veleno Falls to Red Wings at No. 30
Dellandrea might've been the biggest riser followed by Kravtsov. Merkley didn't fall as far as some thought, in fact, he went on the higher side of where folks were projecting him to go. The guy who dropped the most might've been Joe Veleno.
He was looking like a Top 15 selection and ended up sliding to the Detroit Red Wings at No. 30. Ken Holland and his group had already made their first selection at No. 6 grabbing Zadina. They lucked out again with a lot of teams passing on Veleno.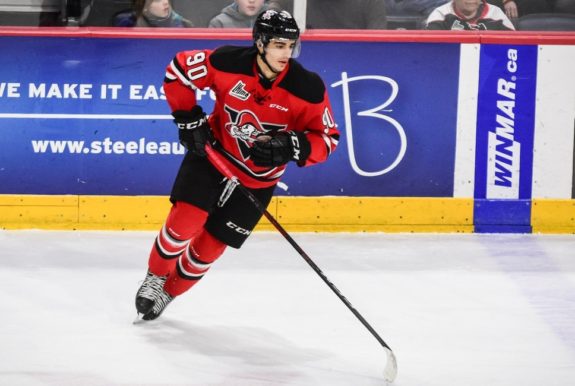 This is a guy who has No. 2-3 center upside plays a responsible two-way game and possesses a lot of similarities in his game as Patrice Bergeron. He played on one of the worst team's in the CHL, let alone the QMJHL, before he was traded from the Saint John Sea Dogs to the Drummondville Voltigeurs.
Related: Joe Veleno – 2018 NHL Draft Prospect Profile
Veleno took off in the second-half and never looked back. He has a shot at playing for Canada at the 2019 World Junior Championships. The Red Wings are putting together a functional group of young prospects with Tyler Bertuzzi, Evgeni Svechnikov, and Michael Rasmussen leading the way. Add Veleno to that stockpile now.
Plenty of Projected 1st Rounders Still Available
With the first round concluded, there's still plenty of guys still available that were projected to go within the Top 31 selections. Serron Noel is the 10th ranked North American skater as per NHL Central Scouting's final rankings. The power forward has middle-six upside and could be an excellent complimentary goal scorer on the right club.
Jared McIsaac of the Halifax Mooseheads might be the best all-around defenseman available heading into round two. McIsaac ranks 13th on that same list. Akil Thomas was a rockstar for the Niagara IceDogs scoring 81 points in 68 games. He ranks 15th on Central Scouting's list.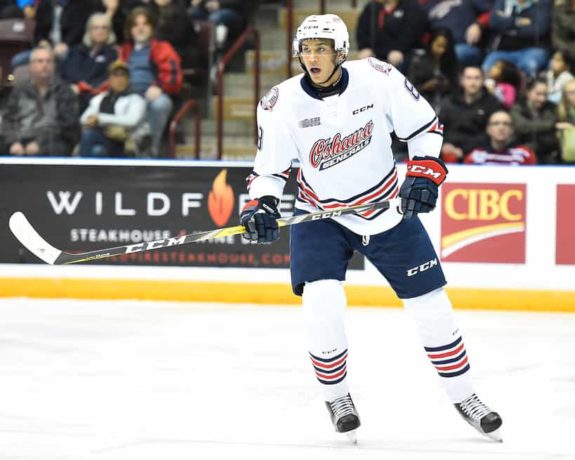 One of the other big surprises was that Bode Wilde slipped out of the first round altogether. He was primarily seen as the next best defenseman after that group of four and Smith. Another name of note was Jett Woo. We still haven't seen a goaltender go either.
Related: Serron Noel – 2018 NHL Draft Prospect Profile
That wasn't expected within the first round this year, but the second and third is where we should see the first keeper taken off the board. If the theme of the 2018 draft continues into day two, we should see some pretty interesting choices.
Recapping the 1st Round of the 2018 NHL Draft
With credit going to Brandon Share-Cohen for comprising a live tracker of all the picks this year, below are all the first round picks for your viewing pleasure. Be sure to follow along as we go through round two to seven tomorrow during Day Two of the draft festivities.
Related: 2018 NHL Draft: Live Tracker
Will there be any more surprises? Will there be a big shakeup on Day Two? Stay tuned to the THW Tracker for all your draft need to know. Another shameless plug is the free 2018 THW NHL Draft Guide. Follow along for prospect profiles, and team by team breakdowns regarding all things related to the draft.
Edmonton Oilers regular contributor providing insight on all things Oilers including club history, prospect profiles, trade breakdowns, and everything else in between. Check back regularly for new and exciting content. Follow on Twitter @SanderTHW.