Over the last few years, we have seen a monumental shift in the amount of players being drafted from countries like Finland, with players such as Kaapo Kakko, Miro Heiskanen and Anton Lundell. Finland has implemented a solid program when it comes to the development of its young players and it is paying off big time.
This upcoming class is no different. With many highly touted players being in a prime position to be selected in the first few rounds of the draft, I will be taking a look at some of the better Finnish talents that could come out of the 2021 NHL Draft.
Aatu Raty
Currently pegged as the number one overall pick for the upcoming 2021 NHL Draft, Raty has all the makings of a future star. Having spent last season playing for Karpat U20 in the Jr. A SM-liiga, he accumulated two goals and 19 assists for 21 points in 30 games. In two games played with Karpat U20 this season, he has collected an assist.
What caught my eye early on from watching him is the fact that he is a threat in all three zones when he is on the ice. In the offensive zone, he is able to control the puck for long periods of time and uses his skating ability to create space and time for his teammates to get open for the pass. He is not afraid to drive the net and is always battling opponents for space.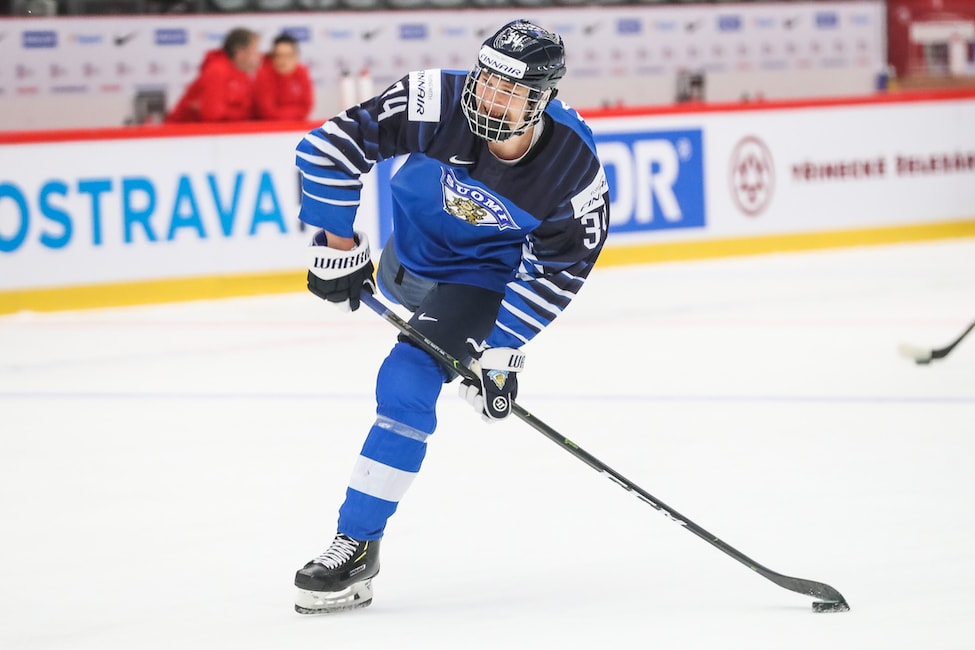 With bigger ice surfaces in Finland, Raty has taken the space and used it to his advantage. He is able to corral a pass from his defenders while breaking through the neutral zone and doesn't even lose stride. He uses his momentum to drive the net and create a high danger scoring chance. When the puck is in the defensive zone, Raty is very effective and cutting opponents time and space off and limiting their scoring chances. He plays with an active stick and drives his opponents to the outside and effectively closes passing lanes in the process.
With the upcoming 2021 World Junior Championship coming up in December, Raty will get the chance to play with some great players like Anton Lundell, Kasper Simontaival and Patrik Puistola. Currently slotted in as the second center on my roster for Team Finland (a prediction on my part, of course), he will be able to show fans around the world why he is one of the top prospects in this class. Raty has some serious talent and it will be exciting to see how he develops over the course of the year.
Samu Tuomaala
A player who is projected to go in the first round, Tuomaala has turned some heads so far this season. Playing for Karpat U20 of the Jr. A SM-liiga, he has scored five goals and added six assists for 11 points in 12 games. Tuomaala has also appeared in a Liiga game for Karpat but was held pointless.
Tuomaala has the unique ability to slow the game down. When the puck is on his stick, he is able to weave his way in and out of traffic and create plays for his teammates out of nowhere. Blessed with an elite shot as well, Tuomaala is able to receive a pass near the faceoff dot and rip a shot top-shelf in a heartbeat.
Another thing that has really impressed me about Tuomaala's game is his ability to get to top speed in a limited amount of time. There have been multiple occasions this season where he has started out with the puck in the defensive zone and has managed to cut around the defenders before getting a shot off short side.
A candidate of mine to make the 2021 World Juniors roster, Tuomaala would likely play a sheltered role for the Finnish team. With great returning talents up front, he will have a hard time finding meaningful minutes. While he may not make much of an impact this upcoming WJC, look for him to play a major role come next year.
Samuel Helenius
Standing at 6-foot-6, Helenius is bound to attract attention wherever he goes but that doesn't mean that he isn't a very promising prospect. Currently playing for JYP of the Liiga, the 17-year old has collected four goals and added an assist for five points in nine games.
What stands out the most for me about Helenius is how well he skates for someone his size. His strides are quick and effortless and he is able to reach top speed quickly. When the opposition is carrying the puck the other way, he is always on the hunt for the puck and is a relentless back checker. His long reach and skating ability allows him to close off scoring opportunities quickly and hand the puck off to his defenseman to make a quick transition towards the offensive zone.
Helenius is also not afraid to play a physical game. When the puck is in the corners, he is great at using his size to outmuscle his opponents and get the puck back. His coach loves to use him in front of the net as his size is great for screening the opposing goalie. Helenius also possesses a promising offensive game as well. He is not afraid to drive to the front of the net to find a rebound as witnessed in the video above and is often rewarded for his efforts.
Helenius has proven his value so far in the Liiga as he is currently fourth in points on his team, beating players such as Puistola and Anton Honka in points. He will look to play a big part for Finland on the world stage this upcoming year and I could see him slotting in as the fourth-line center on a blistering Finnish roster.
Niko Huuhtanen
Another player who is off to a hot start for his respective team, Huuhtanen will be one to watch throughout the 2020-21 season. Currently suiting up for Tappara U20 in the U20 SM-sarja, Huuhtanen has accumulated six goals and six assists for 12 points in 16 games.
Huuhtanen has really impressed me with his release and the way he views the game as it is unfolding in front of him. With the puck on his stick, Huuhtanen is able to get a quick, accurate shot off even when defenders are draped all over him. It has been a strength of his and will continue to serve him well. His playmaking ability is also something that has caught my eye. Keeping to the outside of the offensive zone, Huuhtanen is able to quickly cycle the puck to his teammates to clear a quick scoring chance.
While Huuhtanen is not the best skater, that is something that can be worked on as he continues to develop his game. He is more than capable of keeping up with his opponents and will only get better as time goes on. What worried me at times was his defensive lapses. There were times where he made a mistake that cost his team a goal. If he can be defensively conscious in his own zone, he will only continue to rise up scouts' lists.
Aleksi Malinen
The last player on this list, Malinen has the chance to turn a lot of heads once the season is all said and done. Currently playing for JYP of the Liiga, he has been held pointless in two games up to this point but has not been given a lot of playing time.
What impresses me about Malinen's is the way he thinks the game from the backend. He is a great skater who loves to jump up into the rush and can be seen serving as a fourth option when the puck transitions towards the offensive zone. Malinen is more than capable of getting back if his team turns the puck over. He can play a physical game when needed and is good at clearing the front of his net from any danger posed.
Malinen has a lot of confidence with the puck on his stick and could serve as a power-play quarterback in the future. He has a quick, accurate shot that he can pick where he wants to place it. He is good at getting it through traffic and down low for a quick tip in front. Malinen is ranked a B-level prospect by NHL Central Scouting and has shown some promise. He will look to gain more time in the Liiga as the season goes on but if that doesn't; happen, JYP U20 of the U20 SM-sarja would be glad to have him.
Turning Point
Over the past few years, Finland has been churning out more top-quality talent than ever before. They have clearly found success in how they are developing their prospects and NHL teams should be very excited to see many more players finding success in North America. I cannot wait to see what this crop of young Finnish players can accomplish and I'm glad to be able to have a seat to the spectacle.
---
---