It's no secret that Leo Carlsson has become a favourite to land in the top three of the 2023 NHL Draft. Assuming it plays out as many rankers have it, Carlsson's expected destination could be the Columbus Blue Jackets with the third overall pick when the draft finally rolls around.

Carlsson, however, hasn't thought beyond being drafted at this point. His main goal? To find himself in the NHL at some point. But that doesn't necessarily mean he'll be there next season.
Carlsson Could Make It in Columbus
Heading into his draft year, Carlsson has been praised for his overall hockey sense. His offensive ceiling, his ability to see the ice well and the way he's able to close the gaps defensively. His game, overall, is extremely sound.
All of that considered, along with looking at where the Blue Jackets sit roster-wise, it wouldn't be farfetched to think that Carlsson should make the Blue Jackets if he is, in fact, selected by Columbus in the upcoming draft.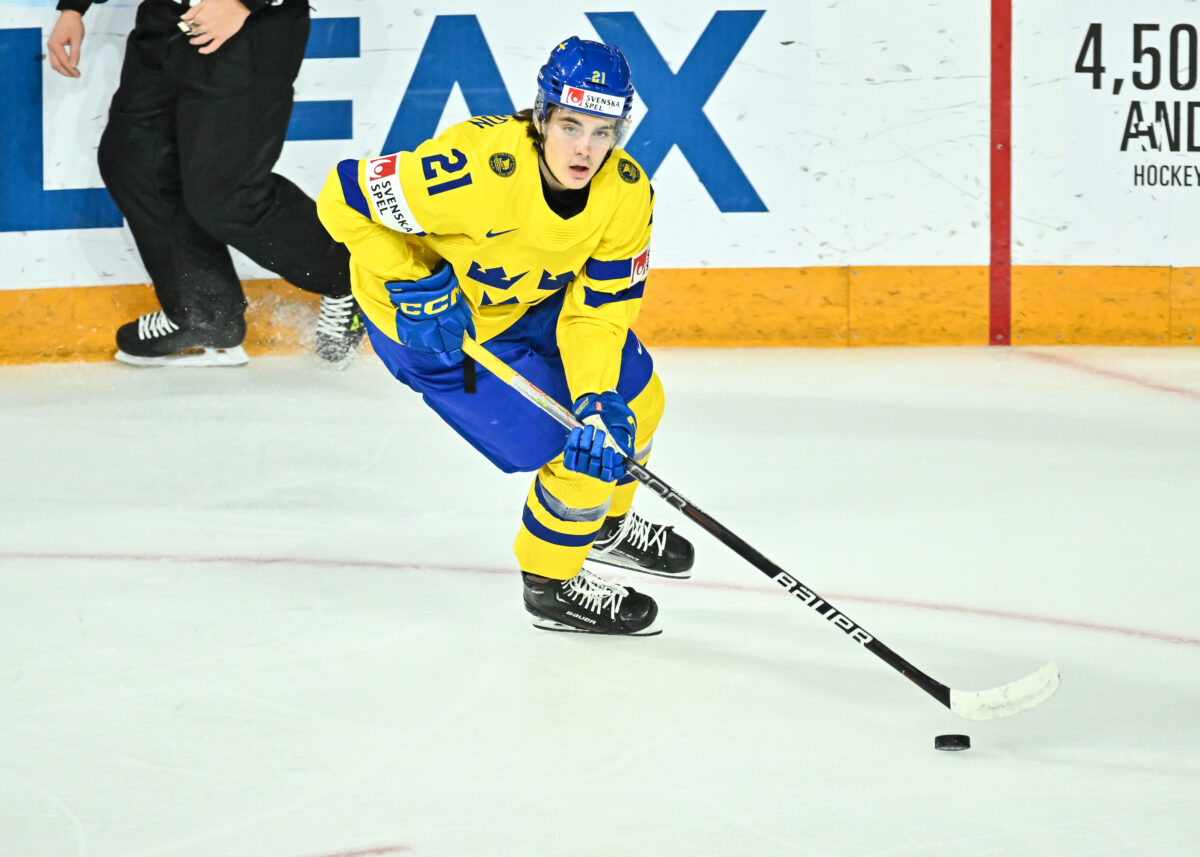 Still, there's no rush to necessarily get him to the NHL. Often clubs want to put their prospects in situations where they are experiencing success rather than a losing culture and the question has to be asked — where do the Blue Jackets lie when it comes to that scale?
When it comes to Carlsson, there's no real doubt in what he can bring to a lineup at some point over the next couple of years. He had 10 goals and 25 points in 44 regular season games with Örebro HK of the SHL this season and averaged over a point per game internationally this season between the World Junior Championship and World Championship for Sweden.
Related: Leo Carlsson – 2023 NHL Draft Prospect Profile
Historically speaking, his numbers are above that point-per-game average aside from his time in the SHL which he still seems to be getting acclimated to — which could be the push behind his answer when asked at the NHL Combine in Buffalo if he expects to be in the NHL next season.
"No."
It was simple. It was short. But it's a humbled response by a player that understands there are still areas of his game that require some growth.
Developing Carlsson the Best Option
Again, we're going with the theoretical option that the Blue Jackets take Carlsson third overall. After all, he did meet with general manager Jarmo Kekalainen along with two Finns from the organization which he mentioned went pretty well.
But looking at the organizational depth chart, the Jackets have Boone Jenner, Jack Roslovic and Cole Sillinger down the middle right now. Surely it's safe to assume that Carlsson wouldn't bump any of those options when it comes to the team's depth at centre. Jump to the wing, where Carlsson can also play, and there isn't much room for movement there either — with names like Johnny Gaudreau, Patrik Laine, Kent Johnson, Kirill Marchenko in the team's top-six.
---
Latest News & Highlight
---
To add to that, when drafting a talent like Carlsson, you don't want to have him playing limited minutes in the bottom six. We saw how that worked out with the Seattle Kraken and Shane Wright during the 2022-23 season and that's not exactly the best way to develop a top prospects — playing under 10 minutes per game.
So what is the best option for Carlsson, assuming he goes to the Blue Jackets or to any team for that matter? Realistically, the best move would be to continue to develop him either in the SHL or bring him over to North America and give him a chance to play organizationally without throwing him into the NHL right away.
Maybe Carlsson Knows Best
Assuming he wants to play out the rest of his contract in the SHL, the likelihood of him coming over to the NHL is already slim. Add to that the lack of spots amongst their top-six for teams like the Blue Jackets and San Jose Sharks — who pick fourth overall — and it's almost guaranteed that he won't be an NHL starter when the puck drops on the 2023-24 season.
That said, nothing is guaranteed and even Carlsson understands that. All he can focus on is his game and his development as he continues to take that next step in his playing career — a goal that ultimately includes playing in the NHL at some point in the near future.
For now, he'll take each step as it comes.
"Obviously I would like to be one of the top picks in the draft," he said in a prior media availability, "but my focus is on my team and my game."
Simple. Short. Modest. Signs — along with his skill set and over all vision of the game, of course — that it won't be long before Carlsson reaches the NHL. Just don't count on him coming next season.