While the NHL offseason is in full swing there hasn't been a lot of news surrounding the Minnesota Wild just yet with the exception of hiring Brett McLean as their new head coach for the Iowa Wild in the American Hockey League. He replaced Tim Army who had coached the team for the previous five seasons. Other than that, the Wild have been rather quiet and it's the perfect time for a new idea.
This idea comes from a couple of my colleagues on the Chicago Blackhawks writing team, Gail Kauchak and Brooke LoFurno, who saw the idea from a former colleague of ours Kristy Flannery who now writes about the New Jersey Devils for The Hockey News. She came up with a word that described each member of the Devils and gave a small description of why. I'm going to do the same for the Wild.
Kirill Kaprizov: Thrilling
It's literally his nickname, and it accurately describes the type of game everyone has gotten used to seeing from him. He's always learning and adjusting his game to be the best he can be and it's very "thrilling" to watch. He's easily the best player to ever put on a Wild jersey and they got so lucky they took the chance and drafted him in the fifth round back in 2015.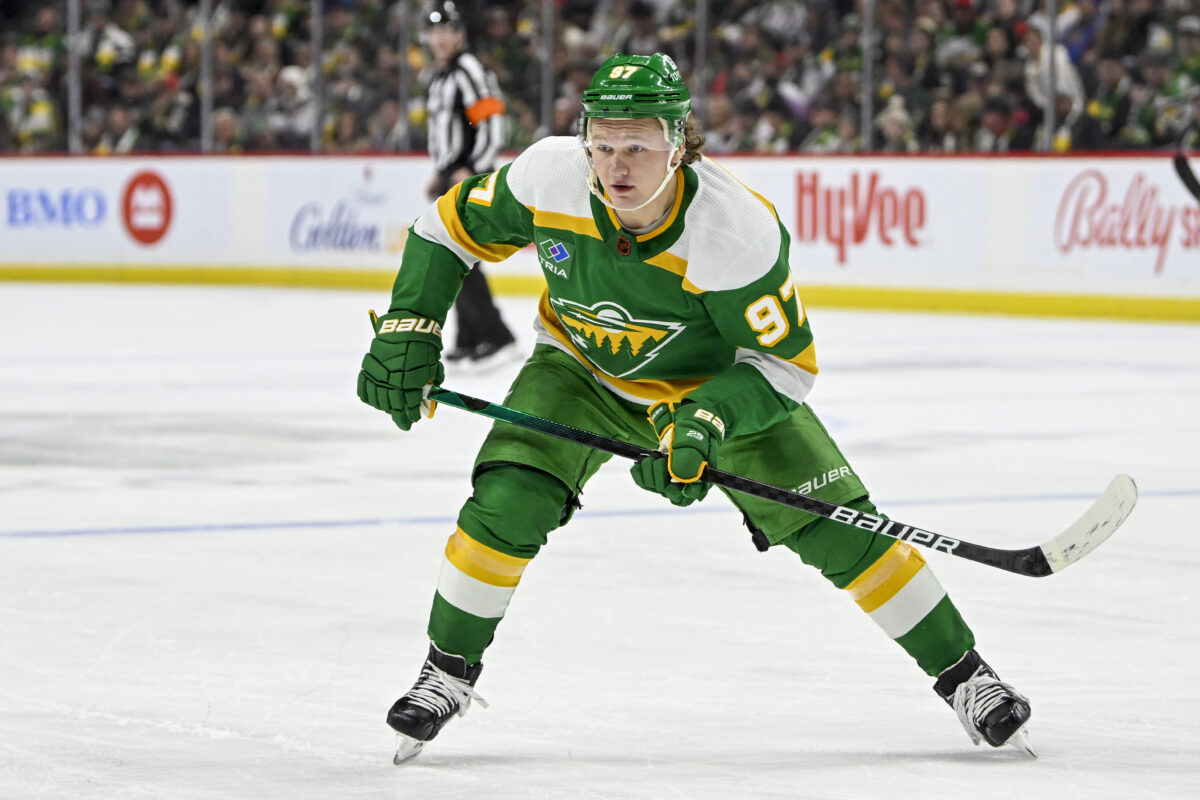 The other amazing aspect of his game is how he elevates the play of everyone around him. His linemate Mats Zuccarello was like a new player when they were put together on the same line. Of course, you can't forget the way Kaprizov skates, using all his edges and just skating circles around most players. If that's not thrilling, I don't know what is.
Mats Zuccarello: Fatherly
When Kaprizov joined the Wild, they knew they needed to find a perfect winger for him, no one guessed that would be Zuccarello. He became a father figure the moment he was paired with Kaprizov on the top line. At first, he was the older experienced mentor but since this was a whole new country to Kaprizov when he first joined the Wild, Zuccarello took him under his wing in a fatherly role.
He had Kaprizov over for meals and get-togethers, and they hang out on and off the ice nearly all the time. A lot of older players take on this kind of role when there are new rookies added to the team, but these two are something else. They actually act like father and son and it's one of the most heartwarming things you can see when it comes to sports.
Ryan Hartman: Confident
Ryan Hartman rounds out the top line and he's clearly shown he has a confidence level like no other. Over the seasons he's shown he's not afraid to fight just about anyone including the whole Evander Kane saga, yes everyone knows what I'm talking about. The more impressive thing about his game is he has the same level of fearlessness when carrying the puck.
He's always full of surprises and is never afraid to put himself out there with an extremely confident attitude. Even when they were eliminated from the playoffs, that attitude didn't waver and he said it exactly like it was, that they failed the city.
Matt Boldy: Serious
Jonathan Toews used to be known as Captain Serious, and Matt Boldy is that for the Wild just without the captain's "C". He carries himself with a professional attitude and even when he scores a goal his celebration has a serious tone to it. He's very mature for his age and it's hard to believe he's in his early 20s. Even when he hit a rough spot in scoring, he didn't make excuses, he just put his head down and went to work.
Hopefully, as he gets older he'll relax a little bit so he can remember to have fun too. However, the professional way he carries himself will make him a great candidate for the "C" one day.
Frédérick Gaudreau: Surprising
While everyone knows the talent level of Frederick Gaudreau, he always manages to surprise especially this past season with his shootout abilities. He became a shootout guru and also a penalty kill specialist that they needed at the time. Hopefully next season he'll find another surprising ability that will give his team an edge.
Marcus Johansson: Determined
When Marcus Johansson joined the Wild at the 2023 Trade Deadline he seemed bound and determined to have a great end to the season. He seemed revitalized and forced offense every chance he could. Many questioned the acquisition but he soon proved he was worthy of the move. They even re-signed him which shows his determination paid off.
Marcus Foligno: Enforcement
Marcus Foligno isn't necessarily an "enforcer" but he's not afraid to get his hands dirty when it comes to protecting his team. While that can be useful in keeping your prized players safe, it can also be a hindrance as Foligno found out this postseason.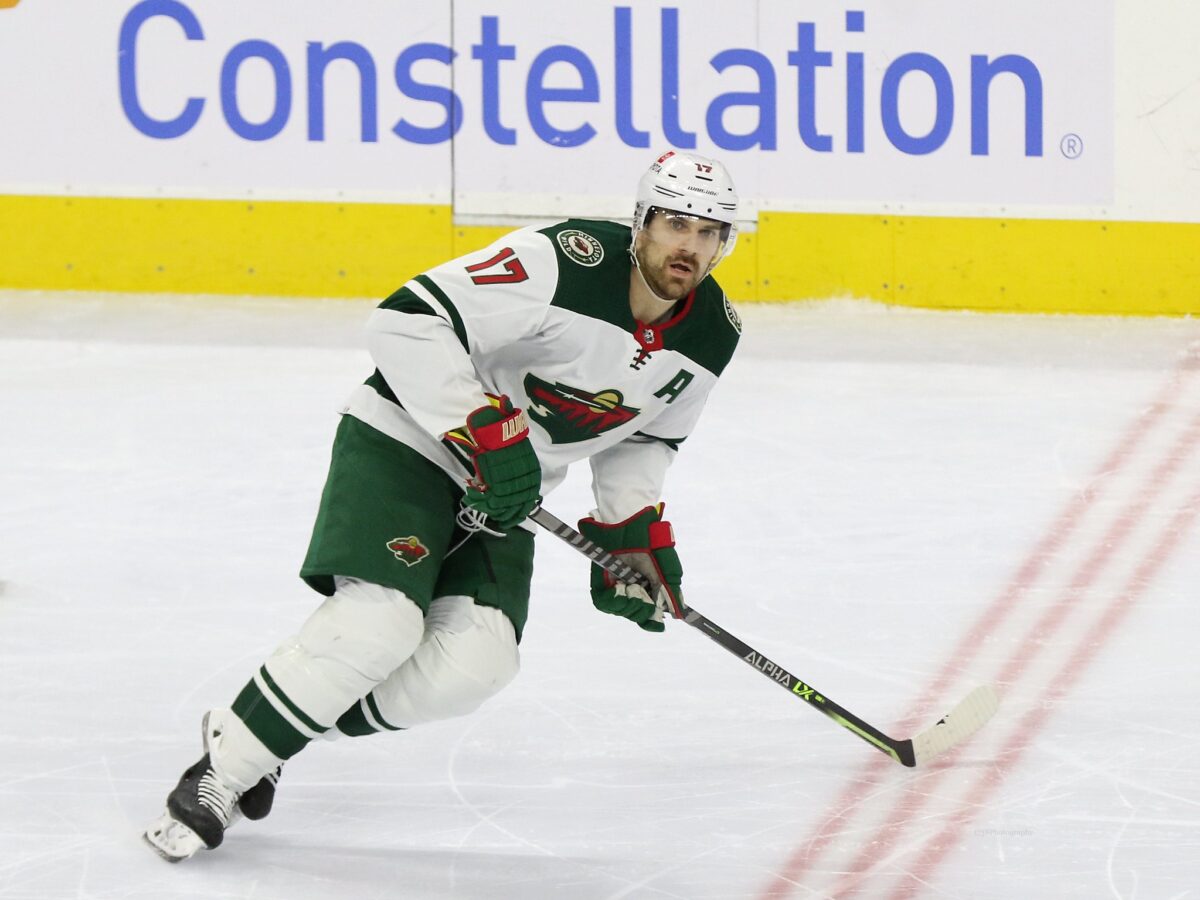 He's a big body and carries himself with a "don't mess with me" type attitude. Most players know to leave him alone but some manage to get in his way and they regret it. On the plus side, he does know how to score goals, he just needs to find that side of himself again with a little less toughness.
Jordan Greenway: Workhorse
Jordan Greenway may not be with the team anymore but he deserves some recognition. He struggled with injuries for the majority of the season but every time he was on the ice he gave it his all. He may not have done a lot of scoring but his efforts didn't go unnoticed and his teammates played harder because of it.
Joel Eriksson Ek: Resourceful
Joel Eriksson Ek is the best two-way player the Wild have. He takes a great beating in front of the net as well but he always finds a way to do what needs to be done. His ability to play on both the power play and penalty kill shows he truly fits the word resourceful.
It's clear the Wild missed his presence when he was injured during the postseason and while having him back wouldn't have guaranteed a win, in my opinion, they would've played better. He's a player with a no-quit attitude, clearly as he tried to skate on a broken leg.
Brandon Duhaime: Sneaky
Brandon Duhaime caught a lot of teams by surprise this year and while he too struggled with injuries, he made a big impact nearly every time he returned to the lineup. Being a fourth-liner, not many take him as a scoring threat and he was able to sneak past a lot of defenses to score nine goals plus an assist.
Connor Dewar: Spunky
His size may fool you but Connor Dewar is as strong and fiery as they come. That spunkiness also gave him the courage to step up on the penalty kill and became known as one of the Wild's best penalty killers.
Sam Steel: Inconsistent
Sam Steel is a strong player but very inconsistent. During the season it seems the longer he was in the lineup the worse his play would get. However, if the Wild pulled him for a few games and then put him back in, he did better. They really needed him to find a way to play better on a consistent basis, and it didn't have to be goals, just all-around better play.
Mason Shaw: Heart
Mason Shaw has been through so much in a short amount of time, with the first being three ACL tears that he fought through before making his NHL debut. Then, he rocked his debut and did well throughout the season until right before playoffs when he suffered a fourth ACL tear. The entire fanbase let out a collective "no" when they realized what had happened and couldn't believe it after all he's been through.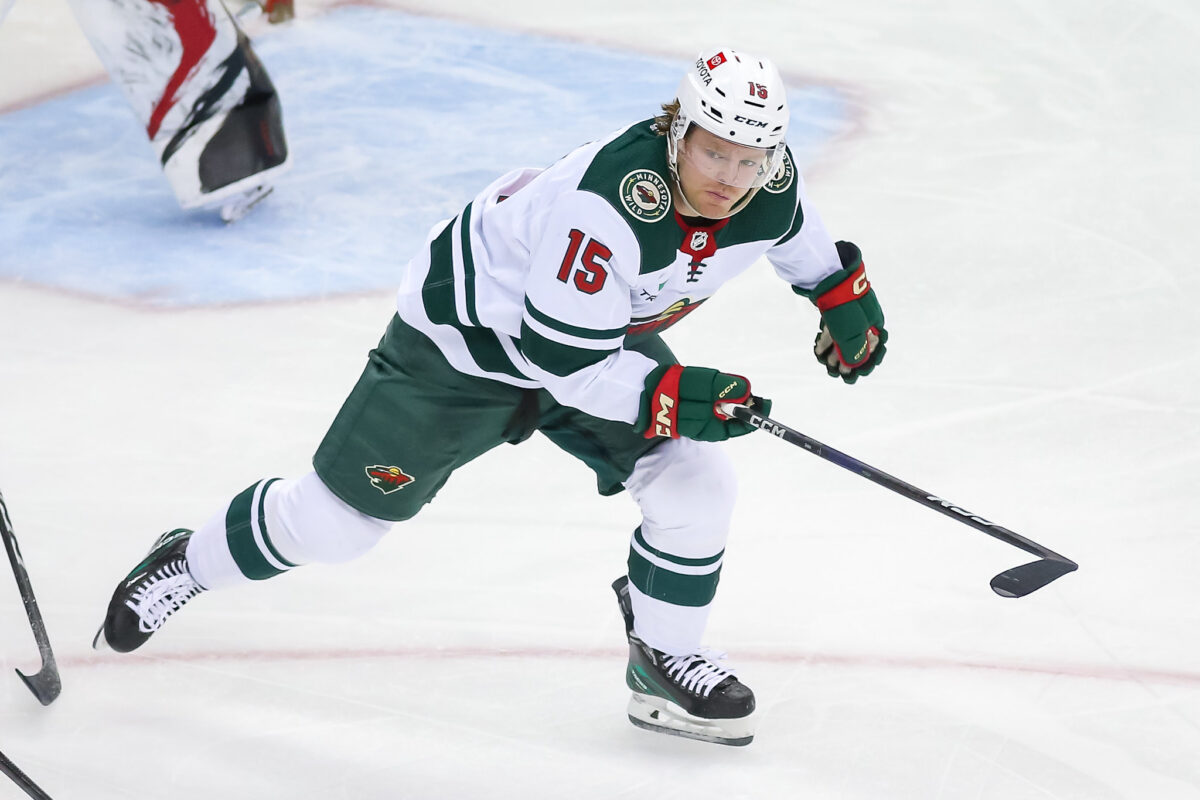 However, he's stated he will be back next season ready to go and there's no doubt he will. He's got one of the biggest hearts on the team and it shows every time he plays.
Ryan Reaves: Personality
Ryan Reaves is one of those players I was told I would not be a fan of until he was on the Wild and that couldn't be more true. I wasn't sure what to think but as the season went on, he won me over. His charismatic personality is contagious and it's hard not to cheer for him. He's one of the glue guys on the team that just makes things work.
---
Latest News & Highlights
---
Also, like Foligno, Reaves is a player not many want to get on the bad side of. He'll defend every single player on his team and it's not smart to get in his way. One of the best things about his personality is his ability to have fun and if you need proof, look up his video with Kaprizov from Christmas time, you won't be disappointed.
Oskar Sundqvist: Sunshine
Another player with an actual nickname, Oskar Sundqvist came to the Wild with the nickname "Sunshine" and it was clear why. He has a very upbeat disposition that like some of his teammates, affected the rest of the team. He seemed to fit in right away and had a lot of fun along the way. He's a "ray of sunshine" and unfortunately has probably spent his last days with the Wild due to a lack of cap space.
Gustav Nyquist: Mystery
I feel like we didn't get to see enough of Gustav Nyquist to really understand how he works. His play was strong in that short amount of time but it seemed like he was just getting going before everything came to a stop with their elimination from the playoffs. With the Wild re-signing Johansson it's pretty clear they will not do the same with Nyquist as they are very limited with cap space.
Marco Rossi: Potential
Some people think Marco Rossi is a bust already, others think the Wild need to let him play on the top line. I feel like he has a lot of potential for his age and will be a great player, and I do agree that he needs to play more but I'm not sure he can be thrust onto the top line. That's too much pressure for a guy who's still adjusting fully to the NHL. He'll get there, he just needs a little more time and development.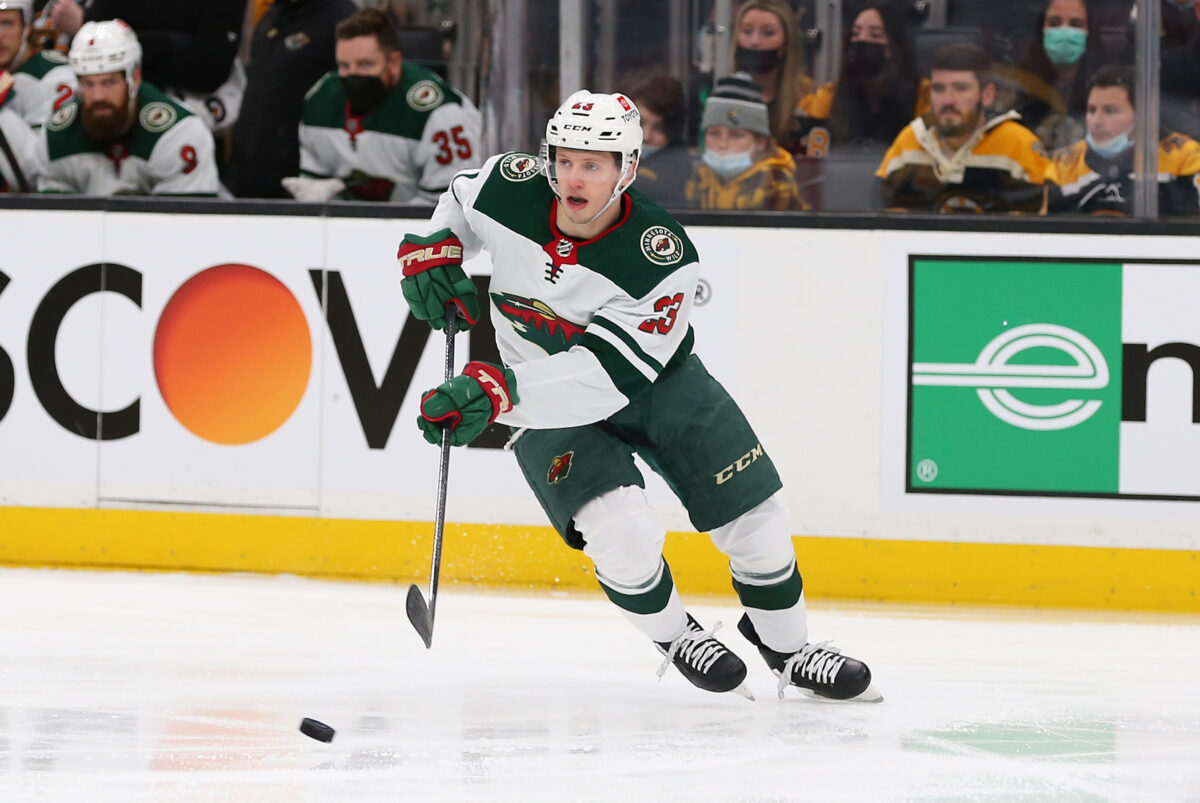 While Rossi maybe didn't know it at first, being sent down helped him grow and mature into the player the Wild hope he can become. He knows he has potential and it'll be fun to see what he can do when next season begins.
Jared Spurgeon: Gentleman
Jared Spurgeon is one of the most composed players I've ever watched. Yes, he has lost it in a big way once or twice but year after year he's one of the least penalized players in the league and that's not by accident. He's very good at controlling any anger he may have and respects the rules of the game. It might be good for him to have a well-controlled outburst every once in a while to give his team a boost but he leads by actions rather than words.

Even when he has to talk to the referees he's calm and doesn't get heated. He makes sure he doesn't put his team in a compromising position by getting a penalty himself for overreacting. Some captains have a hard time keeping themselves calm but not Spurgeon.
Jake Middleton: Charming
Jake Middleton is by far one of the most interesting guys on the Wild's roster. It's extremely difficult not to like him and he always appears in a good mood. He's just happy to play and he shows it every time he's on the ice. His interviews are quite entertaining to listen to and he makes for a really good quote. He's the real deal all the time and doesn't ever appear like he's reading from a script which is what makes him so fun to listen to.
Jonas Brodin: Clever
Jonas Brodin always looks like he's up to something and he always seems to make it out of tight situations. He's probably the smartest defenseman the Wild have and he's proven time and time again how underrated he is in the NHL by using those smarts and his speed. He sees the play happening as it unfolds and knows where to be to either block or take a shot.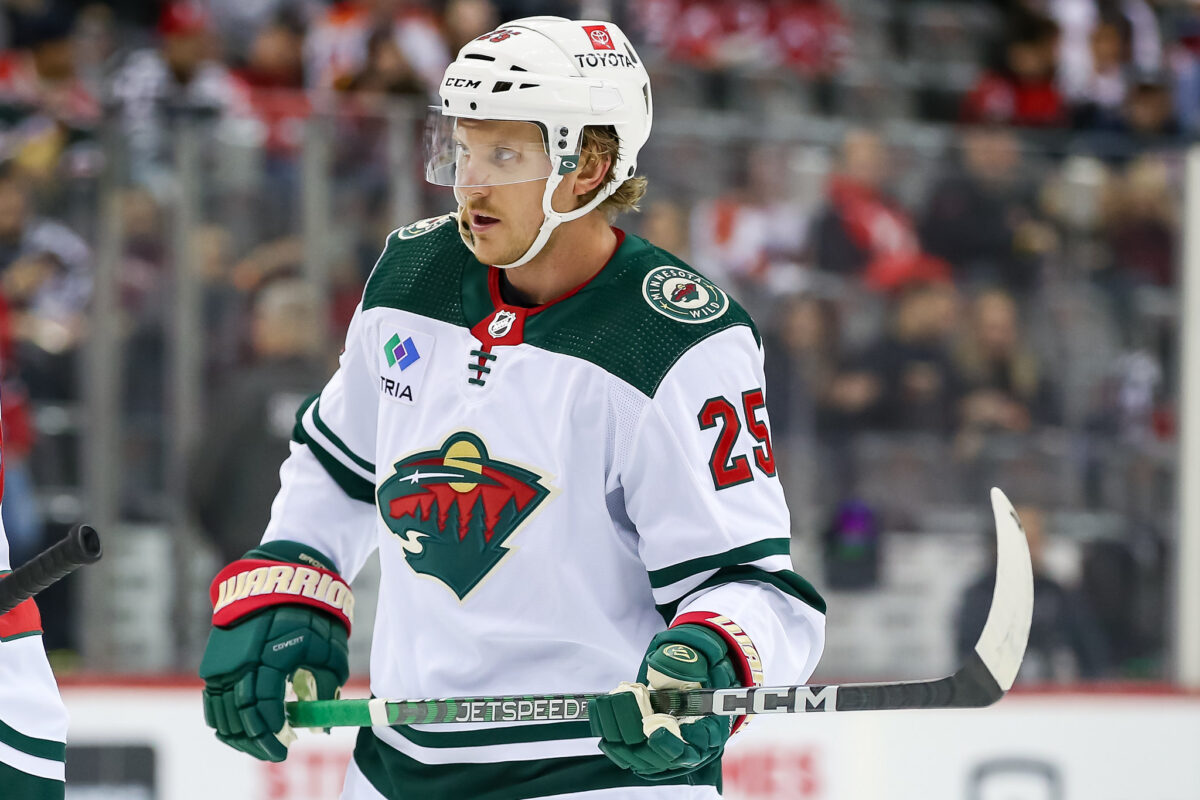 Some may not understand his value because he's not at the top of the scoring charts but what he does defensively takes a lot of skill and knowledge. Without him, the Wild's defensive core would not be where it is now.
Matt Dumba: Due
This may seem like an odd word to describe Matt Dumba but after what's happened over his career it's true. He was on his way to becoming one of the top defensemen in the NHL with the number of points he was tallying, but it all came crashing down after he was injured in a fight a number of seasons ago. He's earned a chance at a fresh start and to see if he's capable of achieving those numbers once again.
He's due to have a strong season without injuries getting in the way and also without having the weight of trade rumors on his shoulders. After all he's done for the Wild and the NHL it's time for him to move on and start over.
Calen Addison: Cocky
When Calen Addison was pulled earlier in the season, he was struggling with certain areas of his game but it appeared he didn't want to admit it. He wasn't quite ready to learn from the veterans on the team even though that's exactly what needed to be done. It'll be interesting to see if the Wild feel he can step up or if they'll let him go.
Jon Merrill: Unnoticed
Jon Merrill is a great stay-at-home defenseman that rarely gets noticed for that exact reason. He's too busy doing his job that since he's not scoring goals, it seems like he's not there at all. It would be great for the Wild if he could get a few more points next season to go with that strong defensive play.
John Klingberg: Playmaker
Like a few other Wild players, John Klingberg didn't have a lot of time to adjust to his new role with the Wild this season. However, in the little bit of power play time he had, he showed he's capable of taking shots and making plays. If he could've had a full season it's crazy to think of what he could've done.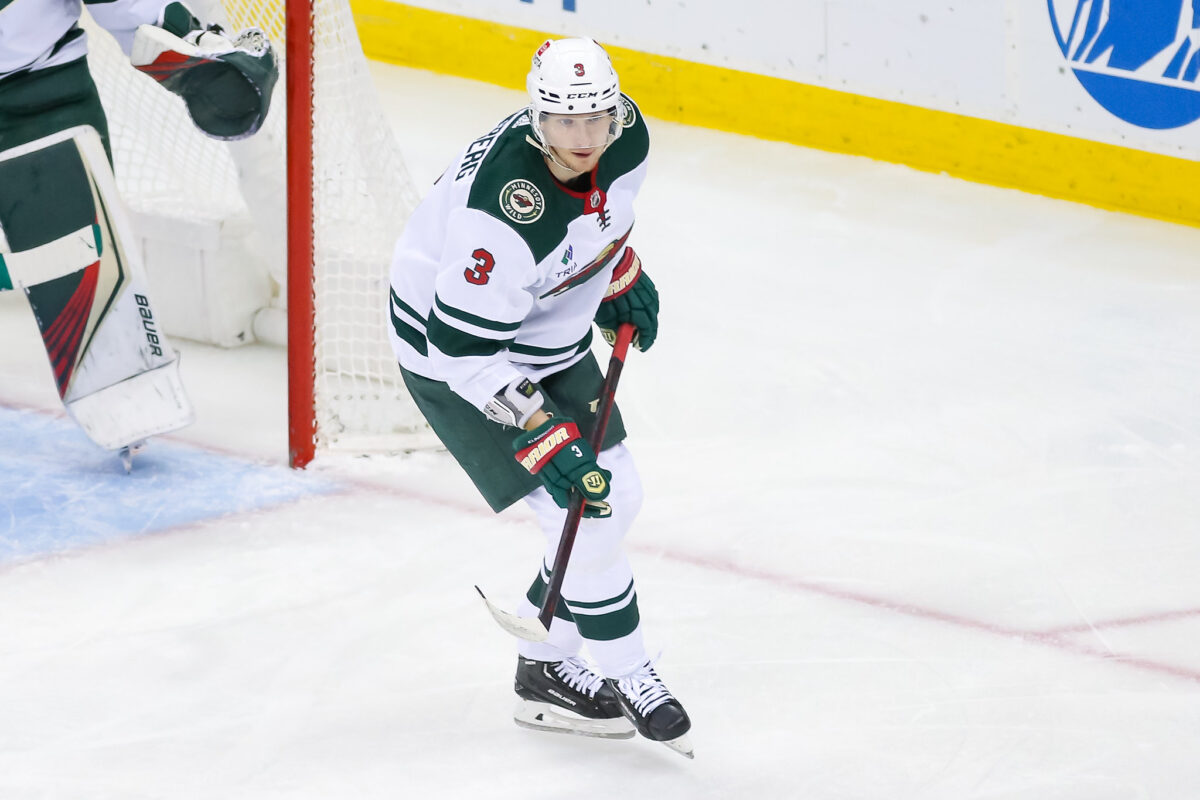 I'm really curious if the Wild explore the possibility of re-signing him or if they'll let him go and work from within. Regardless he'll be a great asset to whatever team gets him and if it's the Wild at least he'll have more time to adjust to prove what he can really do.
Alex Goligoski: Homebody
Alex Goligoski wasn't dealt the greatest season since he was scratched a lot of the time. However, being in his late-30s that's something to be expected. He kept a great attitude and when he did play he brought a lot of pride to his home state of Minnesota. I'm sure he would like to retire in his home state but he also seems to want to continue to play so it's hard to say what will happen.
Brock Faber: Gem
Brock Faber is probably my favorite story of the year as he made a big splash when he joined the Wild. Despite having a disappointing end to his college career he adjusted amazingly to life in the NHL. Keep in mind it was a small sample size, but he showed a lot of promise for a kid his age. The Wild got lucky finding him and hopefully, he'll stick around for a long time.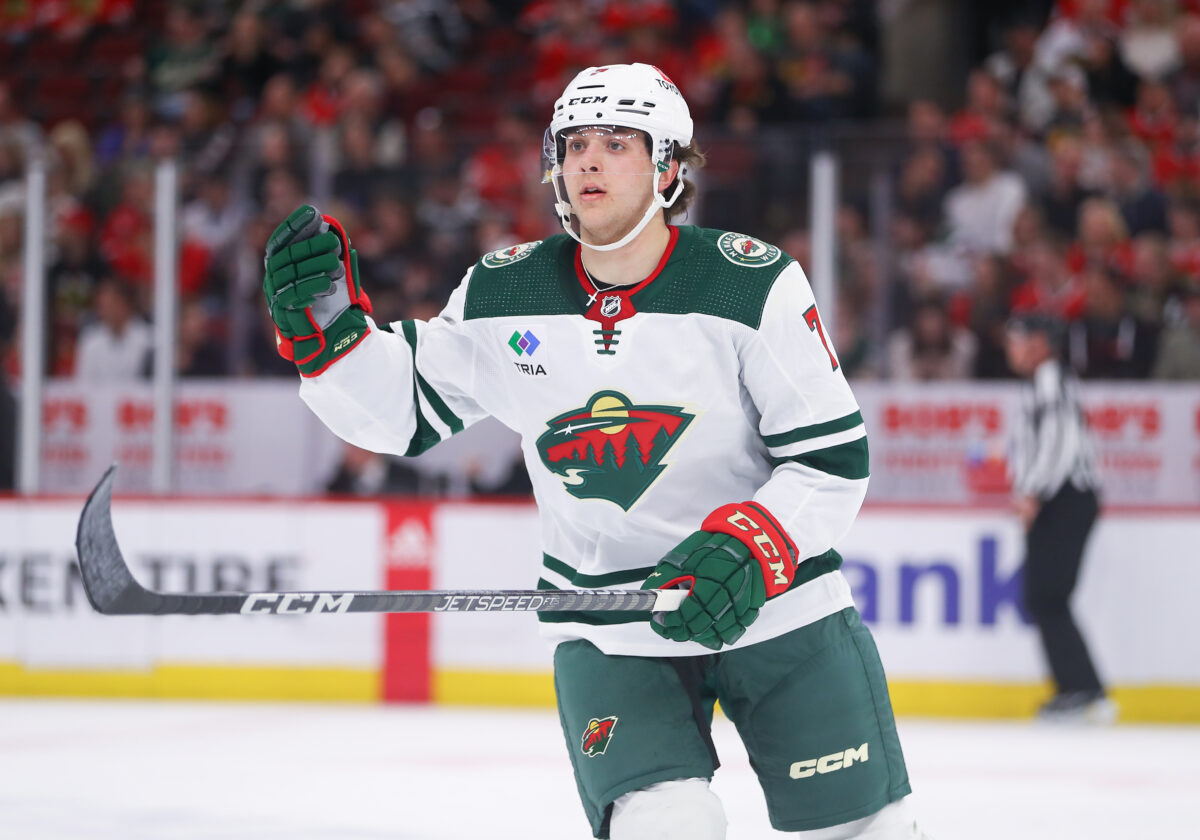 He's got a great attitude and is very mature for his age, he plays like a veteran rather than a brand-new rookie. Even his nerves were under control and he didn't make many mistakes. He's a "diamond in the rough" so to speak and similar to Middleton he's a gem when it comes to interviews. He knows what he needs to do to stay in the NHL and he's going to prove it in the coming seasons.
Filip Gustavsson: Wall
It's hard to use "Gus Bus" as a way to describe Filip Gustavsson but Wall works just as well. He may have had a rocky start to his season but as it went on he became a wall no one could figure out. Yes, he still had his off nights but for a goaltender his age, he really stepped up big, got along great with Fleury, and I can't wait to see how his career turns out.
Marc-Andé Fleury: Genuine
Marc-Andre Fleury is one of those players you want to protect at all costs just because of how genuine he is. He's always smiling and takes a lot of responsibility on his shoulders. He's a guy you have to like and his kindness seems to spread. He's definitely earned the nickname "Flower" and as important as locker room chemistry is, he's one of the best.
Related: 2022-23 Blackhawks: Describing Each Player in One Word
He may not be at the peak of his game anymore but he fully acknowledges that and is even willing to stay on as a backup if it means he gets to continue playing in the NHL. He's honest about his play and that makes him even more genuine.
Wild Roster as a Whole
The Wild definitely have some character players on their team along with some interesting personalities thrown in. Each player's word is just a small piece of who they are but a big part of what they mean to the team. Hopefully, they can continue to have the great chemistry they've had the last few seasons and some more success as well.