Team USA lost to Team Canada by a score of 6-2 in the 2023 World Junior Championship semifinals on Jan. 4, ending their campaign for a gold medal. Among the challenges in this game, Team USA faced struggles defensively, two overturned goals, and an incredible performance by the Canadian goaltender.
Defensive Woes
One area of concern heading into this game was the size of Team USA's defensive group. A potential problem area from the beginning of the tournament, the majority of their defensemen are small and offensively minded. Only team captain and New Jersey Devils prospect Luke Hughes and Washington Capitals prospect Ryan Chesley are above 6-feet tall.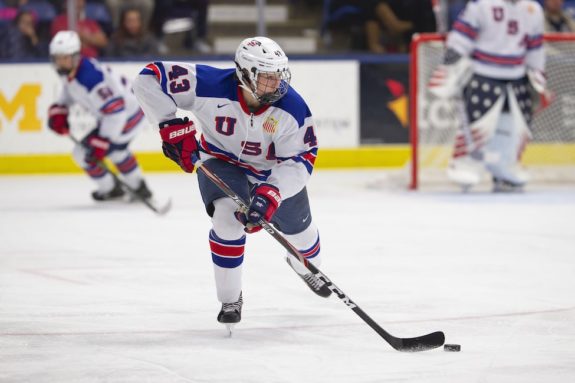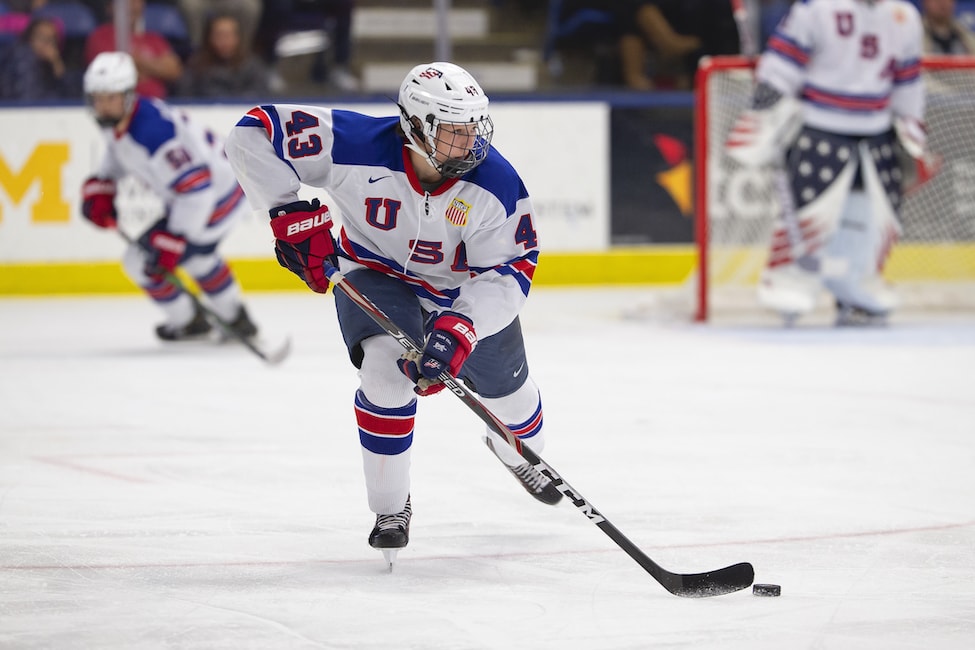 Besides a similar 6-3 loss to Slovakia during the preliminary round, the defense hasn't been much of a concern for Team USA throughout the tournament. In most games, their offensive abilities far outweighed that of their opponents, leading to many high-scoring wins. However, against Team Canada, a group similarly praised for having just as good or potentially better offensive talent, it was simply not enough to keep up. 
Hughes played just over 24 minutes during the game, generating nine shots on goal, the most of any player on Team USA. Six of his shots came during the first period, which he then followed up with one in the second and two in the third. In the dying minutes of the game, Hughes turned over the puck to Canadian Joshua Roy, a prospect of the Montreal Canadiens, who then scored on the empty net to make it 6-2 Canada. 
Related: 2023 World Junior Championship Team USA Final Roster
---
Latest News & Highlights
---
Besides Hughes, the rest of the defense only had two shots on goal throughout the game. For a physically smaller group, they need to put up better numbers to compensate for their lack of size than they did against Canada. 
Outperformed In Net
Michigan State commit Trey Augustine has been doing wonderfully for Team USA this tournament. He earned himself the spot of starting goaltender after an impressive performance against Switzerland in the preliminary round and has been a highlight of nearly every game since. In this game against Canada, he made 31 saves on 36 shots. 
However, it was the Canadian goaltender that stole the show in Halifax. The Western Hockey League's Seattle Thunderbirds Thomas Milic stopped 43 of Team USA's 45 shots. Like Team USA, the position of Canada's starting goaltender was up for grabs at the beginning of the tournament. Originally, it was granted to San Jose Sharks prospect Benjamin Gaudreau. In a similar fashion to how Augustine earned his spot in Team USA's lineup, Milic earned the starting position for Canada after Gaudreau let in five goals against Czechia in the preliminary round.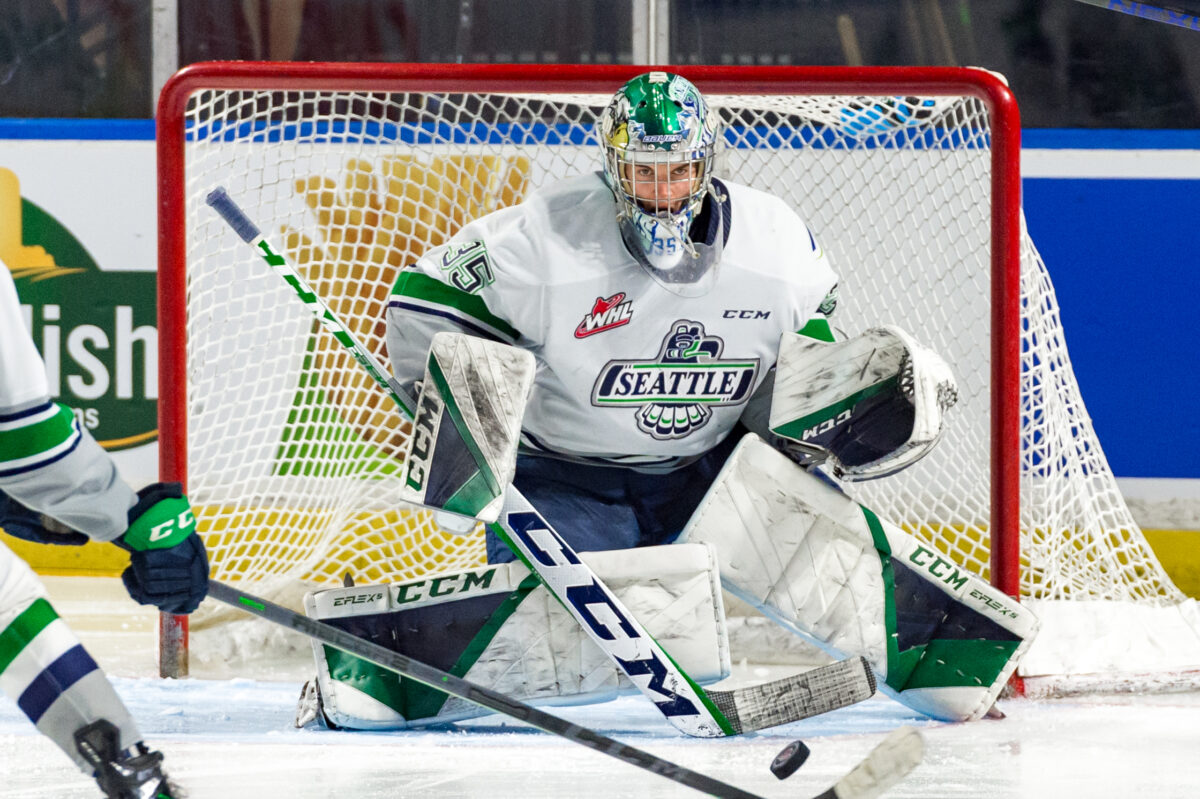 While Augustine was fantastic in net for Team USA, the American offense was simply outplayed by Milic, who made several impressive stops in order to keep Canada in the lead through the second and third periods. 
Overturned Goal Controversy
Another roadblock for Team USA was two goals getting overturned for goaltender interference. A second-period goal by Carolina Hurricanes prospect Jackson Blake would have tied the game at 3-3. However, it was challenged by Team Canada, arguing that Blake had made contact with Milic.
While a controversial ruling, the IIHF rulebook states that "goals should be disallowed only if: an attacking player, either by their positioning or by a "relevant contact", impairs the goalkeeper's ability to move freely within their goal crease or defend their goal; or an attacking player initiates intentional or deliberate contact with a goalkeeper, inside or outside of their goal crease."
In the third period, Winnipeg Jets prospect Rutger McGroarty thought he scored to turn the score into a one-goal deficit for Team USA. However, Canada challenged the goal and it was determined he too made contact with Milic and the goal was eventually overturned.
Following both of the overturned goals, Team USA struggled to maintain momentum. On paper, Canada scored six unanswered goals starting at the end of the first period. 
With this loss, Team USA will play Sweden for the bronze medal. Team Canada will move on to compete for gold for the fourth year in a row, playing Czechia.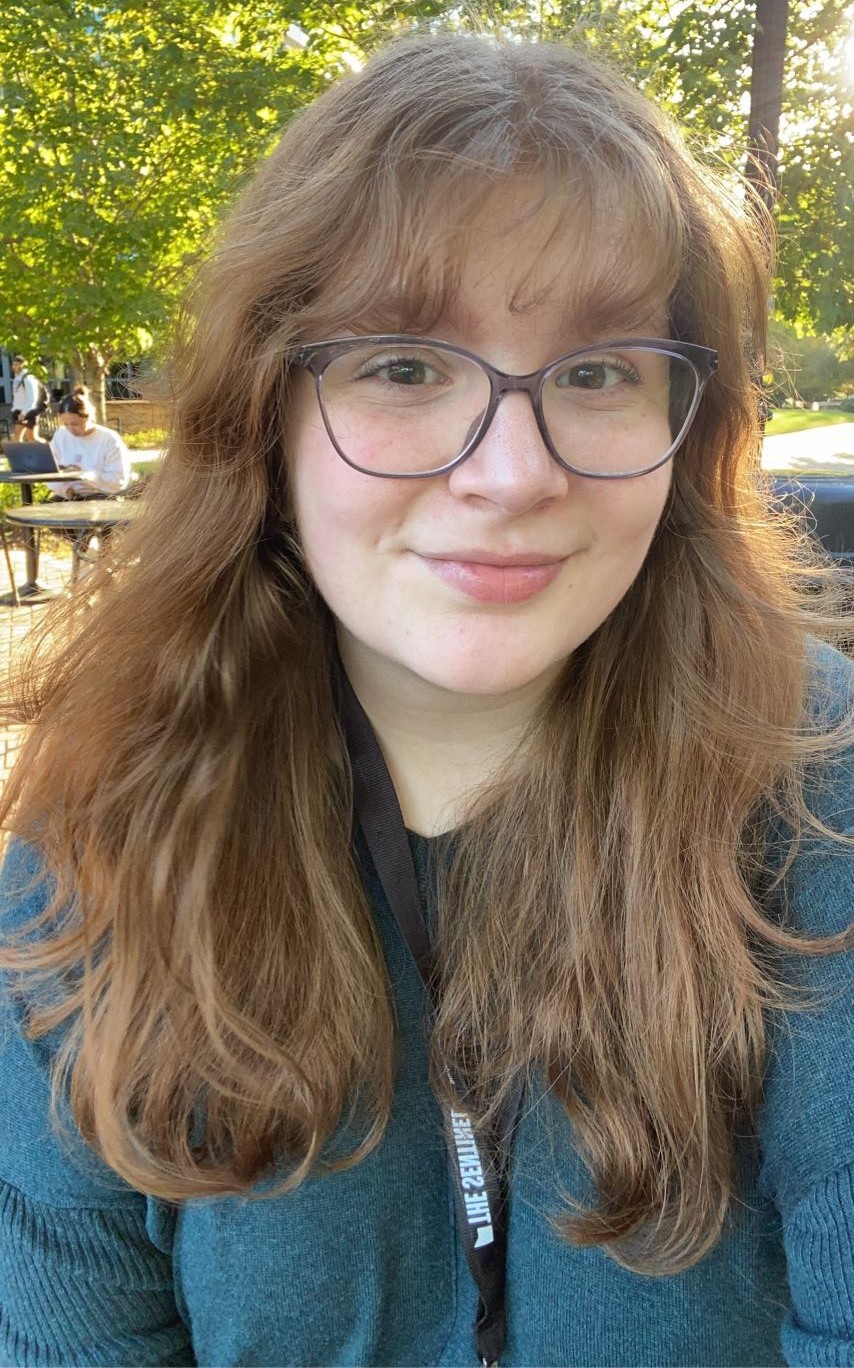 Hello! I'm a third-year journalism student at Kennesaw State University. I've been a fan of the Buffalo Sabres my whole life, and I am super excited to have the opportunity to cover them for The Hockey Writers. Most of the time you can find me on Twitter @skinnerskating or @buckfelderbrie, where I yell about the Sabres, Bills, and anything else happening in my life.