The Flyers are entering this season with a plethora of question marks surrounding them. They have a new coach, one who has never coached in the NHL, they have new faces on the blueline, and veterans that are benched. Some of those question marks will be answered in the first few minutes of opening night and others will just lead to a more complicated puzzle.
Here are three players to look for when the Flyers open the season in Tampa tonight.
1. Scott Laughton
It seems like Scott Laughton's name has been tossed around in Philadelphia for so long, yet he has made no real impact with the big
club. Laughton has never made the opening night roster, although he did play in 31 games with the Flyers last season. During those 31 games, he registered just six points. Matt Niskanen welcomed him to the NHL last season with a bone jarring hit that caused him some pain and after that Laughton played just four more games with the Flyers.
This season could be Laughton's chance to finally stick out. For the first time in his NHL career he cracked the opening night roster. That says a lot about him, considering he was chosen over both Vinny Lecavalier and Sam Gagner, both of whom have more experience and pretty heavy contracts. That being said, Laughton's playing style fits in with what Dave Hakstol is trying to do here, and that might be a big reason why he is playing tonight.
Keep in mind, Laughton is not projected to be a huge point producer in the NHL, his defensive game is his bread and butter. In fact, his scouting report is eerily similar to the type of game Sean Couturier plays, and that could greatly hinder his ability to maintain a spot on the team. Make no mistake about it, Laughton will be under close watch, especially against a team like Tampa who has a lot of offensive firepower.
2. Evgeny Medvedev
If there was one defender that stood out (other than Shayne Gostisbehere) in the pre-season, it was Medvedev. Despite being 33 and coming to the NHL for the first time, he just looked like he belonged. In five pre-season games, Medvedev had a goal and four assists. That put him tied for first on the team in points with his partner Michael Del Zotto and forward Jakub Voracek.
"It's just pre-season" is what everyone always seems to reiterate when it comes to performance, but once again, it's really hard to ignore how good Medvedev looked. He also could bring some much-needed relief to the Flyers second powerplay unit, who looked all but lost at certain times last season. Medvedev has a howitzer of a shot but yet is calm and fluid when he's on the ice, and from what I've seen, makes good decisions with and without the puck. That's much-needed on the Flyer blueline, and come tonight, I think Medvedev will prove just how much of a difference he can make this season.
3. Matt Read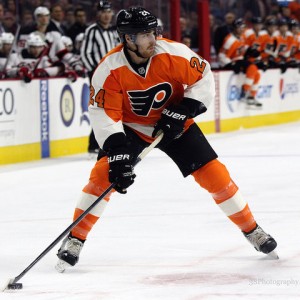 The interesting story of Matt Read is entering another chapter this season. Ever since Read's outstanding rookie season in 2011-12, he has just continued to fall further and further. The same guy who finished fourth in Calder voting in 2012 with 24 goals and 47 points, had just 8 goals last season and was a defensive disaster along with linemate RJ Umberger.
If the pre-season is any indication of things to come, it isn't looking good for Read. He played in all five preseason games and tallied just one goal. What's even worse? Read was a team worst minus-5 through the pre-season. To put that into perspective, no one else on the team finished the pre-season any lower than a minus-2.
With Lecavalier and Gagner waiting in the press box, Read could easily find himself a healthy scratch if he doesn't start to elevate his game. Read has proven that he can score goals and put up points when given the opportunity, he also finished as a plus rating in both of his first two seasons in the NHL. He needs to find his scoring touch again, it's not only crucial for the Flyers but if he doesn't his roster spot could be in jeopardy, because as we've seen, Hakstol will not be afraid to scratch veteran players.