Re-stocking the shelves
When you're a perennial contender as the New York Rangers have been in recent history, you need to take risks in an attempt to put your team over the top. Glen Sather traded away four straight first-round draft picks from 2013-2016 to try to win it all for the first time since 1994 and just the second time since 1940. The window hasn't closed on these championship hopes, but a huge issue facing this team moving forward is just how shallow the prospect pool is.
A year ago today I would have told you the top prospect in the Rangers organization was Anthony Duclair, the winger that absolutely clobbered QMJHL goalies in 2013-14 with 50 goals and 99 points, but Duclair being moved as a part of the Keith Yandle trade opens up the top spot. Rookies Kevin Hayes and Jesper Fast made a big impression and will be back, and Oscar Lindberg got a game in as well. The young guns and veterans are balanced fairly well across the team, so it's tough to imagine where a young big-name rookie would fit in anyway.
Impact Prospects
Oscar Lindberg and Dylan McIlrath made the Rangers' 23-man roster, but there's no telling how much either one of them actually plays. Lindberg is in a more favorable position, as his ability to slot into the fourth line and play a defensive forward role could easily push Tanner Glass into the press box. McIlrath has to beat out one of Dan Girardi, Kevin Klein, or Dan Boyle–or hope one gets traded–to have a legitimate shot on the right side. As below-average as Dan Boyle was last year, he edges out McIlrath in too many categories to see him lose his spot for any reason outside of injury.
Brady Skjei looks closer to NHL-ready than McIlrath, but with only eight games of professional hockey under his belt it makes the most sense to let him grow in Hartford for the year. I'd be pretty confident he gets a look if anyone on the left side of the defense is out for any significant amount of time though.
Already Arrived
The Rangers don't have a single player on their opening day roster under 21, but with Lindberg and McIlrath making the cut they've now graduated.
New York Rangers Next Ones: Top 10 Prospects Summer of 2015
The Next Ones Summer Prospect List includes the top 10 prospects along with 5 honorable mentions and any other 2015 draft choices not previously listed.
Brady Skjei (Drafted 2012, First Round)
2014-15 Team: University of Minnesota (NCAA)
Defenseman — Shoots Left — 6'3, 205 lbs
Skjei was a big-time shutdown defenseman over his last two seasons at the University of Minnesota, and with his skating and smarts his game should translate well to the professional level. The comparison, almost from the minute he was drafted, was to Ryan McDonagh. I have a hard time comparing players who have never stepped foot on the ice for an NHL game to a high-end player in the league, but their skillsets are definitely similar. Skjei has a size advantage, but will frustrate forwards more with his quickness and positioning than his physical play. He makes a great first pass out of his own zone, but is fast enough to skate it out himself when needed. If the Rangers didn't have three tremendous defensemen on the left side already, there'd be a serious debate for Skjei being NHL ready today, but it's never a bad thing to have a player of his caliber grow and mature in the AHL. Skjei should make a cameo for the Rangers this season, and it seems like only a matter of time before he finds himself in a Rangers uniform full time.
2. Pavel Buchnevich (Drafted 2013, Third Round)
2014-15 Team: Severstal Cherepovets (KHL)
Forward — Shoots Left — 6'2, 176 lbs
Buchnevich was one of three third-round picks the Rangers had in 2013, and while Anthony Duclair was the best of the bunch, the Russian winger was a great pick at the position. At 20 years old, Buchnevich is already the top forward for Severstal Cherepovets of the KHL, and while those point totals don't jump out at you it's important to realize that Severstal was the weakest team in the Western Conference and the 5th worst in the league terms of offensive production. Last season, Buchnevich put up 30 points in a year where no other player under 20 scored even 20 points. Again, on a team that struggled to score. Buchnevich embodies the phrase "dynamic offensive player", as he can beat you so many different ways. He's strong enough to muscle through defenders, but shifty enough to skate through them. His vision is top-notch, he has the hands to dangle through players and thread the needle on passes, and he can snipe. Buchnevich will spend this year in the KHL, but it sounds very likely that he'll at least try to make the Rangers next year.
3. Igor Shestyorkin (Drafted 2014, Fourth Round)
2014-15 Team: SKA St. Petersburg (KHL, VHL, MHL)
Goaltender — Catches Left — 6'1, 187 lbs
Shestyorkin is one of the Rangers' three good prospects in the position that most Rangers fans probably think about the least. Lundqvist is here to stay, and is going to give New York at least five more years of being one of the top goaltenders in the league. Thankfully, there should be options when he does need to start resting more and eventually retires, and I think Shestyorkin is the best one. Shestyorkin is athletic, active, and frankly an exciting goalie to watch. His style is nowhere near the technical clinic that many other European goalies will put on, but he's been masterful at keeping pucks out of the net at every level. At last year's World Junior Championship, he was by far the best goaltender over the entire tournament, appearing in five of Russia's games and posting a save percentage of .938, making his partner (Islanders property) Ilya Sorokin's sub-.890 performance look even worse. While it's very early in the VHL season, through 5 games Shestyorkin is holding opponents under a goal per game and has a save percentage of .966 for SKA-Veba St. Petersburg, just startling numbers for a 20-year-old who also put up a .917 in his 6 starts for SKA's KHL club. Shestyorkin looks to have a promising career of pro hockey ahead of him, but as always with Russian players (and even moreso with goalies) it's tough to tell when or even if he'll ever come to North America.
4. Ryan Gropp (Drafted 2015, Second Round)
2014-15 Team: Seattle Thunderbirds (WHL)
Forward — Shoots Left — 6'2, 190 lbs
If Gropp were born just a day earlier he would have been eligible for the 2014 draft, but that extra day may have been a blessing because his '14-15 season was by far the most impressive of his amateur hockey career. The big power forward led the Seattle Thunderbirds in goals (30) and points (58) while skating alongside Islanders prospect Mathew Barzal. Another BCHL product, Gropp has good size and a finishing touch, is willing to go into the dirty areas for his team, but lacks the consistency that would have made him a higher-end prospect in the 2015 draft. Of course, you don't lead a 4th-place team in the WHL's Western Conference in scoring without being a damn good player, especially not in your draft year. Among all '96 and '97 born players in the WHL, Gropp was 16th in total points and tied for 7th in goals. Gropp has the size, skating ability, and offensive prowess to compete in the NHL, and while he definitely needs to develop into a more consistent and well-rounded player, there's good NHL potential with him. He's going to be an exciting one to track this season in Seattle and moving forward.
5. Ryan Graves (Drafted 2013, Fourth Round)
2014-15 Team: Quebec Remparts (QMJHL)
Defence — Shoots Left — 6'4, 220 lbs
The name on the back of the jersey is familiar, and Ryan Graves will also be a fan favorite in New York City if he's able to take his game to that level. A big, imposing defensive defenseman, Graves isn't exactly the physical force that Dylan McIlrath was in junior hockey, but instead has a bit of mobility and the smarts to hold his own favorably against top forwards. This season for the Quebec Remparts, Graves was relied upon to be the top shutdown defender for the team, and the 39 points he added from the blue line showed he has a bit of offensive upside. For pro projection though, don't expect Graves to offer much more than shutdown minutes and solid play in his own end. His skating could definitely improve, although for a big guy he really does not move poorly, and despite the size he could definitely improve on the physical aspect of his game. Graves will need a few years of refining in the AHL, and Ulf Samuelsson could be the perfect mentor for him.
6. Brandon Halverson (Drafted 2014, Second Round)
2014-15 Team: Sault Ste. Marie Greyhounds (OHL)
Goaltender — Catches Left — 6'4, 185 lbs
Coming off a 40-5-2 (!!!) season on a stacked Sault Ste. Marie Greyhounds club, the lanky Michigan native will play his final season of junior hockey in SSM and look to take his game to the next level. Halverson, who posted a shutout in his only appearance at the World Juniors this past year, will likely be the starting goalie for Team USA at that competition in December, and a strong performance there could be the boost that the 19-year-old needs. For Halverson, his size and athleticism are ultra impressive and make up for some technical shortcomings in his game, but what really stands out is how well he plays the puck. His hands are good enough that, unlike Lundqvist, you can be confident that he'll be able to make any pass and keep the puck out of harm's way. He's also loud and loves to talk, something that's tough to notice when watching a game casually but that stood out for me during World Junior Evaluation Camp when I was able to see him play in a quiet rink. Defensemen love a goalie that communicates and can handle the puck, so he'll have some supporters in any locker room he enters. I don't think Halverson exactly has the upside of Shestyorkin, but having him under contract  means he may well be the next goaltending prospect to make an appearance on Broadway.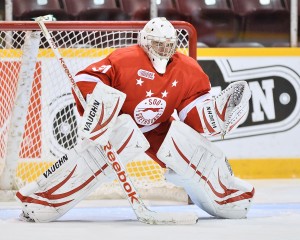 7. Adam Tambellini (Drafted 2013, Third Round)
2014-15 Team: Calgary Hitmen (WHL)
Forward — Shoots Left — 6'2, 194 lbs
When Adam Tambellini was drafted out of the BCHL, the expectation was that the Vernon Vipers/Surrey Eagles standout would take his talents to the University of North Dakota and develop over a few seasons of NCAA hockey. Things didn't quite go as planned, as Tambellini's game didn't translate well to college hockey and he was buried in the Nodak lineup. Halfway through his Freshman season, Tambellini decided to join the Calgary Hitmen and instantly began to tear it up. Since going to the WHL, Tambellini has put on nearly 25 pounds and become a well-rounded (but mostly offensive) center, and finished 10th in league scoring in his final season. He'll start the year in Hartford, where he'll definitely need to adapt from being the physically mature 20-year-old he was in junior hockey to a league in which his size won't stand out much. Tambellini also has some nice bloodlines, with his father Steve and brother Jeff having solid NHL careers, and grandfather Adolph playing in the old WHL (when it was a professional league) for the Seattle Totems. It's tough to project where Tambellini's career goes, but right now he has time to develop and we should know a lot more after his first season of pro hockey concludes.
8. Robin Kovacs (Drafted 2015, Third Round)
2014-15 Team: AIK (HockeyAllsvenskan)
Forward — Shoots Left — 6'0, 176 pounds
I absolutely love the way Robin Kovacs plays the game. This speedy, aggressive, and annoying winger is the type of guy you just hate to play against. More skilled than an agitator, but far peskier than your average goal-scorer, Kovacs is another with the potential to be a fan favorite in New York. Last season in HockeyAllsvenskan (2nd tier of Swedish pro), Kovacs led a very underwhelming AIK squad in goals (17), points (28), and penalty minutes (63). For some reference on just how impressive that season was, consider that only one other U20 player in the league scored over 4 goals (Tobias Liljendahl had 7) and only Dallas Stars prospect Niklas Hansson  also broke 20 points (he had 21). It's going to be interesting to see what happens when Kovacs eventually tries to make the transition to North American hockey, as his defensive game is still very raw but his agitating style may fit in perfectly. It's also tough to see where exactly he matches up with other top Swedish prospects, as he doesn't play in the top league and AIK isn't exactly loaded with talent. The next few years will be very important in his development, and I think it would be in both his and the team's best interest to get him in Hartford as soon as he's ready.
https://www.youtube.com/watch?v=HVetVLx2S6I
9. Cristoval "Boo" Nieves (Drafted 2012, Second Round)
2014-15 Team: University of Michigan (NCAA)
Forward — Shoots Left — 6'3, 201 lbs
Boo Nieves was relatively unknown in the hockey world when he was taken 59th overall in the 2012 draft, but those who follow youth hockey in the New York area had heard about him for years. A friend that coaches midget hockey called Nieves "the most dominant player I've ever seen in our area at that level" when he played for the Syracuse Nationals. There seemed to be a ton of hype around Nieves after he was drafted, but most of it has faded as his NCAA career has been less than stellar at the University of Michigan. While his offensive production has seemingly plateaued, his all-around game has gotten much stronger over the last two seasons. Nieves doesn't look like he's ever going to be a top-six forward at the NHL level, but as a big body that's good on faceoffs and plays a strong game in all three zones, he has long-term upside as an energy player at the pro level. Or, hey, maybe some new linemates and a letter on his chest (he'll wear an A) help Nieves find an extra gear.
10. Mackenzie Skapski (Drafted 2013, Sixth Round)
2014-15 Team: Hartford Wolf Pack (AHL), New York Rangers (NHL), Greenville Road Warriors (ECHL)
Goaltender — Catches Left — 6'3, 192 lbs
Skapski and the higher-ranked Shestyorkin are so incredibly dissimilar in how they play the position it's almost comical. Skapski, who earned two wins for the Rangers against the Buffalo Sabres last season, is as technically sound as they come. He definitely won't wow you or make the highlight-reel saves that some other goaltenders will, but that's not what matters. Skapski had a solid, but not spectacular season for the Hartford Wolfpack last year, and will definitely need to improve significantly if he wants to earn regular time in the NHL even as a backup. At points in the year, he showed glimpses of starting AHL goaltender potential, but in the end it was Yann Danis' net. One of the major knocks on Skapski to this point is his recovery and rebound control, something he'll need to shore up before he gets a real shot with the Rangers. While two nice wins in the NHL is great experience, I don't see Skapski realistically being ready for NHL action for a while.
Honorable Mentions
Magnus Hellberg (2011)
Brad Morrison (2015)
Ryan Mantha (2014)
Aleksi Saarela (2015)
Keegan Iverson (2014)
Unmentioned 2015 Draft Picks
Sergey Zborovski
Adam Huska