Detroit's fate rests in their hands – they can close out their first-round series against the Tampa Bay Lightning tonight on home ice. Mike Babcock will be able to roll with his favorable line matchups, the team knows the way the puck bounces around Joe Louis Arena and the Red Wings faithful will be as loud as ever.
The #RedWings take a swing at eliminating the Lightning tonight. Detroit is 9-9 all-time in Game 6 on home ice, including 5-4 at The Joe.

— Wheel Deal (@Bill_Roose) April 27, 2015
Even if their Game 6, home ice record is leaves something desired, it's an ideal situation for a Red Wings win– all they have to do is earn it. While there are several factors that can go into any victory, here are three keys to the Red Wings clinching the series versus the Bolts tonight.
Petr Mrazek
Simply put, the best version of Petr Mrazek must show up for tonight's game. He has played some amazing hockey during this series – a 1.91 goals against average and a .937 save percentage.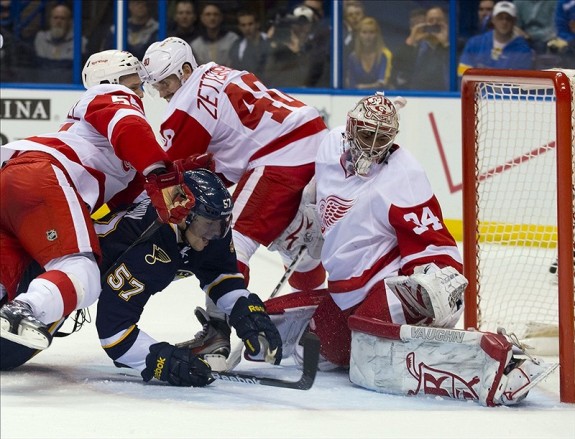 [RELATED: An Ode to Saint Petr Mrazek of Detroit]
Mrazek's issue in his, albeit short, NHL career has been consistency. Holding true to form, Mrazek has excelled in one game and then the next game has gone south for the Czech goaltender. While you can only put so much of the blame on his shoulders for the breakdown in Game 4, the result remains the same. Mrazek will have to prove that he can put up another strong effort, earning back-to-back victories for the first time in this series. Whether he has to steal game six on his own, or is given the support that he deserves, Mrazek will play a huge role in tonight's matchup against the Lightning.
Shutting Down Stamkos, Johnson
Datsyuk has done a fantastic job shutting down the Steven Stamkos line. The line of Killorn-Stamkos-Callahan has produced just six points thus far. Jonathan Drouin has worked in for Killorn on the line during the series, but the result has remained the game. Meanwhile, Datsyuk has amassed three goals and one assist during the series.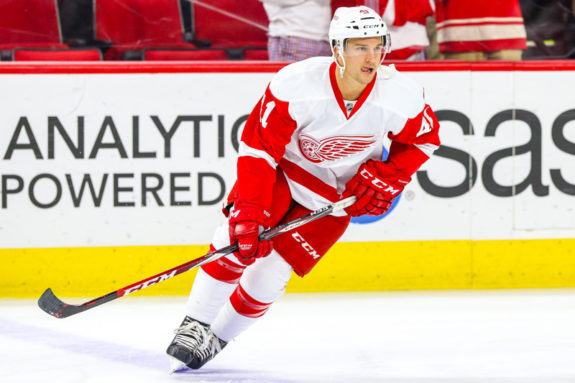 Johnson, on the other hand, has five points through five games. Three of those points came when Luke Glendening left Game 4 due an injury to his right hand/thumb. Outside of that, Glendening's line has done a solid job of shutting down one of the NHL's most potent even-strength lines. For his part, Glendening has put up three points, which is good for second on Detroit among forwards. Winning these line matchups will be incredibly important for the Red Wings during tonight's game.
Production From Young Wingers
When you look at the scoring leaders for the Red Wings in the playoffs so far, you might be a little shocked to see Jonathan Ericsson tied for first in points with Datsyuk. While it is nice to see Ericsson chipping in with some offense, it raises concerns about some of the players in Detroit's top-six forward group.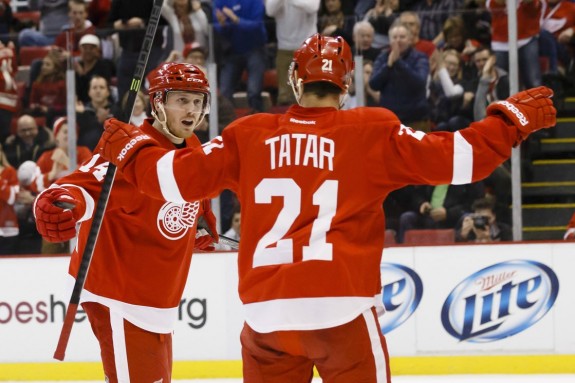 Specifically, Gustav Nyquist and Tomas Tatar need to chip in offensively tonight. Certainly, a goal from Henrik Zetterberg or Justin Abdelkader will go a long way tonight, but both players have contributed in other ways. Nyquist and Tatar have looked a little lost at times during the series – over handling the puck and passing up on chances to shoot. If the Red Wings are to succeed tonight, a goal from their two most potent goal scorers during the season will go a long way.
Subscribe to our Red Wings stories to get email updates every time a new story is published.
I am a writer from Windsor, Ontario who has covered the Detroit Red Wings for The Hockey Writers. I have had the pleasure of doing so since February of 2015. Previously, I have written about Red Wings prospects for Hockey's Future. I am always up for chatting about the Red Wings and hockey in general, so leave me your comment and/or tweets. Follow me on Twitter at @BrandonPeleshok.