Often before a season starts, fans set expectations that are far too lofty and sometimes even unreasonable for a team to meet.  It is obviously your right as a fan to expect the best but sometimes, just sometimes you need to be prepared for the worst.  A season can be considered a failure if the Stanley Cup Parade doesn't go through your teams town.  But if you are a fan of the Sabres anything better than last season is a success.
It would be beating a dead horse for me to mention that there was really no offense last season for the Sabres.  The 157 goal tally was the lowest in franchise history in a non-lockout shortened season.  Three players (Cody Hodgson, Tyler Ennis, and Drew Stafford) accounted for almost 40% of the offensive output for Buffalo.
30-Goal Scorer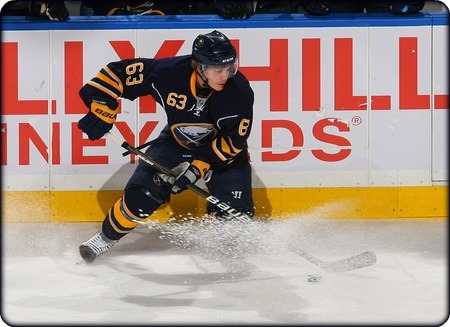 One expectation that could seem unreasonable on the surface, may not be unreachable.  Last year the Sabres had two 20-goal scorers on their team, and two players that were close and may have gotten to that number had they played full seasons.  Drew Stafford scored 16 goals in 70 games, and Matt Moulson who came over in a trade played 44 games for the Sabres and tallied 11.
The Sabres haven't had a 30-goal scorer since Jason Pominville scored exactly 30 during the 2011-12 season.  They have had their share with some players doing it multiple times in recent history, but Pominville was the last.  There are currently six players on the current roster that, if all circumstances go well, could see themselves at this level.
Tyler Ennis has two 20-goal outputs so far in his brief career.  He led the team last season with 21, and if paired with the right linemates could see that number rise this season.  We all know that preseason numbers don't count, but the line of Ennis, Moulson, and Stafford looks like it could be a nice combination for Buffalo.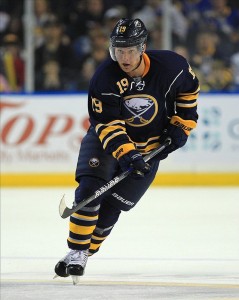 Another player that has the capability of hitting the mark is Cody Hodgson.  Last season Hodgson played in a career-high 72 games and scored 20 times.  It was the first time reaching that mark in his career and could have possibly hit 25 if he was able to play 80 games or more.  During the lockout shortened 2012-13 he was able to register 15 goals in 48 games.  Thirty goals does seem very possibly for CoHo during his career if he misses out on it this season.
Drew Stafford, Matt  Moulson, Chris Stewart, and Brian Gionta are the other four players that have gotten close to the 30-goal mark or beyond during their careers.  Stafford and Moulson are the most likely out of this bunch.  Moulson has already reached that mark three times in his career to Stafford's one.
30-35 Wins as a Team
The Sabres won 21 games last season.  That is the second-lowest win total in franchise history, with 16 wins in their second year of existence being the lowest.  A puck bounce one way or another could have easily changed that total.  With the additions of Gionta, Moulson (again), Josh Gorges, and Andrej Meszaros coupled with the added year of experience for players like Zemgus Girgensons and other young prospects, the idea of 30+ wins could easily be a reality.
The questions is whether or not the additions of the players listed, is enough to overcome the possible deficiency in net?
The two that are battling it out for the starting job haven't had the task of starting 60+ games.  Jhonas Enroth who many consider to be the favorite, started a career-high 28 games last season.  Michal Neuvirth has a bit more experience with 48 starts in a season to his credit back in the 2010-11 season.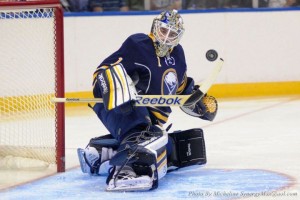 The option of them both getting equal amount of starts is a possibility, but in my opinion going with the hot-hand is the best bet.  The Sabres did this once before with Ryan Miller, Martin Biron, and even Mika Noronen.  This is a battle to keep your eye on in training camp and in the preseason games.  With a little stability in goal this win total is attainable.
Worst to Slightly Better Than Worst
Buffalo was the worst team in the NHL last season.  They are still a bit from making noise in the Eastern Conference, but faith is had with management now where as a few years ago there was none.  Tim Murray is all business and knows he has a job to do.  The Sabres are re-building the right way in my opinion and will change the losing philosophy in western New York in the near future.   The Sabres have missed the playoffs three years in a row now and will most likely make it four years in a row when the season is over but they are heading in the right direction.