Nashville Predators general manager David Poile made the signings of the summer acquiring forwards Olli Jokinen, Derek Roy and Mike Ribeiro for only $4.55 million this season. All three will make major contributions to the Predators' offense, and signing them for virtually nothing is impressive.
Although training camp is well under way in Nashville, Poile needed to solve a couple players' contracts before the regular season began. Defenseman Ryan Ellis was one of the players after finally getting re-signed Thursday afternoon to a five-year, $12.5 million contract. According to ESPN.com's Pierre LeBrun, Ellis will annually make $1.5 million, then $2 million, then $2.5 million, then $3 million, and then $3.5 million.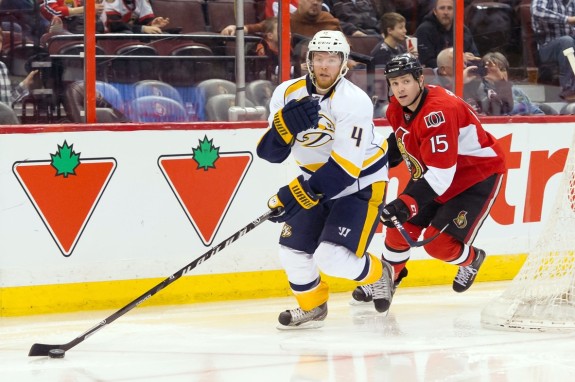 Ellis, 23, is looking to live up to the hype in the NHL after winning every award conceivable for a defenseman in the OHL with the Windsor Spitfires. He amassed 314 points (73 g, 241 a) throughout his time in Windsor, 16 points short of tying Hall-of-Fame defenseman Dennis Potvin's OHL point record. The bar was set pretty high for the youngster, but as for most players, it would take time to adjust. His size of 5-foot-10, 175lbs has made it difficult for the transition into the pros, but Ellis continues to improve each year.
The 2013-14 season was the native of Hamilton, Ontario's first full season in the League, and he did not look uncomfortable. The 11th overall pick in 2009 led Predators defensemen in plus/minus rating (+9) and ranked third among defensemen in points with 27 (6 goals, 21 assists). While Ellis will not be on Nashville's top-line in the near future, his contributions make him a valuable asset.
If Ellis decided to not re-sign in Nashville, the Predators would have been forced to prematurely call-up a minor league defender not skilled enough to play in the NHL quite yet. Joe Piskula, for the time being, as the seventh defender? That would be a mediocre extra option. With Ellis in the fold, a reliable Victor Bartley provides insurance to the defense in case someone is under-performing or injured.
This signing was a steal by Poile because it solidifies the defense for a substantially low price. Good comparisons to Ellis' contract is with Florida Panthers' Erik Gudbranson and Chicago Blackhawks' Niklas Hjalmarsson. Gudbranson tallied just 9 points (3 g, 6 a) and a -7 +/- rating in 65 games last season. Coming off an entry-level deal, the Panthers re-signed him to a two-year, $5 million deal. Hjalmarsson had similar stats as Ellis last season, 26 points (4 g, 22 a) and +11 rating in 81 games. However, Hjalmarsson is entering the first year of a five-year contract worth $4.1 million per season. Compared to Gudbranson and Hjalmarsson, Ellis' contract is a bargain.
Once again, nice work David.