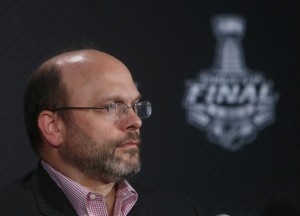 Having missed the playoffs for a ninth consecutive season, the coming off-season will be one filled with great change for the perpetually poor Edmonton Oilers.
Coaches have come and gone, and so too have players, however each season has yielded the same result for the Oilers, who have failed to reach the post season since the 2005-06 season, in which the team reached the Stanley Cup Finals.
Yet this off-season will be one different than any other in recent history, as it has the potential to be filled with one or more major trades or transactions, ones which will see a major shift in the Oilers' identity.
In fact, change has already begun in the City of Champions, signaled by the hiring of ex Boston Bruins General Manager Peter Chiarelli. On top of this major move, the Oilers were fortunate to win the NHL Draft Lottery, securing the right to draft Connor McDavid, a well known star who has been praised by Wayne Gretzky as the best player to enter the NHL in the past 30 years.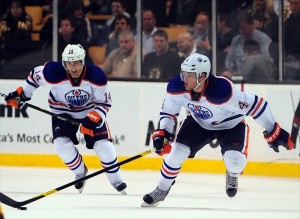 With these major changes and additions to the Oilers already under way, the emphasis now turns to building a team which is sound at every position. In particular, this refers to the Oilers' defense and goaltending, which is nowhere near the quality of a Stanley Cup contending team.
On Monday, April 27th, I wrote about the necessity for Chiarelli to move one of the Oilers' young stars, in particular Taylor Hall or Jordan Eberle, as realistically, this is the only way in which Edmonton can adequately upgrade it's positions in need.
[Related: Who Stays and Who Goes? Taylor Hall or Jordan Eberle?]
Based on this understanding, let's take a quick look at three potential blockbusters the Oilers should consider if they hope to build a strong, consistent team at all positions on the ice.
---
 Taylor Hall and 2015 First Round Pick (From Pittsburgh) to Tampa Bay for Andrei Vasilevskiy and Slater Koekkoek
If the Oilers were able to pull of this deal, or something similar, it would provide Edmonton with a future star goaltender of incredible potential.
At the age of 20, Vasilevskiy is arguably the NHL's top goaltending prospect and is almost a guaranteed future number one goaltender. At 6 foot 3, 205 pounds, Andrei has great size for a goaltender and already has NHL experience, as he played in 16 games with the Lightning in 2014-15 and was sharp, recording a 2.36 GAA and a .918% SVP.
Further, the Oilers would love to net a solid defense prospect, and one player which would be strongly considered is Slater Koekkoek. At the age of 21, Koekkoek is a former 10th overall draft selection and current Syracuse Crunch. A big body at 6 foot 2, 190 pounds, Slater is a strong defender who can also contribute offensively.
In acquiring Taylor Hall, the Lightning would add yet another dimension to their insatiable offensive attack, which already features a number of top NHL scorers. Hall would fit nicely on a line with sniper Steven Stamkos, who plays a similar style of game to Hall.
---
 Jordan Eberle and Joey LaLeggia to New Jersey for Cory Schneider and Jon Merrill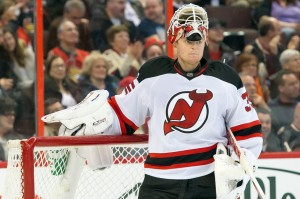 Similar to the Taylor Hall deal, moving Jordan Eberle and Joey LaLeggia to the New Jersey Devils could allow the Oilers to finally acquire their long sought after number one goaltender.
At the age of 29, Schneider's 2014-15 season was a tremendous individual success, especially so considering how poorly the Devils played as a team. Cory set a new career high in wins with 26, while he recorded a 2.26 GAA and a .925% SVP in an incredible 69 games played. All it took for the Devils to acquire Schneider from Vancouver was a ninth overall draft pick, making a deal involving Eberle and a defensive prospect especially interesting.
On top of this, the Oilers could be looking to add a defensive prospect in exchange, and Jon Merrill could fit the bill quite nicely. A 23 year old, 6 foot 3, 210 pound defender, Merrill has played in over 100 games with the Devils and could blossom into a steady stay at home defender for the Oilers.
In Eberle, the Devils would finally add an elite offensive producer, an aspect which they have lacked since Zach Parise left town for Minnesota.
---
 Jordan Eberle and Martin Marincin to Carolina for Justin Faulk and Jay McClement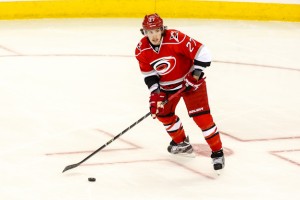 Other than goaltending, the Oilers also require a young, stud defenseman who can not only produce offensively, but also be reliable in his own zone.
Enter Justin Faulk.
At the age of 23, Faulk is quickly rounding into one of the league's top young defencemen. Standing in at 6 feet, 215 pounds, Justin is a solid player with not only good size, but tremendous puck skills. In 2014-15, Faulk set new career highs with 15 goals and 49 points, good enough for second in Hurricanes team scoring.
With a $4.83 million dollar cap hit through 2019-20, Faulk and Eberle are on similar deals in terms of length and cap hit, a coincidence which could make such a trade even more likely to occur.
In Eberle, the Canes' would add an incredibly skilled player to their potent, yet stagnant core of elite young players. Jeff Skinner and Elias Lindholm as well as the Staal brothers would welcome Eberle with open arms, as he would be an immediate improvement to the Canes' offense which ranked 26th in the NHL this past season in goals per game.
---
 Let's Be Realistic…
Let's be realistic, the odds of any of these particular deals happening are likely slim to none. However, they could in all likelihood act as the foundation for major trades the Edmonton Oilers will no doubt contemplate this offseason.
With three potential star centers in Ryan Nugent-Hopkins, Leon Draisaitl and most likely Connor McDavid, it would be incredibly hard for the Oilers to trade any of these young centers. As a result, Taylor Hall and Jordan Eberle's names come up in conversation, as they are the only two remaining players of significant value which could land a huge return in a potential trade, since we can all agree the likes of Nail Yakupov or Justin Schultz would not garner much in return.
At the end of the day, if not already, newly hired Peter Chiarelli will likely come to the conclusion that in order to adequately improve his defense and goaltending, he will need to move one of the Oilers' young star players of high value.
Just which player in particular will be moved remains to be seen, however it remains clear that one of Taylor Hall or Jordan Eberle would net an incredible return if traded, a return so great in fact that is could set the Oilers on the path to once again becoming post season contenders.
Brett Slawson is a four-year veteran of The Hockey Writers who covers the Toronto Maple Leafs, NHL prospects, and the OHL's Mississauga Steelheads.
Contact Brett on Twitter @brettslawson92, or by email at brett_slawson@hotmail.com.