With the NHL's All-Star weekend festivities taking place in Sunrise, Florida, this weekend, it's time for the Vegas Golden Knights to prepare for the NHL Trade Deadline.
---
---
After an incredibly hot start to the season, the Golden Knights have lost quite a bit of momentum due to injuries to major players like Jack Eichel, Alec Martinez, Shea Theodore, and Mark Stone, with Theodore and Stone still remaining out of the lineup. Since starting off 13-2-0 in their opening 15 games of the season, they have gone 16-16-4 and have fallen behind the Seattle Kraken and the Los Angeles Kings down to third place in the Pacific Division.
The Golden Knights still have 10 games left to play before the NHL's trade deadline on March 3, and these games will likely dictate how they approach the trade market. This stretch includes games against some of the top teams in the league, including the Tampa Bay Lightning, Carolina Hurricanes, Dallas Stars, New Jersey Devils, and the Colorado Avalanche.
While this team has the talent and potential to turn things around, we're at a point in the season where it needs to be acknowledged that there's a realistic chance they do not make the playoffs, especially with the recent announcement of captain Mark Stone undergoing back surgery, which will keep him out of the lineup indefinitely.
For the sake of this article, let's assume that the Golden Knights are able to return to their early season form and string together some wins following the All-Star break, convincing general manager Kelly McCrimmon to invest further into this team for the rest of the season. Here are the players that I believe make the most sense to fill the needs in order for this squad to make a deep playoff run.
Max Domi – Chicago Blackhawks
Contrary to the belief of NHL Commissioner Gary Bettman, the Chicago Blackhawks are one of many teams going all in on the tank for Connor Bedard. It's likely that they'll be interested in moving a number of assets over the next few weeks, headlined by the rumors of Patrick Kane and Jonathan Toews that have circulated since the start of the season. However, one player who has been driving up his value as an intriguing trade asset this season is Max Domi.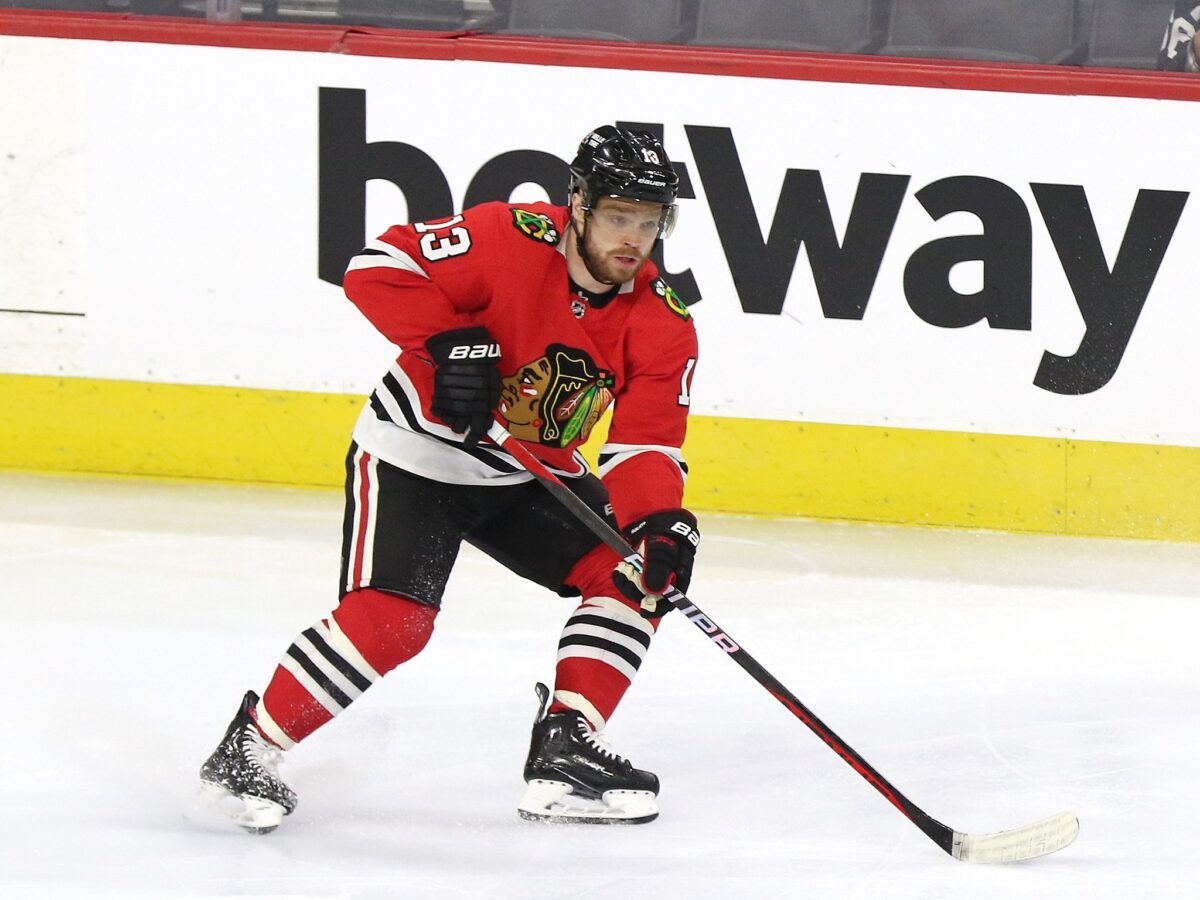 Domi has had a resurgence with the Blackhawks this season, following a few underwhelming seasons with the Columbus Blue Jackets from 2020-22, which included a trade that sent him to the Carolina Hurricanes for their playoff run last season. Since signing with the Blackhawks this past summer, he's put together 35 points through 48 games played and is on pace for 25 goals.
Related: Golden Knights Should Target These 3 Blackhawks in Trades
---
Latest News & Highlights
---
Domi could fill a lot of gaps in the Golden Knights' lineup with his ability to play both center and wing, likely in a third-line role, with the offensive upside to play in their top-six and on the second power-play unit. With his one-year, $3 million contract expiring at the end of this season, the Golden Knights would likely be able to manage a trade without giving up any significant roster pieces with the cap space they currently have.
Jesse Puljujarvi – Edmonton Oilers
When he's at his best, Jesse Puljujarvi is a hard-nosed power forward with 15-20 goal potential and is the type of player that could complement most top-six forward groups in the NHL. The problem has been his consistent ability to produce at a consistent level, which he's struggled with since being selected fourth overall by the Edmonton Oilers in the 2016 NHL Draft.
In his 308 career NHL games, he's scored just 50 goals and totaled 108 points while only putting together 10 points in his 49 games this season. However, he is playing on the Oilers' fourth line, and they are in a position where they have enough offensive firepower that they don't need to give him any more opportunities in a more significant role.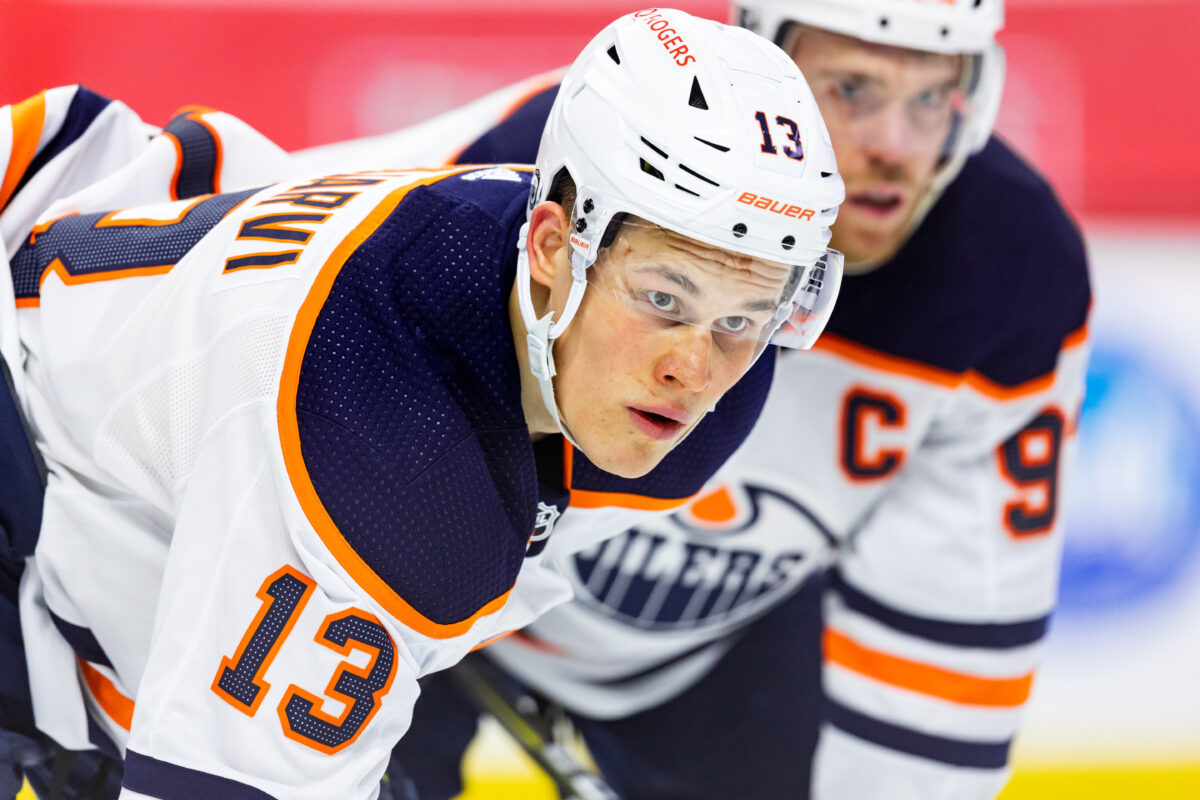 The obvious risk with taking on a player like Puljujarvi is the uninspiring resumé he's built up over the past few seasons. While he is totally capable of turning his career around in a new setting, is this a player that the Golden Knights are willing to bank on as an impactful player for their team right now? The answer could be yes, especially considering his low asking price.
In a recent article from Sportsnet's Jason Bukala, he notes the Oilers will have to include a high draft pick to move forward Jesse Puljujarvi. This is likely due to his $3 million cap hit, which will be expiring at the end of this season, but I see a number of ways where the Golden Knights could benefit from a deal like that.
Based on his production this season, his value is at an all-time low. If the Golden Knights managed to take on his salary for the remainder of the season with the potential of him making an impact on the lineup while also acquiring a high-end draft pick, they could then leverage that pick to make further moves at the deadline. It's a significant risk to take, given the limited cap space the Golden Knights have, but it also has strong payoff potential if things go right.
Ivan Barbashev – St. Louis Blues
Ivan Barbashev is a player that has picked up steam as a trade target for a number of teams looking to give themselves an affordable offensive boost for the postseason. Coming off of a career-high 24-goal, 60-point season with the St. Louis Blues last season, Barbashev has seen a significant dip in production, putting together just nine goals and 24 points through 51 games.
The departure of Jaden Schwartz had a major impact on the offensive opportunities Barbashev had with the Blues last season, but even his production throughout the first half of this season would solidify him as a solid top-nine forward for the Golden Knights. With his ability to play as both a winger and a center, there would be opportunities for him to even make an impact alongside Jack Eichel on the top line with the prolonged absence of Mark Stone.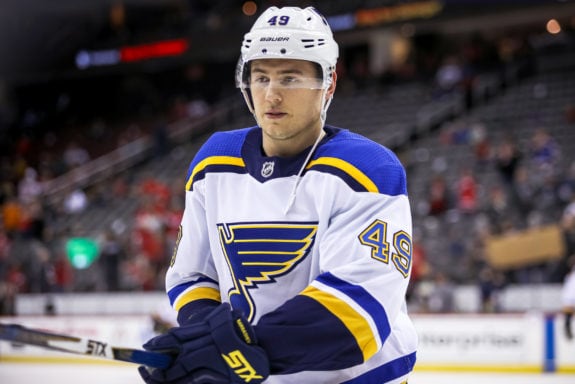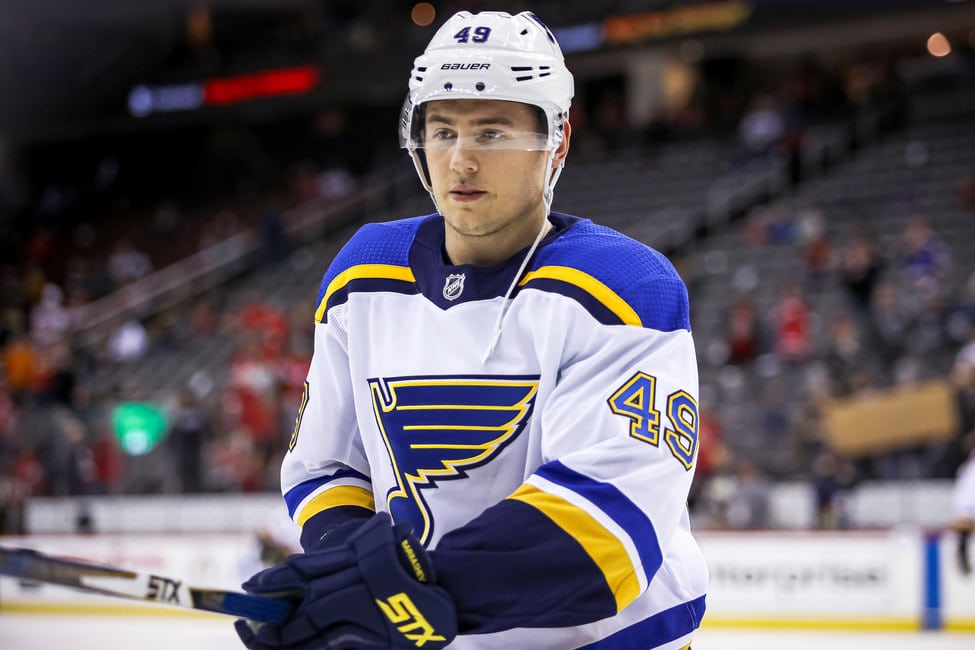 The Blues have a number of decisions to make in the coming weeks with both Vladimir Tarasenko and Ryan O'Reilly becoming unrestricted free agents this summer, and it could be tough for them to justify paying Barbashev when his two-year, $4.5 million contract expires as this season.
Considering the amount of money those two will be demanding, as well as Barbashev's play this season, the Blues don't have a ton of leverage when it comes to negotiating a deal for him. This means that the Golden Knights likely wouldn't have to give up more than a second-round pick or equal value for him.
In comparison to both Domi and Puljujarvi, one thing that Barbashev offers is his playoff experience. He's played 50 playoff games, which would place him seventh on the Golden Knights roster for most playoff games played, with one of those playoff runs resulting in the Blues' 2019 Stanley Cup championship. Experience has always been a factor that ends up playing a role in the playoffs, and Barbashev could provide a lot of value if they are going to make a deep run.
Final Thoughts
The Golden Knights are in an extremely tough position heading into this trade deadline. They've put together a roster that, when fully healthy, has shown they are one of the top teams in the NHL and have elite talent at nearly every position. While they still remain in a playoff spot, the numerous injuries, as well as the inconsistencies within their style of play, have put them in a spot where they may feel forced to make a move.
The players outlined here aren't ones that are going to fix all of their problems, and with every trade, there's always the risk that they don't help the team at all. It's always hard to count the Golden Knights out from making blockbuster moves, as we've seen in years past. But with the cap limitations they currently have, it's tough to find an affordable option that will totally alter the trajectory of this team.
With all of that said, things could be a lot worse. Despite their recent struggles, they're still in a playoff spot and have a strong enough roster to turn things around on their own without any new additions to their team.