The Atlantic Division (and Eastern Conference) officially has new leaders in the 35-15-4 Montreal Canadiens and there's every reason to believe they'll be the last this 2014-15 season… Well, there are three reasons anyway.
Status Quo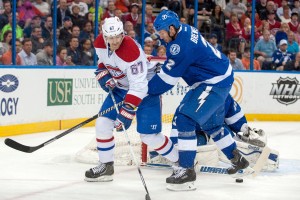 Just leading the division at this point in the season puts the Canadiens in an undeniably better position relative to the Tampa Bay Lightning and Detroit Red Wings moving forward.
In what has become a three-team race, the Habs are tied in points with the Lightning (74), but have three games in hand. They admittedly trail in the second tiebreaker, regulation and overtime wins (32 vs. 30), but, as long as the Habs finish with more points, a challenge which will be made easier by those games in hand, it won't matter.
Despite being three points back, the Red Wings actually have one game in hand on the Habs and may actually have the better chance relative to Tampa at catching them. Nevertheless, it's hard to deny that the Habs hold their collective destiny in their own hands moving forward. That's all you can really ask for at this point in the season.
Easy Schedule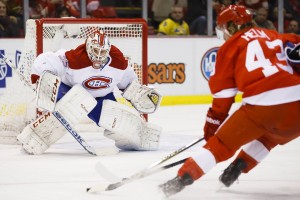 Looking at almost every metric out there, it becomes clear the Habs have the easier schedule remaining relative to both the Lightning and Red Wings.
About the only advantage the Lightning has over the Habs are three sets of back-to-back games left. Montreal has four. Detroit has six, hinting at a much tougher, condensed schedule.
Meanwhile, the only advantage the Red Wings have are more home games remaining at 14 vs. 12 each for the Habs and Lightning (Montreal has 16 road games left vs. 15 for Detroit and 13 for the Lightning).
That's it, though. If you're of the firm belief that it's all about the competition you're facing, well, let's just say Montreal doesn't have much of it the rest of the way.
Against teams within five points of the last wild-card spot, who arguably have a lot more to fight for than teams whose playoffs spots are secure, Montreal has just nine games left. Both Tampa (10) and Detroit (11) have more.
Montreal will also play 15 of their remaining games against teams currently out of the playoff picture altogether. Tampa (12) and Detroit (11) each have fewer, signifying a much easier road to the playoffs for the Habs.
Granted, that may not be that much of an advantage for Montreal considering recent performances (in this specific case, embarrassing losses) vs. the Arizona Coyotes, Edmonton Oilers, and Buffalo Sabres, but those defeats may not mean that much in the bigger picture, with backup Dustin Tokarski having started two of those games (and Montreal dominating the Sabres in the other).
Montreal Canadiens Goalie Carey Price
That isn't to suggest Montreal should have won those games. Admittedly, they played lousy against the Coyotes and Oilers. There's just no sugarcoating it.
Whereas the Habs outshot the Sabres 34-18 in a 3-2 loss on February 3, they got outclassed in each of the Arizona (February 1) and Edmonton (February 12) defeats by a combined 70-46 shot count. Put simply, playing against teams much lower than them in the standings, they, uh, sucked.
The point is, while Tokarski wasn't the reason the Habs lost either of those games, he didn't look especially good either, giving up multiple bad goals in both losses. With head coach Michel Therrien having a well-deserved reputation of not trusting his younger players, he will now be even more likely to give No. 1 goalie and Vezina Trophy candidate Carey Price the lion's share (roughly 99%) of remaining starts, as the Habs battle it out for preferential seeding.
That spells trouble for both Detroit and Tampa, because Price isn't just a Vezina Trophy candidate. He's a Hart Trophy one as well, boasting a .933 save percentage (first in the league) and 30 wins (second) in just 43 games. That amounts to a ~.700 winning percentage. Tampa's win percentage is just under .600 this year. Detroit's is even lower at .584.
So, no, it isn't that the Red Wings and Lightning don't have stars themselves, because they do. It isn't that they have sub-par goaltending, either. After all, Tampa's Ben Bishop was nominated for the Vezina last year and Jimmy Howard was named to the All-Star Game.
It's that no one else on either team is even close to entering the MVP conversation (Hell, Steven Stamkos isn't even leading Tampa in scoring, despite having been healthy all year). It's that Price has developed into the biggest game-breaking talent on these three teams right now—and he's poised to play a lot more the rest of the way.
Sure, that might mean he'll be more tired come the playoffs. But the Habs can cross that bridge once they come to it… as Atlantic Division champions.