So far this offseason the San Jose Sharks have made three key additions to their roster. Acquiring goaltender Martin Jones from Boston (via Los Angeles) and signing free-agent defenseman Paul Martin and winger Joel Ward has filled three main areas of need. A year ago at this time, the Sharks were in a bizarre "rebuild," with pessimism being led by general manager Doug Wilson. This year however, optimism is running abundant due to Wilson's renewed win-now attitude.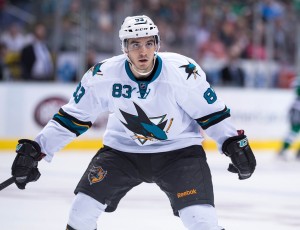 San Jose's current depth chart shows a team with four quality lines and three solid defense pairs in front of a highly touted young goaltender. If the season started tomorrow, the Sharks would have high expectations.
However, further improvements could still be made. For various reasons, any of the following three Sharks could be traded in order to improve the roster.
Matt Nieto
While I don't recommend the Sharks trade the third-year winger, Nieto does have significant trade value as a 22-year old. The second round pick from 2011 finished last season with an underwhelming 27 points, but he was also ranked at, or near the top of the NHL, in possession numbers during the first half. He wasn't riding the coattails of linemates either, as he led the league in possession despite being bounced around multiple different lines.
Going into last season, Nieto was a hot candidate for a breakout year after finishing with 24 points in 66 games as a rookie in 2013-14. Most of those points came late in the year on a line with Patrick Marleau and Logan Couture. While Nieto obviously turned in a sophomore slump production wise, bad luck had a lot to do with it.
Perhaps Nieto and a mid-round pick could fetch an equal caliber young defenseman on a similar entry-level deal. The Sharks should have a much better blue line than a year ago but they could possibly make it even stronger by moving Nieto. A defenseman in return would make sense as an an upgrade over AHL-NHL tweener Matt Tennyson on the Sharks' third pair.
Nieto would make more sense to trade away than other young forwards like Chris Tierney and Tomas Hertl, who have higher upside. And of course, on a win-now team, it wouldn't make sense to trade away top producers like Joe Pavelski or Joe Thornton.
Mike Brown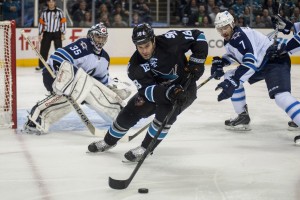 The veteran tough guy signed a two-year deal worth $2.4 million last offseason. Considering the NHL is moving away from fighting and that Brown offers little value outside of his fists, trading him would be wise.
Even a seventh round pick would be a nice pickup for Brown. San Jose inexplicably gave up a fourth round pick to acquire Brown in the middle of the 2013-14 season in what looks like a giant waste of a mid-round pick. If the Sharks can't find any takers, waiving Brown and then sending him to the minors as they did last year with Adam Burish makes a lot of sense.
That $1.2 million in cap space is incredibly valuable for a team spending close to the cap ceiling in an attempt to win the Stanley Cup. Paying Brown that kind of salary to play in the AHL wouldn't be a huge financial waste and the extra cap flexibility (cap hit would for Brown would then only be $250,000) could prove huge. Adding Brown's cap hit to say Tommy Wingels' $2.475 million cap hit, and the Sharks would have $3.375 million they could potentially move off the roster. That amount, plus their current $1.7 million in cap space would give San Jose right around $5 million in available spending money.
Tommy Wingels
Wingels is one of my favorite players to watch. He is a coach's dream role player. He does everything well on the ice, no weak areas in his game, everything is above average. The former Miami of Ohio Redhawk is also a great interview, so for the purposes of my job, it would be lousy to see him traded.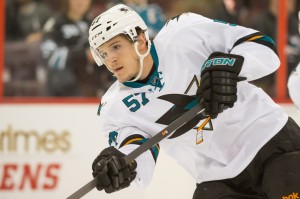 However, if the Sharks were looking to bolster their team even more than they already have, moving Wingels makes the most sense. While he may be above average, the 27-year old has likely reached his ceiling. That isn't to say his 35-40 points every year aren't valuable, but that there is less risk in trading him away than say trading the high-end potential of Tierney or Hertl.
Furthermore, even though 35-40 points is solid return for his cap hit, his cap space could be used together with Brown's to acquire an even better player. In theory, after moving Brown and Wingels cap hits, the Sharks could then sign defenseman Cody Franson to a three-year, $15 million deal.
Most of us so-called "experts" thought Franson would get more in term and dollars, but he remains a free-agent. Perhaps lasting days into free agency without a contract means Franson won't make as much as initially thought. While the Sharks already look to have a solid top-four on paper and a very capable third pair, Franson would turn what was a Sharks' weakness last year into a super-strength. With Brown being useless, and Wingels a third-line winger, moving them out for a top-four defenseman is a huge net win.
With Franson in the fold, the Sharks could then roll out the following top-six defense:
Marc-Edouard Vlasic—Cody Franson
Paul Martin—Brent Burns
Brenden Dillon—Justin Braun
On paper, one could make the case for this being the strongest defense in the league.
Andrew has been credentialed to cover the Sharks since 2010 and the 49ers since 2012. He graduated with his BA in Broadcast Electronic Communication Arts in 2013 from San Francisco State University.