A microscopic organism in Toronto during his tenure with the Maple Leafs, Phil Kessel was always the topic of discussion when it came to news stories. Was he scoring enough? Why can't he pot goals at the same rapid pace on a consistent basis?
But one thing seemed unanimous, Kessel has a knack for putting the puck in the net. He spent six years in Toronto – never finishing with less than 20 goals. In fact, aside from the shortened season in 2012-13, he exceeded the 25-goal mark in each season with Toronto.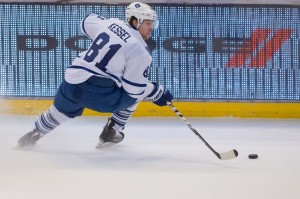 Kessel played 446 games with the Leafs – scoring 181 goals and adding 213 assists during that time. He didn't miss a single game on Toronto's schedule between 2010 and 2015 – a commentary on the type of game he plays, but also showing his consistency when it comes to staying in the lineup.
So is it completely farfetched to think that Kessel could contend for the Maurice 'Rocket' Richard Trophy as the league's top scorer in his first year with the Pittsburgh Penguins? Looking at his numbers with the Leafs, it's not impossible.
Linemates By the Numbers
In considering the possibility of Kessel winning the Richard Trophy, think firstly about the players he'll have the opportunity to play with. From his days with Tyler Bozak and James van Riemsdyk to possibly lining up next to Evgeni Malkin or Sidney Crosby.
While Bozak, JVR and Kessel always seemed to click, there's no question they aren't among the best in the game. Now, in no way is anyone questioning Bozak and JVR's ability to put the puck in the net and create offence – after all their numbers show that they have that skill set. But how can anyone argue that playing with Crosby or Malkin isn't a step up?
Since he joined the Leafs in 2009, Phil Kessel ranks 5th in the NHL in goals (181), 20th in assists (213) and 15th in points (394).

— Jonas Siegel (@jonassiegel) July 1, 2015
Bozak was signed as a free agent and joined the Leafs in 2009. Since then, he's played six seasons with Toronto amassing 232 points (95g-137a) in 378 regular season games.
JVR is also in his sixth NHL season splitting time between the Leafs and Flyers. In 406 regular season games, he's recorded 248 career points (122g-126a). Together, the two have averaged 0.61 points per game over their careers – not exactly the numbers of a top line combo. In fact, as Ryan Lambert explains, Bozak was more of hinderance than many would expect when it comes to the quality of Kessel's game.
In Pittsburgh, Crosby's played 10 seasons and scored 853 points (302g-551a) in just 627 games. His counterpart, Malkin, has played in 9 seasons and notched 702 points (268g-434a) in just 587 games. Now, imagine Kessel lined up next to one of these centremen. Simply put, it's scary.
Phil Kessel: The Other Guy
As SB Nation's Pensburgh points out, adding the second highest scoring winger from the past four years is a win either way for the Penguins. Vessel's ability to average 0.78 points per game over his first nine seasons is something worth noting.
In Boston, he was still a young player learning the ropes of the NHL. Sure, he put up 60 points in his final season with the Bruins, but he still had a lot to learn.
In Toronto, he was under the microscope. He was the go-to guy that everyone expected to put up big numbers. When he didn't, he was ridiculed. When he did, everyone wanted more. And while a market like Toronto can be hard to play the role of 'the guy' – Kessel stepped up and took on that role regardless of the character assassination that came with it.
The truth is that over his six seasons in Toronto, Kessel was a good – or even great – player carrying a bad team. He covered up the inabilities of team management to put together a solid team – to develop a team worthy of a winger of his calibre.
Kessel scored 37 goals twice with Tyler Bozak as his center…imagine what he will do with Crosby or Malkin by his side. #warpiginpittsburgh

— Dustin Nielson (@nielsonTSN1260) July 2, 2015
In Pittsburgh, Kessel will have the opportunity to step out of the limelight. He'll no longer be at the forefront of media scrutiny and speculation. Sure, eyes will be on him and people will be watching, but the Malkins, Crosbys, Letangs and Fleurys are still part of what can only be referred to as the main attractions.
Averaging 0.4 goals per game over the past six seasons, Kessel's frustration on the ice sometimes affected his game – and without question affected he numbers. He'll never be the defensive guru that Toronto coaches asked him to be, but why change the game of a player that has the pure skill that Kessel possesses?
While we can't sit here and predict how exactly Kessel will gel with this core in Pittsburgh, it's not hard to see that at just 27 years old (28 when the season gets underway) Kessel's just hitting the prime of his career and has a lot more to offer on a team that can provide the supporting cast. It'd be shocking if Kessel didn't see an increase in points – but more specifically in goals alongside the talent that exists in Pittsburgh.
Not only will he have the opportunity to play with one of the games best players in either Malkin or Crosby, but he's bound to see a lot of powerplay time over the next seven seasons. The Hockey News' Ken Campbell even compares Kessel to his new teammate Crosby in a piece from March 2015 – stating that it isn't the skill, ability or hockey IQ that has differed in the careers of the two. Instead, he points to the supporting cast.
"If our team was deeper and stronger, would Phil have more success and not have his faults looked at as much?" said Nonis (still with the Leafs at the time of the article). "No question that would be the case."
As the sixth highest scoring American before the age of 28 (behind the likes of Pat LaFontaine, Jeremy Roenick, Keith Tkachuk, Mike Modano and Ed Olczyk) there's no reason that the addition of Crosby and/or Malkin to Kessel's arsenal will help him in his search for the NHL's goal scoring title – the Rocket Richard Trophy. Even if he doesn't win the award, look for him to be in contention while he remains a Pittsburgh Penguin.
For more, follow Andrew on Twitter at @AndrewGForbes or his THW column at @Tape2TapeTHW.