The media session only lasted for 30 minutes.  But that was more than enough time for major storylines to develop.
Friday at the NHL Combine was highlighted by the afternoon media session.  We got to hear from NHL Central Scouting Director Dan Marr, as well as top prospects Connor McDavid, Jack Eichel, Dylan Strome, and Noah Hanifin.
What did we learn from the media session?  Three things stood out to us.  We got insight into some burning questions.
Why McDavid Over Eichel?
Marr was first to speak on Friday.  He was asked why McDavid is ranked first in their rankings over Eichel.  Each player plays a different style of game.  It was interesting to hear what Marr had to say about this.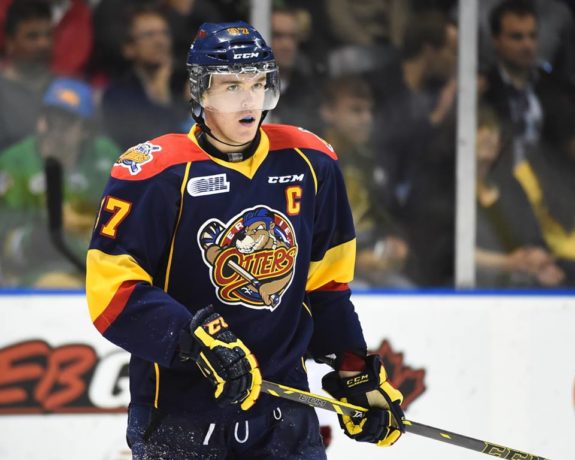 "(McDavid's) quickness, and the way he processes the game," Marr said.
In the OHL, McDavid was simply on a different level.  He has the ability to see plays develop a couple of steps ahead of everyone else on the ice.  It is that awareness that sets McDavid apart.  This is not to say that Eichel can't do that.  It's saying show superior McDavid is in that respect.
"They are really close though (McDavid & Eichel)," Marr continued.  "Both are outstanding players, and deserve the attention they are getting."
McDavid, Eichel, & The Media
As one can imagine, when you are a young player like McDavid or Eichel, the media will be very interested in what they have to say.  But sometimes, things go too far for no reason.
It started with McDavid.  He, once again, was asked about his reaction on Draft Lottery night.  McDavid admitted that he was shocked at the result.  But in no way does that mean McDavid was upset at the result.  This led to a continued flurry of questions about the lottery.  That then led the NHL representative to cut off all lottery related questions for McDavid.
Why is this a story?  McDavid, like the other prospects, are getting ready for their fitness testing.  I can't blame him one bit for being upset that this question was brought up again.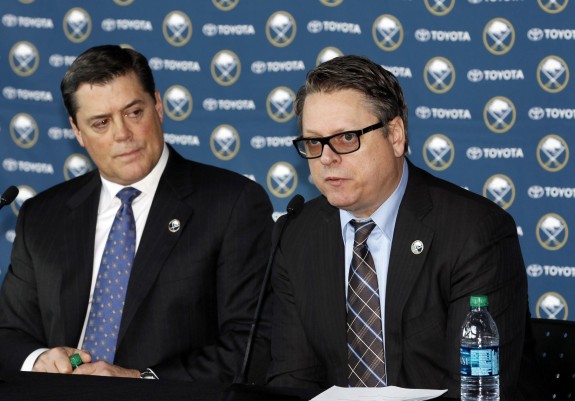 McDavid is a class act.  He is the ultimate team player.  If Edmonton drafts him, he will go there and play the best that he can.  He will not be upset that he is playing for Edmonton.  Some stories you just have to let go eventually.
It didn't stop there.  Then Eichel came up to the podium.  He was asked about his comment to Sabres GM Tim Murray that he "is the best player at the NHL Draft."
"I believe in myself and my abilities," Eichel replied.  You could tell that he was upset at this.  "This was a private conversation with a team, and I'm not sure how this got out."
Eichel admitted that he had conversations with five different teams at the Combine.  Any of those teams could have leaked this information out.  Regardless, there has to be a point in which you leave a question alone.  You could tell that Eichel and McDavid didn't want to be there.  They were there because they "had to".  McDavid even whispered the phrase "Enjoy that" to Strome as they were switching places on the podium.  Is the media attention catching up to everyone.  After this scrum, you have to believe it is to a point.
The Favorite To Be The 3rd Pick?
The Arizona Coyotes are technically on the clock.  Assuming McDavid and Eichel go first and second, the Coyotes will have a real decision to make.  They have their choice of Strome, Hanifin, or Mitch Marner.  Both Strome and Hanifin got their chance to speak about this.
Strome was asked about the influence of McDavid, while Hanifin was asked about facing Jack Eichel.  Both gave answers you would expect.  Strome is confident in his own game, pointing out his performance when McDavid was injured.  Hanifin praised Eichel, saying how great a player he is.  Hanifin was asked his thoughts on why some have him outside the Top 10.
"I'm not really sure," Hanifin said.  "I feel confident in where I am at with my game."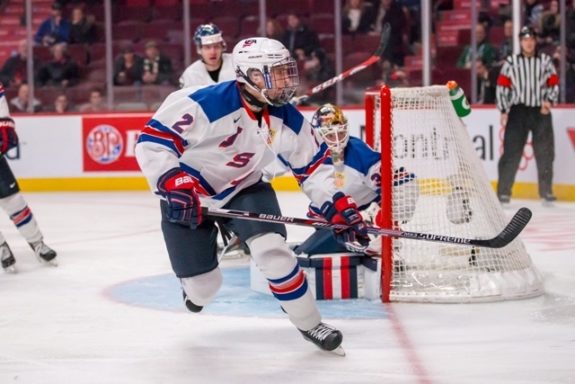 Regardless of who they take, the Coyotes are going to get an outstanding player.  Both Strome and Hanifin came across well in their media sessions.  Saturday could be the deciding factor in who ultimately goes to the Coyotes.
The last day of the Combine is Saturday, in which over 110 prospects will complete their fitness testing.  We will have all day coverage of the testing here at the Hockey Writers.  Which of the "Next Ones" will rise up on Saturday?