When the Buffalo Sabres talk prospects, 90% of the conversation will be directed immediately toward either Jack Eichel, or Sam Reinhart. However, if you explore Buffalo's prospect system more thoroughly, you'll quickly find that the Sabres have another thing to brag about: goaltending.
The Sabres possess control of several top goaltending prospects, who, if given a bit more time to blossom, have the potential to become NHL-caliber netminders with the Sabres.
Here's a breakdown of the top 4 goaltending prospects that could make their way to Buffalo:
Linus Ullmark, Modo (Swedish League)
Ullmark is in a unique situation, when compared to other Sabres prospects. Ullmark, a member of Modo of the Swedish league, had a pretty significant stat-drop last season. His .931 save percentage dropped to a mere .904, however, some of this can be contributed to the 21-year-old's team, which was the worst in the Swedish League.
On top of that, Ullmark will be undergoing surgery to repair both of his hips, which will prevent him from making his North American debut.
Nevertheless, the Swedish net-minder has the size that Buffalo would like between the pipes (6′-3″, 198 lbs), and matches his size with a strong technique in net.
Jason Kasdorf, Rensselaer Polytechnic Institute
Kasdorf entered Troy, NY, and quickly took over as one of the ECAC's top goaltenders in his freshmen season. In his first year with the Engineers, Kasdorf posted a 14-5-2 record, with three shutouts, a 1.62 goals against average, and a .935 save percentage. The Winnipeg native carried a surprising RPI team to the second spot in the ECAC standings, but failed to make the tournament after being upset by Brown in the first round of the playoffs. Despite RPI's early exit, Kasdorf was still honored by being selected as the ECAC's Rookie of the Year.
Kasdorf suffered a season-ending shoulder injury just two games into his sophomore year, and didn't make his return until last fall. This season, Kasdorf finished with lower numbers than he posted as a freshman (2.97 GAA, .902 save percentage). However, the numbers are a bit misleading, as RPI had a much stronger team when Kasdorf was a freshman. On top of that, Kasdorf came into the season after spending a year out of the crease while recovering from an injury, so you'd expect his numbers to drop a bit in his first season back.
Despite finishing ninth in the ECAC, the Engineers were able to get by arch-rival Clarkson in the first round of the playoffs, and Kasdorf was given the opportunity to prove himself in a high-pressure situation. In the series clincher against Clarkson, Kasdorf stopped 33 of 34 shots to help the Engineers advance. Six days later, he once again stopped 33 of 34, but was eliminated as the Engineers failed to score a goal in Game 2.
Kasdorf's performance in Game 2 was still greatly appreciated by the Engineers:
Cannot say enough about Jason Kasdorf. The man is just outstanding. 33 saves. RPI did everything but score 4 or 5 times early, too.

— Without a Peer (@without_a_peer) March 14, 2015
Having seen Kasdorf play myself, I can tell you that when he's on, he on. The 6'4″ goaltender has the ideal size for an NHL-level netminder, and when put to the test, the talent is there. He has excellent footwork, a very good butterfly style, and has received a lot of praise for his work ethic between the pipes.
Honestly, I don't think that Kasdorf has received the amount of attention that he deserves. When healthy, the Rensselaer goaltender has proven to be one of the strongest netminders in all of college hockey. Having said that, the oncoming season will be extremely important for the 23-year-old. If the Canadian goaltender can put up numbers like he did in his freshman season, he'll receive a lot more attention from the Sabres. Should Kasdorf completely drop his injury-bug that plagued him last season, then you can expect to see some impressive goaltending between the pipes at the Houston Field House this winter.
Ultimately, this will be the decisive season for Kasdorf. If he fails to show his true colors, the Sabres may leave him out to dry. However, if Kasdorf finds his game (and I think he will), Buffalo may come calling.
Cal Petersen, Notre Dame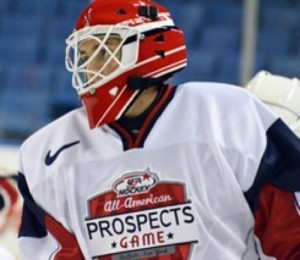 Petersen came into Notre Dame after spending two seasons and change with the Waterloo Black Hawks of the USHL. In his first season with the fighting Irish, Petersen was pretty successful.
The 20-year-old goaltender posted a .919 save percentage, matched by a 2.51 goals against average. His month of February was particularly stunning, when the Iowa-born puck-stopper helped Notre Dame take down the soon-to-be National Champion Providence Friars, as well as Boston University, and Boston College.
However, the freshman's most stunning performance came in a 5-OT (yes, FIVE overtimes) playoff game against UMass, in which he posted 87 saves. Petersen was named Notre Dame's Rookie of the Year, beating out the other 8 freshman that suited up for the Fighting Irish.
Petersen receives praise for his patience in net, upon other things. By staying up, and forcing the shooter to make the first move, Petersen gains an early advantage on every shot. On top of that, the 6′-1″ net-minder has shown excellent positioning, and fantastic crease-movement.
With a couple of seasons of college eligibility remaining, Petersen could develop into a very strong goaltender, and possibly a future-Sabre.
Jonas Johansson
Johansson, who is also a Swede, is preparing to begin in Sweden's elite league come hockey season. The 19-year-old goaltender spent his time in junior and secondary divisions, where he has posted rather inconsistent stats.
However, Johansson is still very young, and has the size, as well as the potential to develop into a very strong net-minder.