The Minnesota Wild are known for their tenacious play and skilled forwards. After being  bounced unceremoniously  in the second round of the Stanley Cup Playoffs, Wild fans started asking questions. What happened to the Wild?
Moving into the 2015-16 season, those questions still remain. Due to the Wild's precarious salary cap situation, they didn't add any big name free agents during the offseason.
The Wild are going to have to rely on their current players to push them over the top. Minnesota fans don't need to worry, The Wild have ample talent on their current roster.
Last season, the Wild finished 12th in the league in goals per game. That number could improve drastically if the Wild could get more scoring from a few of their veterans and younger players.  I selected Wild three players ready to breakout in 2015-16.
Thomas Vanek
Thomas Vanek came to the Minnesota Wild via free agency during the summer of 2014. Many in the Minnesota Wild fan base were ecstatic that the Wild had landed the former All-American forward from the University of Minnesota.
Make no mistake about it, Vanek is an offensively gifted forward that was brought to the Wild to bolster their offense.
Vanek started the 2014-15 season slowly. Vanek scored (0g-6a—6pts) during the month of October. Almost immediately, Wild fans grew antsy. Vanek drew the ire of many Wild fans. Some Wild fans and bloggers even compared him to former Wild forward Dany Heatley. I don't think that's a fair assessment.
I get it, Vanek signed to a three-year 19.5 million dollar contract and expectations were high for the former Gophers. Last season, at times, Vanek looked very slow.
Apparently, there was a reason for that.
During the second half of the season, Vanek suffered a double sports hernia. Despite his injury, Vanek was able to score 30 of his 52 points during the second half of the season. I can't imagine playing hockey with sports hernia.  Maybe Wild fans should cut him a little slack.
Like his teammates, Vanek struggled during the 2015 playoffs.
One has to wonder how many points Vanek would have collected if he had not been injured.
According to CBS Sports, Vanek has resumed skating again. Vanek is also expected to be healthy and ready to go for training camp in September.
Recently, Vanek told Wild beat writer Michael Russo that he's feeling great.
"From February on, I had a few good days but mostly bad days," said Vanek, who actually produced significantly more in the second half than in the first. Vanek said he continues to do his rehab, has started skating and "feels great."
Look for a healthy Vanek to rebound during the 2015-16 season. If Vanek could score five to 10 more goals and chip in an additional 10-20 points it would help the Wild immensely.
Jason Zucker
Over the course of the last two seasons, Minnesota Wild forward Jason Zucker has missed 60 plus games due to injury.
Injuries aside, the speedy former All-American from Denver University was still able to score 21 goals despite missing 27 games due to a broken collarbone.
Zucker returned to the Wild lineup on April, 7, 2015, and scored three points (2g-1a—3pts) in the Wild's final three regular season games.  This gave Wild fans something to be positive about going into the 2015 Stanley Cup Playoffs.
After the Stanley Cup Playoffs, Zucker revealed that he'd broken his thumb during the second game of the series against the St. Louis Blues. Zucker would play the remaining eight Stanley Cup Playoff games with a broken thumb. After the injury, Zucker was ineffective and scored (1g-1a—2pts) in the final eight games.
Imagine if Zucker had been healthy for 65-75 games? Zucker's offensive contribution could've made a huge difference for the Minnesota Wild.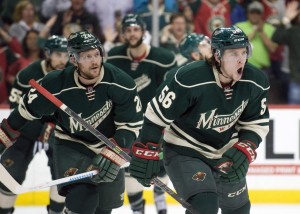 Erik Haula
One Wild player that needs to have a bounce-back year is forward Erik Haula. The former Minnesota Gopher burst onto the scene during the 2013-14 season. Haula scored (6g-9a—15pts) in 46 games. The speedy Haula had a strong 2014 Stanley Cup Playoffs as he went on to score (4g-3a—7pts) in 13 playoff games.
Haula's performance in the 2014 playoffs, made Wild fans giddy. That giddiness was short-lived.
Last season, Haula took a step backward, the former Pori Finland native scored (7g-7a—14pts) in 72 games. Haula also had a tough time cracking the top-nine forward positions and was a healthy scratch in eight-of-10 playoff games.
As Dustin Nelson mentioned in an earlier post, Haula's strong suit is his penalty killing prowess.
Again, if Haula could find his scoring touch and chip in more offensively, it would be a bonus to the Minnesota Wild. Haula's defensive game is already at a higher level, but adding some offensive output to his game would also bolster their secondary scoring.