Another week means four more players that fans of the Vegas Golden Knights need to keep an eye on. We're up to Columbus, and the Blue Jackets are going to have a tough decision to make ahead of this summer's expansion draft. Unexpected success has gotten in the way.
It's fair to say that John Tortorella's squad has far exceeded this season's expectations. To this point, Columbus is third in the Eastern Conference, a year after finishing in the basement of the Metropolitan Division.
Players are playing better. Simple, I know. It gets less simple when you consider that players Columbus may have been ready to part ways with a season ago have now played themselves onto the Blue Jackets' protected list.
That works both ways. Retaining some assets may no longer be a priority for the Blue Jackets. Surprising performances up and down the roster have put Columbus in a very interesting position. Youth? Vets? Is this team built for a deep playoff run? Are we barreling headfirst towards a Blue Jackets/Wild showdown for the Stanley Cup? Watch closely, Vegas fans. Columbus just might be the center of the hockey universe.
William Karlsson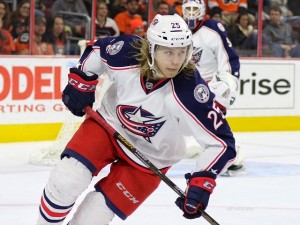 Karlsson is a solid bottom-six forward who's putting together a career year, not unlike many of his teammates. The Swede was drafted in the second round of the 2011 NHL Draft by Anaheim but didn't see considerable time on the ice until last year with Columbus. That season was a nine-goal, 20-point effort as a 23-year-old. This season he's at six goals and 21 points through 58 games.
The Golden Knights will likely be able to get a similar player elsewhere, and in my opinion should spend the Columbus pick on defense. Watch Karlsson closely, though. His age, high upside, and $1 million price tag may be too attractive for Vegas to pass up.
[irp]
Matt Calvert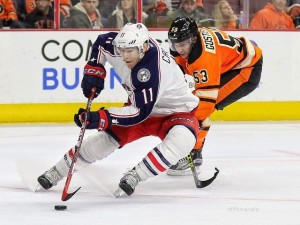 He's older and more expensive than Karlsson, but Golden Knights assistant general manager Kelly McCrimmon knows winger Matt Calvert well and may be interested in a reunion of sorts in Las Vegas.
McCrimmon coached Calvert with the Brandon Wheat Kings from 2005-10. Today, Calvert is in his sixth season with the Blue Jackets. While he may not be as exciting of an option as Karlsson, he's the safer bet. This season, his 11 points through 51 games is a bit of a dropoff, but he's logged double-digit goals and assists in each of the last two full campaigns. It's not impossible that Vegas would look elsewhere for youth and desire the veteran leadership that Calvert would add to a new franchise.
David Savard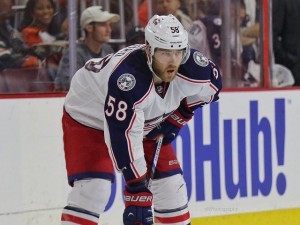 The most plausible scenario in my estimation is that Vegas is choosing between David Savard and Jack Johnson by the time the expansion draft rolls around. Both have played well enough to earn a protected spot with Columbus. Additionally, the no-movement clause in Scott Hartnell's contract complicates matters. Hartnell did waive this clause last June, only to reinstate it two months later.
The salaries between these two players are very similar, as both will make in the $4.3 million range next season. Savard is the younger option who was at one time a very inconsistent blueliner buried in the Columbus system. Today, he's solid defensively and more of a point-scorer than many of the players Vegas will have to choose from in June.
Jack Johnson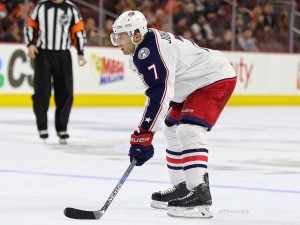 I think Jack Johnson ends up not being protected by the Blue Jackets, and I think that is who the Golden Knights will select. It's a credit to the depth of Columbus, and Johnson will also be a fantastic initial addition to the inaugural Vegas roster.
Columbus ranked 27th in goals against a season ago. Today they are a top-three squad by that metric, thanks in large part to Savard and Johnson playing together as the second pair on the blue line. If he's exposed to the expansion draft, Johnson would be a great player for Vegas to start with defensively. If he's able to recapture his scoring punch that led to a career-high 40 points three seasons ago, general manager George McPhee can set a solid foundation for the Golden Knights' defense.