For the first time in six years, Carlee Campbell decided to lace up her skates and get back on the ice to play the game she loved growing up – hockey. That was prior to the Canadian Women's Hockey League (CWHL) draft this year when the Toronto Furies took the native of Oakville in the 11th round, 51st overall.
What the Furies didn't know at the time was that they were drafting a future CWHL All-Star captain, a leader on the blue line and an advocate for women's hockey. Even better, she was voted an all-star captain for the 2017 All-Star Game in Toronto – her first season in the league.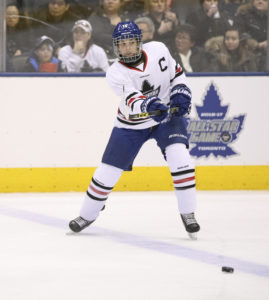 Thankful for the opportunity, Campbell was voted in as the captain of Team White by friends, family and co-workers (among others).
But with the position, comes attention. And while some admittedly questioned Campbell's designation as a rookie captain at the All-Star Game at first, the 28-year-old took on the role and excelled at it. That is, once she got passed the opening jitters.
"I was nervous at first because I knew how many people were in the room, but once we got going it got better for me in terms of my comfort level," said Campbell about drafting her winning all-star team.
But that hasn't been the only struggle this season for Campbell. In fact, while it took her six years to get back on the ice following her hiatus from the game, being a 28-year-old rookie hasn't exactly been easy.
6 Years Later: Campbell Returns to Hockey
It took 11 rounds. That's when Toronto finally decided to pick the former NCAA star. But Campbell seemed humbled by the fact that she was just drafted – regardless of the round.
"For Toronto to pick me in the 11th round, it was understandable," said the former Clarkson University defenceman. "You have a girl that graduated six years ago and hasn't really played competitively since."
"As far as me adapting to the league, my struggles were because I hadn't played in so long. You go from coaching, where you have your skates on but aren't really doing much, to playing tournament here or there over six years. It doesn't compare to the competitiveness of the CWHL. My first few practices felt like I was skating in cement."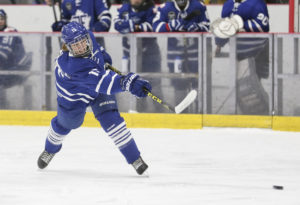 But for Campbell, taking the time to establish herself career-wise was important following school. While it meant giving up the game of hockey, Campbell admits that some things are more important in the long run.
"Life," Campbell replied when asked what her reasoning was for the six-year break. "You can't make a career out of women's hockey unfortunately. I had set some goals for myself of what I wanted to accomplish before I was 30 and continuing to play hockey wouldn't've allowed me to accelerate my career as fast as I wanted to."
Comparing hockey to finding a career, Campbell explained that to get where she wanted to be she had to commit the time and stay devoted to her goals. Part of that meant that she had to give up hockey.
You see, while the NWHL pays their players (to some extent), the CWHL hasn't reached that point yet. Players require a full-time job on top of what they do for their respective clubs. So, Campbell left hockey behind and became a Solutions Engineer at Salesforce.
But that didn't mean that she was done with hockey. Enter the 2016 CWHL Draft and Campbell was back playing the game she loved.
"I'm just happy I get to feel that spark again," she said. "Unless you play hockey or play a sport at a competitive level you don't really understand that feeling it gives you. The fact that I could come back after six years and get that spark back means a lot. But it's gone as good as it could've gone for me."
So with that to consider, can women's hockey become a career choice down the road for players like Campbell coming out of college or university? Sure it can.
Women's Hockey Making Strides
For Campbell, the all-star game (which was played at the Air Canada Centre in Toronto) was the biggest crowd she had played in front of in her hockey career. While it's still not on the level of men's professional hockey, women's hockey is taking steps in the right direction in making it a possible career option for players in the future.
The CWHL has partnered with a number of National Hockey League franchises as well as the NHLPA. And while the CWHL is still relatively young, Campbell believes that they are on track for something much bigger down the road.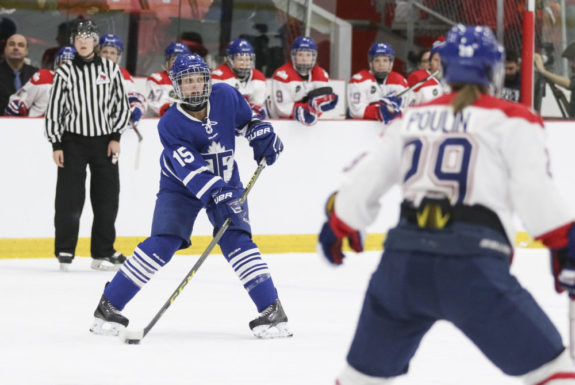 "When it comes to the NHL and their partnerships, it's like any company. You want to make sure your partnerships have a return," said Campbell. "I think they're taking the right steps in doing that. In order for the league to grow – to employ professional female athletes over the next few years – there's going to have to be a continued push and I think it's going to have to get more aggressive as well."
"In terms of Sportsnet helping out and the NHL providing facilities, I think it's amazing what they're doing," she said. But I still had some comments after my interviews with CBC where people were tweeting out that they hadn't heard about the game."
The fact is, while hockey is one of the more talked about sports in North America, the media attention for the CWHL and women's hockey is just starting to become more prevalent. In fact, the CWHL is still in its infancy as a league. While we celebrate the centennial mark of the NHL, the CWHL is just celebrating 10 years of operation – a major difference when you talk about the growth of a particular league.
But, that isn't stopping players like Campbell from getting involved in helping along the growth of women's hockey.
According the Ontario Women's Hockey Association (OWHA), the goal is to have 1,000,000 players registered by 2020. OWHA membership (which includes coaches and players) has grown from 4,900 in 1987 to nearly 59,000 in 2015.
That being said, what role do players like Campbell have in playing at a professional level?
"For pioneers of anything – any sport or any project – they're the ones who have to put in a lot of the work at first," said Campbell recognizing her role as a player in the infancy of the league. "For players, it's doing things like this where we're speaking to people, doing interviews or pushing it out on our own social media. For us, I think that's really important."
What an unbelievable weekend with an amazing group of women. Thank you to all that made this a possibility. #CWHLAllStar pic.twitter.com/pCwnLPYuXr

— Carlee Campbell (@CarlzCampbell) February 13, 2017
"To hear it from a player, there's that different side of it. The passion. If I personally want to see the league grow within the next 15 to 20 years I'm going to have to do my part."
Some All-Star Advice
While the league likely won't grow in time for Campbell to enjoy the benefits of a career in hockey, the all-star captain is happy to have experienced the CWHL and her rookie season with the Furies.
She has a goal and nine points in 24 games for the Furies and scored two assists on her way to leading Team White to an All-Star Game win. But when it comes to her future in hockey, nothing is set in stone.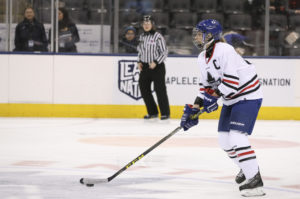 "Coming into this year, I said I'd give it a year and see how it went – especially with my job," she said. "At this point, I would like to put in another year and obviously I'll have to talk to my bosses about it. But I got a promotion last week so things are going pretty well. But family is coming into consideration. So after next year, it's kind of up in the air at this point."
However, that won't stop the 28-year-old all-star from giving her fans and others like her advice on pursuing life and hockey.
"Set your goal at that point of where you want to be in five years," she said about making the decision following school. "If you want to be fully independent in your own house and want to settle down by the time your 30, you really have to commit a lot of time to your career. Trying to find a job is a job in itself and it takes a lot of time commitment. But it's different for everyone."
While hockey wasn't always a constant for Campbell, she's back in the game now and has already left her mark on the CWHL. While she carries on her full-time career, Campbell has already done her job a pioneer for the game and hopefully will see the league grow as it continues to move toward being an employer for full-time professional athletes.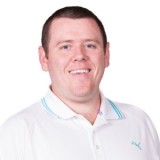 Andrew is in his 8th year reporting for The Hockey Writers covering the Toronto Maple Leafs. He began his broadcasting with CBC's Hockey Night in Canada team as well as being part of their coverage of the 2014 Winter Olympic Games in Sochi. He's the former play-by-play voice of the London Jr. Knights for Rogers TV and currently hosts the Sticks in the 6ix podcast. You can follow him on Twitter at @AndrewGForbes.