The Pittsburgh Penguins' Jim Rutherford won the General Manager of the Year Award last season due to the slew of smart trades he made on the fly. With the team's bundle of injuries on defense right now, Pittsburgh may need Rutherford to pull another magician act in order to repeat.
Olli Maatta broke his hand and Justin Schultz suffered a concussion last Thursday against the Winnipeg Jets. Maatta is expected to be out six weeks, so the best case scenario would be for him to return with a handful of games remaining in the regular season. Schultz is in the concussion protocol, and there's no timetable for his return.
Then Tuesday, Trevor Daley left a game against the Carolina Hurricanes and didn't return after the first period. There's no early word on his injury, and there might not be for several days since the Penguins don't play again until Saturday. But if he can't dress against the Philadelphia Flyers this weekend, Pittsburgh will be missing half of their defense.
Sullivan offered a vague, but seemingly optimistic, assessment of Trevor Daley's injury. Didn't offer a timetable for his return, though.

— Dave Molinari (@MolinariPGH) February 22, 2017
Rutherford said last week that he is looking into adding one or two defensemen, but even after the loss of Maatta and Schultz, the Penguins GM admitted he didn't feel a real strong urgency to get a deal done. However, with the possibility of also missing Daley, it seems inevitable that the Penguins trade for a quality defenseman. The only question is how big of a splash do the defending Stanley Cup Champions want to make?
Kevin Shattenkirk, St. Louis Blues
Obviously, trading for Shattenkirk would make the biggest headlines not only among deals involving blueliners, but of all possible trades this month. He's one of the best players available, and the St. Louis Blues are reportedly asking for the steep price of a first-round pick, top prospect and another quality piece.
In order to get this deal done, Rutherford would likely have to depart with Daniel Sprong or Derrick Pouliot and be content with Pittsburgh going without a first-round pick for a fifth straight season (the Penguins did select Kasperi Kapanen in the first round in 2014, but he was dealt with their 2016 first-round pick to the Toronto Maple Leafs for Phil Kessel).
Of course, the wild card here is Marc-Andre Fleury. The Blues love Jake Allen, but St. Louis might be tempted to acquire a Stanley Cup winning goaltender. Dealing Fleury would open up the cap space to make this move possible and maybe it helps Pittsburgh retain their first-round pick.
Of all the possible defenseman trades the Penguins could make, this one is the least likely to happen. The Blues are back in the playoff hunt since their coaching change, so there's a strong chance Shattenkirk won't even be traded. But if Rutherford could pull it off, Pittsburgh's game could go to another level, which has to be a scary thought for the rest of the league. Shattenkirk, 28, has 11 goals and 42 points this season and will be a free agent this summer.
Jason Garrison, Tampa Bay Lightning
Yes, the immediate reaction from Penguins fans to Garrison being on this list is likely something like "What? Garrison, 32, is old, slow and on pace to set career-lows in most offensive categories."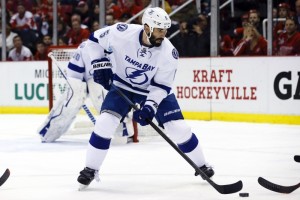 Does that sound familiar to anyone? When Rutherford acquired Daley, who was 32 at the time, last season, he also looked old and slow. However, it turned out to be one of the biggest trade steals in recent NHL history, as Daley helped Pittsburgh turn their season around in 2016.
As tempting as making a big splash would be, it's much more likely Rutherford buys low on an older blueliner or a young struggling defenseman. He loves his reclamation projects and those types of players worked well last season (e.g., Daley and Schultz).
Garrison also has one more year on his contract. If Rutherford wants to avoid a rental player, he would be a good option. Garrison has one goal and seven points in 55 games during 2016-17, but he did record a goal and seven points in 17 postseason games last spring.
Andrej Sustr, Tampa Bay Lightning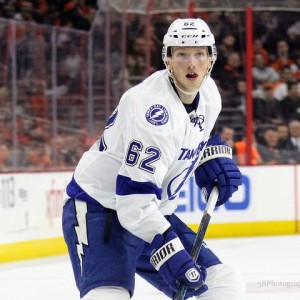 If Garrison is potentially the next Daley, Sustr could be the next Schultz. Admittedly, Sustr, 26, has experienced much more success early in his career than Schultz did, but he's having a down season. After scoring a career-high four goals and 21 points in 2015-16, he only has a goal and eight points in 57 contests this season.
Tampa Bay is in a really tough spot. The Lightning are only four points back from the final wild card playoff spot, but looking ahead, they need to open up cap space to bring back important players such as Jonathan Drouin, Tyler Johnson and Ondrej Palat, who are all restricted free agents. Ben Bishop is probably going to leave, which will help, but Victor Hedman's extension begins to kick in next season too.
That makes a deal for Garrison or Sustr, who will also be a restricted free agent, more likely. Sustr has a lot of playoff experience and, if available, would come much cheaper than Shattenkirk.
Brendan Smith, Detroit Red Wings
There's a good chance St. Louis and Tampa Bay will still be in the race by the end of the trade deadline. But our final two targets are both on teams that are probably going to be sellers.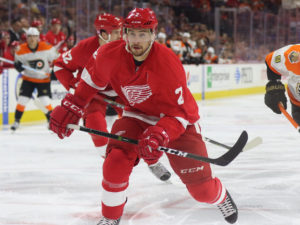 Smith, 28, is one of the less expensive defensive rentals reportedly available. That's important for Pittsburgh, who has almost zero cap space. Smith has dealt with injuries this season, so he has two goals and five points in 33 games. Last season, he scored three goals and 15 points in 63 contests.
In 291 career games, Smith has an even rating, but in his previous five NHL seasons, he's posted a Corsi For Percentage above 53.0 percent. While Garrison and Sustr could come cheaper, Smith is more of a sure thing and potentially a better fit into Pittsburgh's style of play. Smith is considered a very good secondary option for any team that misses out on the Shattenkirk sweepstakes.
https://twitter.com/NicholsOnHockey/status/834186690507923457
Johnny Oduya, Dallas Stars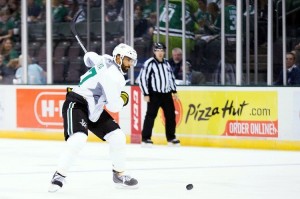 For many of the same reasons Smith is an intriguing option, Pittsburgh should target Buffalo Sabres defenseman Cody Franson, but Oduya is my pick for No. 5 because of Dallas' need in goal. The Stars fell short in the playoffs last season due to goaltending problems. Dallas isn't likely to make the postseason this spring, but with Fleury under contract two more seasons, the Stars would have an opportunity to compete again in 2017-18.
The only caveat is Dallas will probably want to send one of its struggling goaltenders to Pittsburgh in the deal. That would require Pittsburgh taking on a backup that makes at least $4.5 million because Stars netminders Kari Lehtonen and Antti Niemi both make that amount or more. Plus, both are signed on through 2017-18.
A Fleury for Oduya and Niemi deal would reacquire the Stars keeping some of Niemi's salary on their roster. That might also mean Pittsburgh throwing a draft pick or prospect into the deal. It's possible, but there are a lot of moving parts.