I'll never forget the day. It was Sept. 21, 2016, the first day of fall. The time had come to meet for the annual media luncheon at Nationwide Arena. Management and players spoke about the upcoming season. Given not much had changed, there wasn't much optimism surrounding the team.
I mean, management and the players said the right things. They seemed ready for the upcoming season. We expected that coming from the team. But let me take you inside the banquet room for the day.
There was not a soul (from those I talked to) that thought the Columbus Blue Jackets would have a good season. Everyone was down on them, myself included. The reason? They were 27th in 2015-16. What reason was there to believe that they'd have a dramatic enough turn around to even contend for the playoffs? For this team to sniff the playoffs, everything had to go right. Even that wasn't a guarantee. Not one person uttered the word playoffs in the room. Seemed everyone expected the worst.
Here we are at the All-Star break. How foolish are we? As of this writing, the Blue Jackets are second in the NHL. Talk about proving everyone wrong.
So now we must ask, how did this all happen? How did the Blue Jackets go from being a lottery team to the top of the standings in just one season?
Here's the thing. You can't pin this on just one thing. There are several factors working in their favor. Granted, it took a 16-game winning streak for the team to get to this place, but that was no accident. To win 16 straight, you must be a good team. The Blue Jackets are just that. Now let's see why.
Sergei Bobrovsky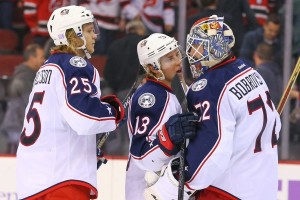 You must start here. If one reason stands out above the others, it's Bobrovsky. Going into Thursday's game against the Predators, Bobrovsky had a record of 28-8-2 with a 2.04 goals-against average and .930 save percentage. This is the stuff of MVP's. There is no way the Blue Jackets are where they are without Bobrovsky. Why has he been successful?
First, he's healthy. Remember all those questions in the offseason about his health? To this point, he has shown the ability to play long stretches of games. He offers the team's best chance to win on a given night. He has held up. Will this continue? We'll see. The team needs to find a solution behind him.
Second, there is a much improved defense in front of him. More on the defense below, but positioning them better in the lineup has had a dramatic effect. The team hasn't had to lean on Bobrovsky as much as in earlier seasons.
Third, he's on one of the top-scoring teams in the NHL. That never hurts when it comes to measuring a goaltender's success.
Fourth, let's call it the "it factor." In this case, Bobrovsky gives the team in front of him confidence. When a play breaks down, he's usually there to bail them out. That's one less thing the team needs to worry about. They can focus on scoring. To this point, it's worked.
Improved Defense
Speaking of the defense, what a turnaround. To go from 27th in goals-against to top-three is remarkable. Bobrovsky, as mentioned above, is an important reason. But look at this revamped defense.
Seth Jones has assumed his role as the top defender on the right side. What a trade this is turning into. He is a treat to watch every night. He can defend. He can get the puck out with ease. He can score. He can play special teams. This player is the anchor the Blue Jackets have lacked and he just signed a five-year deal this past offseason.
Zach Werenski joined Jones on the left side to provide a dynamic, youthful one-two punch. Although the defensive part of his game is still a work in progress (for which he's doing a great job at age 19), his impact on offense and the power play has transformed the Blue Jackets into something we've never seen before. The Blue Jackets have held down the top spot in power-play efficiency most of the season. The reason? Werenski quarterbacking the power play. He can keep pucks in. He's a great passer. He gets his shot on net more often than not. He's only going to get better.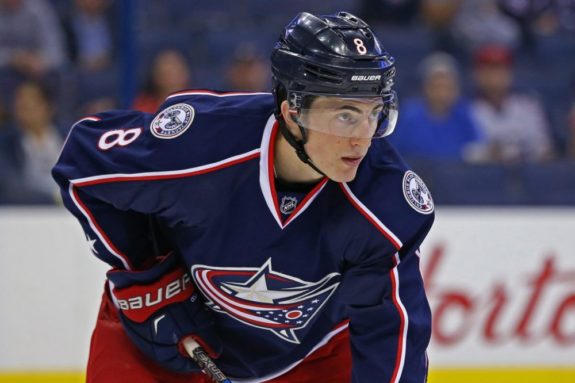 Jack Johnson and David Savard team up again as a pair, only this time, they are the second pair. What a world of difference this had made. They each are enjoying the best seasons of the career as a result. They don't play as many minutes. They are more efficient with their minutes. But most importantly, they are effectively shutting their opponents down.
Ryan Murray finds himself on the third pair. Although his scoring is down, he's still a good defender, especially given his current role. The third pair has not been the liability they were in the past. Newcomer Markus Nutivaara joined him and played a steady game.
Everyone fills their role to the benefit of the team. It has worked.
Special Teams
We touched on this somewhat above. But who saw this coming? The Blue Jackets have the number one power play and are eighth on the penalty kill as of this writing.
The top unit has consisted of Werenski, Cam Atkinson (who is now an All-Star), Alexander Wennberg, Nick Foligno and Sam Gagner. They have a combined 89 power-play points. Wennberg has 20 (tied for second) and Atkinson has 19 (tied for fourth). Although Atkinson came off the power play recently, putting Jones there has helped.
The penalty kill has vastly improved thanks to Bobrovsky and a more aggressive approach by the Blue Jackets. New assistant coach Brad Shaw is the architect of the penalty kill. Not only are they breaking plays up, they're attacking the other way, getting good scoring chances. They are 31 of their last 34 in kills for 91.2%.
Rolling Four Lines
Scott Hartnell is on their fourth line. I mean, how good is your depth when Hartnell plays there? No longer a liability, the Blue Jackets' bottom-six are among the most dangerous in hockey.
Look at the numbers. Hartnell has 13-16-29. Gagner has 14-19-33, with 18 points at even strength. Josh Anderson has 18 points. William Karlsson has 16 points. Lukas Sedlak has 12 points as the fourth-line center. Matt Calvert has two shorthanded goals in his name. They are good enough to beat you on a given night.
John Tortorella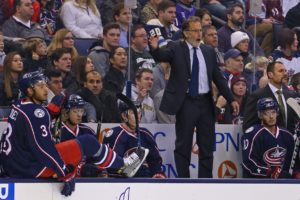 Remember when everyone thought he'd be the first one fired? Missed it by that much. Tortorella will coach the Metropolitan All-Stars in Los Angeles because the Blue Jackets were leading the division at the cutoff date. He is one of the early favorite for the Jack Adams award.
Where did this come from? Many have deemed him a bad coach. Sorry, but winning more than 500 games in the league doesn't make you a bad coach. The big thing many didn't expect was his willingness to adapt to the league. Many thought he would stick with his traditional ways, thus falling more behind. Wrong again.
Look at the Blue Jackets. They have speed. Tortorella said he wanted his team to have more speed so that they could compete. Mission accomplished. Everyone on this team can skate. It's a vast improvement from last season.
Give Tortorella credit. He has the Blue Jackets in a place they've never been at this late in a season.
The Conclusion
When you add it all up, the Columbus Blue Jackets are a great hockey team that is young and will only get better. Thanks to an MVP goaltender, a better defense, dangerous special teams, depth and a coach willing to adjust, you have the ingredients of a major turnaround. It's for these reasons why the Blue Jackets are good. Give management credit for sticking to the plan, although many cried for change.
Welcome to the new world. The Blue Jackets are no longer the laughing-stock of the NHL.