Last week, we gave you four Boston Bruins that the Vegas Golden Knights faithful should have an eye on. A week before that, we ran the same exercise with the Anaheim Ducks. This week, it's the Buffalo Sabres, and they're in a little bit of a different situation than the Ducks and Bruins. While hopes of a deep postseason run are still alive in Boston and Anaheim, however faint they may be, they're all but dead in Buffalo.
Sabres fans can feel comfortable looking towards the offseason as their playoff aspirations are going over Niagara Falls in a barrel. Vegas should watch closely, as the Sabres could be one of the busiest teams in the league for the next seven months, starting with next month's trade deadline. Which Sabre will be a Golden Knight next season? Here's four to follow.
Tyler Ennis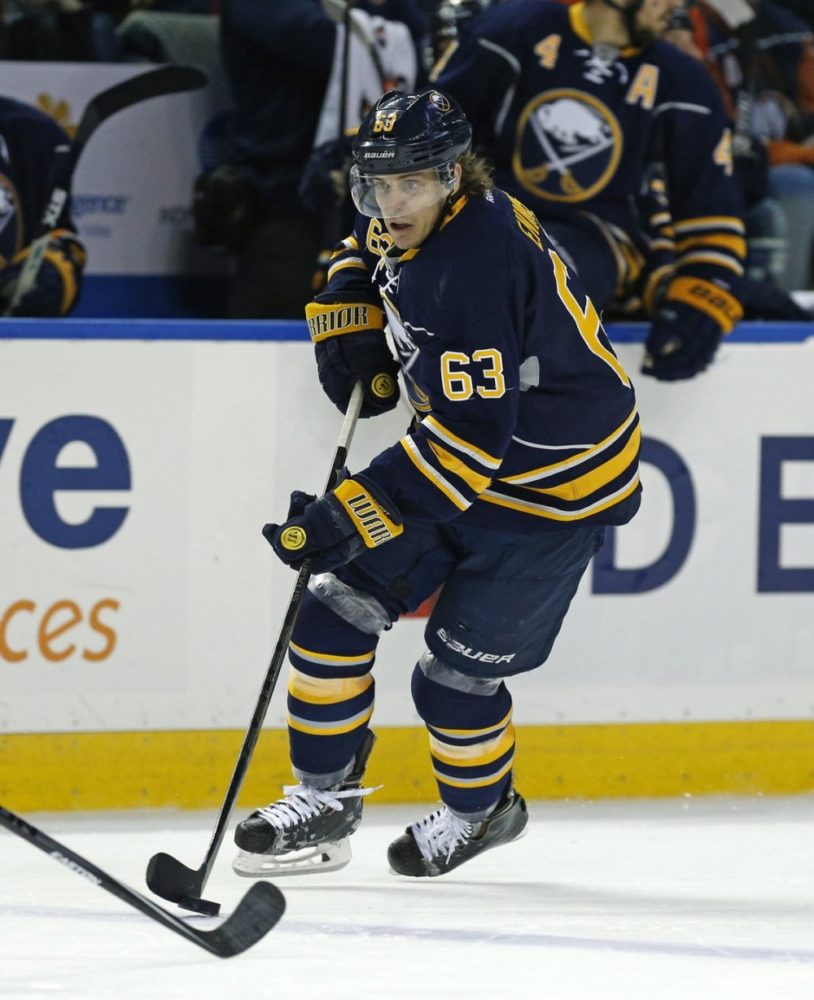 If the Sabres elect to leave Ennis unprotected, he could be a high-risk, high-reward play for the Golden Knights. The 27-year-old from Edmonton has struggled to stay on the ice the last two seasons. This year, he's appeared in just 12 games, and last season he was done after 23 contests thanks to a concussion. Lack of production has plagued Ennis at different times throughout his career, and despite this, he scored 19 seconds into his first game in two months.
In any event, when he's at his best, he's a solid contributor. Ennis topped 20 goals and 20 assists in back-to-back seasons before missing 59 games in 2015-16. The likelihood that Buffalo reaches the playoffs is plummeting by the minute.
Soon its attention will fall to the trade deadline and the offseason, and the second half of this season will go a long way towards determining if Buffalo protects Ennis this summer. If not, Vegas could get its hands on one of the more intriguing offensive talents in the expansion draft.
[irp]
Matt Moulson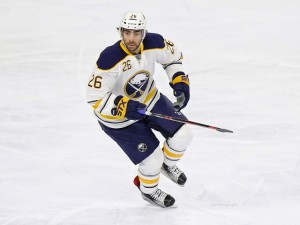 Moulson becomes a free agent in 2019-20, a year after Ennis. Other than that, their contracts are very similar. Moulson comes without the injury concerns of Ennis, though he's got more miles. The 33-year-old is the veteran of nearly 600 NHL games.
Depending on who Vegas scoops up from other teams, Moulson could be the most attractive pick. His work on the power play trumps Ennis, though one could argue he's fairly unremarkable otherwise. Moulson scored 30-plus goals in three straight seasons while with the Islanders, but that was five years ago.
That said, if the Sabres feel strongly about keeping either Ennis or Moulson, it's not impossible that one of the players could be packaged with a draft pick. Striking a deal with Vegas for Ennis or Moulson, (or Zemgus Girgensons or Marcus Foligno for that matter) plus a draft pick, could afford the Sabres with the opportunity to protect another player they'd otherwise not part with.
Linus Ullmark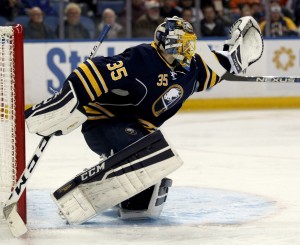 There's going to be plenty of quality netminders for Vegas to choose from, so it's anyone's guess of who will be the first goalies in Golden Knights history. It won't be Robin Lehner. He's performed competently enough for the Sabres, and I would argue that he's a better goalie than his stats suggest. He performs at about the league median, but teammates in front of him aren't doing him a lot of favors.
Lehner will be retained by the Sabres, and Linus Ullmark will be exposed to the expansion draft. 23-years old and dirt cheap, Ullmark isn't the solution in net for the Golden Knights' inaugural season. Rather, right off the bat he'd do a lot of what he's doing right now. Bouncing back and forth between the big club and the minor leagues. Still, Ullmark is an intriguing prospect for the future.
[irp]
Josh Gorges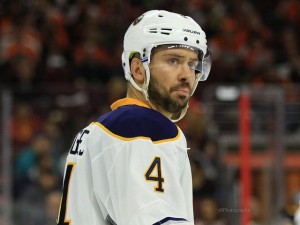 Dumping undesirable contracts will be the name of the game for plenty of teams when the unprotected lists come out in advance of June's expansion draft. That makes Gorges a popular pick to land elsewhere.
Among those non-exempt playing on Buffalo's blue line who are not headed for free agency in 2017-18, Gorges carries with him the third largest salary. Couple that with the fact that he'll be 33-years old by the time next season gets underway, and it's not hard to see why the Sabres may not be overly concerned with using a protected spot on the defenseman.
He's a quality blueliner, but if he does not find himself in Las Vegas next season, it's simply because the Golden Knights will have very similar players, cheaper and younger at their disposal. It's not impossible that Vegas will covet his veteran leadership though, so keep an eye on him for the rest of the season.
Las Vegas local covering Golden Knights hockey since 2016.
Ball State University '05
Other work:
Credentialed NBA writer covering the Phoenix Suns,
Credentialed NCAA football writer covering the UNLV Rebels