Springfield Thunderbirds head coach Geordie Kinnear returned to Albany and his team left as a conquering champion after a 3-2 overtime victory over the Albany Devils. The former beloved Albany River Rats defenseman, captain and assistant coach received a nice acknowledgment by the home team and a cheer from the crowd. The camera panned on Kinnear retired and his retired No. 4 in the rafters of the Times Union Center.
Across from my sightline, @thunderbirdsahl head coach Geordie Kinnear's #4 hangs. He won a Calder Cup here in 94-95 w/ River Rats. pic.twitter.com/0CNSHUCALe

— Ryan Smith (@RyanSmithHockey) January 13, 2017
As play resumed on the ice, I couldn't help but notice how lonely the number looked. Aside from the 1994-95 Calder Cup championship banner and regular season league and division title banners of yore, there are no other retired numbers. Plus, when one walks around the concourse of the arena, the AHL history of the Capital Region is essentially non-existent.
In their final season in 2009-10, the River Rats started a Hall of Fame where Kinnear, Steve Sullivan and late head coach John Cunniff were inducted. However, the trend wasn't continued after the team became defunct and the Devils rode back into town in 2010.
Capital District Hockey History
Since 1990 the Capital District has been home to an AHL team. The Capital District Islanders played on the campus of RPI from 1990-1993. The River Rats played in downtown Albany from 1993-2010 and the Devils from 2010-present. It's a long history and I'm not even including Adirondack, 50 miles to the north in Glens Falls.
With the TU Center undergoing upgrades, it would be the perfect time for the building to reflect some of the hockey history, especially Devils history.
Retired Numbers
No, it isn't often that minor-league teams retire uniform numbers. Nor do many teams honor different franchises of the past. However, with the Devils being previously affiliated with the River Rats, there's still a connection to the past. Here are a few candidates.
Steve Sullivan
As mentioned, Sullivan was inducted into the Rats' Hall of Fame. The "Timmins Tornado" helped the Rats win the Calder Cup and posted a pair of 30-goal seasons with the club. In addition to being a fan-favorite in Albany, the speedy spark plug had a solid NHL career with 290 goals in 1,011 games. No. 14 is worthy of the rafters.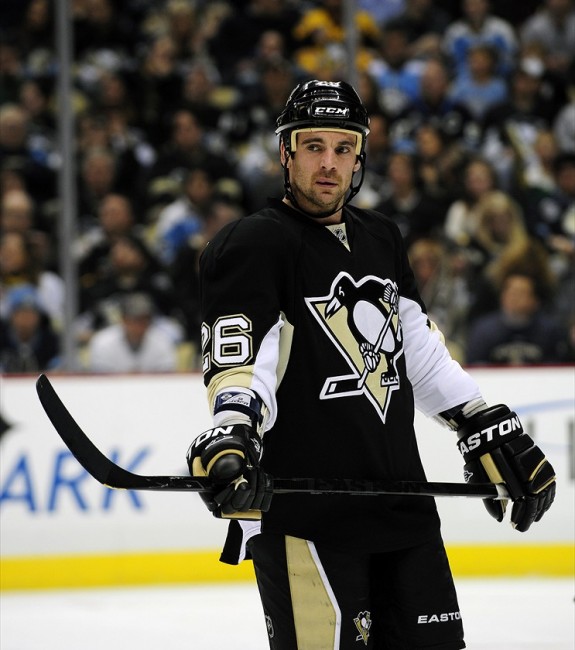 Bryan Helmer
Statistically, Helmer is one of the top defensemen in AHL history and is a 2017 Hall of Fame inductee. The Sault Ste. Marie native made his professional start in Albany and won his first of three Calder Cup titles. Playing five seasons in Albany, No. 20 ranks fourth with 379 games played, third with 161 assists, fourth with 212 points and 10th with 501 penalty minutes.
ICYMI: Billy Dea, Bryan Helmer, Rob Murray, and Doug Yingst will be inducted into the #AHLHOF on Jan. 30 as the Class of 2017 pic.twitter.com/b3PsX6pP06

— American Hockey League (@TheAHL) October 2, 2016
Steve Brule
Wearing No. 19, the former Rats captain leads in almost every top category in franchise history. Brule played six seasons with Albany, winning a Calder Cup. The Montreal native posted four 30-goal seasons with the River Rats. In franchise history, the Rats center ranks first with 155 tallies, 215 assists and 370 points.
New Hockey Spoken Here Captain's profile: Steve Brule, Albany River Rats (1999-2000) – http://t.co/xKCQLIJ4

— Don Ferlazzo (@HellOnSkates) March 15, 2012
Ring of Honor
Much like their parent club, the New Jersey Devils, Albany could honor those who played a big role in Capital District hockey history. It might include former River Rats owners Albert Lawrence and Walter Robb, or former Devils general manager Lou Lamoriello. Perhaps former coaches like Cunniff and Robbie Ftorek could also find their way into the upper deck of the TU Center.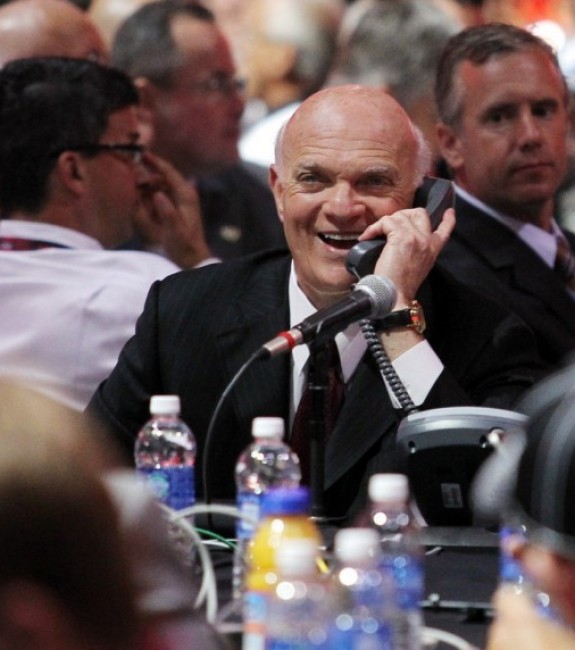 Concourse and Museum
Around the concourse, there could be posters or banners of players who played an instrumental role in the success of hockey in Albany. Fan-favorites like Rob Skrlac, Matt Ruchty, and Bill Armstrong. Players with successful NHL careers or who helped the Devils win the Stanley Cup, like Patrik Elias, John Madden, Sergei Brylin, Brian Rolston and Colin White.
Similar to the crosstown minor-league baseball Tri-City ValleyCats, a wall listing Albany players who have gone from the "A" to the NHL. Heck, name the sections after former players.
A museum would be a nice touch with photos, autographed puck, player sweaters, goalie masks, sticks and an outline of historical moments.
Along the concourse in New Jersey, there are paintings of legendary players and Stanley Cup-winning moments. Something similar would be nice in Albany, such as a mural of the team winning the Calder Cup in 1995.
Hockey Heritage
The arena does a nice job with hanging jerseys of local high school hockey teams around the concourse. What would add to it would be paying more homage to Capital District-born athletes who have made the pros.
These additions would be a great way to pay respect to hockey history in the Capital District. Whether for nostalgic fans or those learning the game, it would be a showcase of hockey pride for the area.