Chad Johnson has earned the title of top goalie for the Calgary Flames this season. However, Brian Elliott is one season removed from leading the NHL in save percentage and has recently played very well in games where the rest of his team has simply not shown up.
Could either be traded? It might sound unlikely but don't forget that both goaltenders are on one-year contracts and will soon be unrestricted free agents.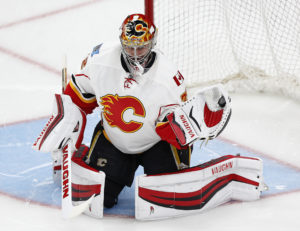 The Flames also have a lot of goalies in their system who are showing NHL potential. It's a position where the team has some surprising depth but, as we all know, when it comes to goalies, predicting their development is no easy task.
What we do know is that the Flames have to make some serious decisions by the end of this season about their goaltending. Both Jon Gillies and David Rittich with the Stockton Heat of the American Hockey League (AHL) have played well in their rookie seasons and the play of Johnson and Elliott at the NHL level has been for the most part solid. In the AHL, Rittich has a sparkling .929 save percentage with a 2.04 goals-against average (GAA) in just 14 games of action while Gillies has started 21 games posting a 3.07 GAA with a .907 save percentage. Both will be restricted free agents at the end of the season.
Meanwhile, Team U.S.A World Junior standout, Tyler Parsons, the Flames' second round pick in 2016, remains curiously unsigned. This is surprising considering he won a gold medal thanks to a thrilling shootout victory over Team Canada at the World Junior Championships in early January. You've got to think he will be signed before training camp opens next season as Parsons has clearly proven he has incredible athleticism and poise.
Surprise 2015 free-agent signing Nick Schneider has also played his way onto the Flames' radar this season by leading the Western Hockey League (WHL) in wins while occupying second place in games played (37). Lastly, the first goalie taken in the 2014 NHL Entry Draft was Flames prospect Mason McDonald, who hasn't yet been able to live up to the expectations of his draft status. He has shown flashes of brilliance in his first pro season with the Adirondack Thunder of the ECHL, but there is little doubt he must take the longest journey of all these Flames prospects to make the NHL.
The Case for a Trade This Season
Few people would argue that the Flames have been inconsistent so far this season. Still, even though you don't know which team will show up from game to game, the Flames are precariously holding onto a spot in the playoff hunt. They have some pretty impressive depth on defense and at the goalie position but none of their hot prospects are going to be ready for a playoff push. That's why management has to decide very soon if it is important for the team to go for the playoffs this year by trading a prospect or an established goaltender.
Everyone knows the window of opportunity is rapidly closing, but to make the playoffs the Flames need to acquire a speedy right-winger with scoring potential and at least one or even two stay-at-home defencemen with NHL experience.
There are a lot of options available and the good news for the Flames is that they don't need to find a superstar. What they do need is one or two NHL-ready options who can be strong stay-at-home defencemen to help solidify their bottom two defense pairings. They could also use a speedy right winger with some scoring touch to play alongside Sean Monahan and Johnny Gaudreau.
This player doesn't need to be an offensive all-star but the forward does need to be an upgrade over Alex Chiasson. With just 14 points in 46 games this season, Chiasson doesn't use his 6-foot-4-inch frame well on the ice and simply hasn't demonstrated the puck skills nor the foot speed required to play among top-six forwards.
Is It Too Late?
Let's be honest. Every fan would love to see their team competing for the Stanley Cup in the playoffs each season. But, we can't all have 25 season playoff streaks like the Detroit Red Wings. It's hard truth to take but maybe Flames management feels this isn't the year to trade for the here and now? There are obvious holes in the Flames lineup that have existed since the season began. Neither their defensive woes nor the lack of creativity on the right side of Gaudreau's line are a surprise to management or to any fan that has followed the team closely.
However, if general manager Brad Treliving could make a deal that made sense to address these issues, you'd think he already would have done so. After all, the Flames have played 46 games this season and they haven't looked like a playoff team along the way, even though they've remained in the wild-card hunt in the standings.
I'm sure many deals have been presented to Treliving for consideration but with a really promising stockpile of prospects already accumulated, it could just be that nothing presented has been worth the cost. It can be frustrating to watch, considering the playoffs still are in reach today, but there are reason to feel hopeful there are going to be many bright years ahead.
With that said, it'll be interesting to see how the Flames address their goalie issues going into the 2017-18 season.Will they trust in the abilities of Elliott or ride the hot-hand with Johnson, hoping he has the stamina to take on a No. 1 role for an entire season? Maybe they will re-sign them both or maybe they will cut both loose to take their chances on Marc-Andre Fleury next season, alongside one of their young prospects. Only time will tell.