Last week we gave Vegas hockey fans four names on the Anaheim Ducks that are worth keeping an eye on. This week we take a look at the Boston Bruins, and Boston and Anaheim have something in common. Both the Ducks and Bruins have enough talent on their rosters that losing a player in next summer's draft is going to hurt.
Further complicating matters is the unknown potential of the Bruins this season. Boston sits at second in the Atlantic Division, a point ahead of Ottawa, but it's fair to say they've been underwhelming so far and it's unclear if they should be buyers or sellers at the trade deadline. Equidistant from a deep playoff run and a high draft pick is not a fun place to be. So the decision on who stays and who goes will be difficult to navigate for Boston general manager Don Sweeney in the coming weeks.
First the NMCs (No Movement Clause). You're going to read that acronym a lot over the course of the next several months. Tuukka Rask, David Backes, David Krejci, Patrice Bergeron and Zdeno Chara are the names you need to know. They will not be wearing a Golden Knights uniform next season. There are other exemptions but those are the key Bruins not headed to Vegas.
While those names won't surprise hockey fans, the next four might. The next several weeks of Bruins hockey could prove critical to the decision of who is protected and who is exposed in June's expansion draft. Watch closely, VGK fans, there could be a player here who will be a cornerstone of Vegas hockey for years to come.
[irp]
Colin Miller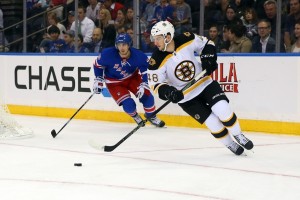 In all likelihood, Miller will be the player that Boston is forced to part with, and it will sting for Bruins fans. Chara's NMC is essentially what makes Miller available, a bitter pill for a squad so excited about the 24-year-old.
When he signed a two-year deal with Boston last summer, it provided him with the opportunity to show that he should remain with the Bruins long term. Certainly, he has physical attributes to be a difference maker on the Boston blueline. Miller is 6-foot-1, 195 pounds, and aggressive, with a 105 mph shot in his arsenal. The breakout season Boston thought he was going to have hasn't happened in 2016, and the team may look to strike a deal prior to the trade deadline rather than lose him outright. If that doesn't happen, Miller likely makes his way to Nevada in 2017.
Jimmy Hayes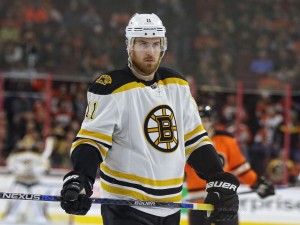 Prior to the 2015 trade that brought Hayes to Boston and sent Reilly Smith and Marc Savard to the Florida Panthers, the idea that the 27-year-old would not be protected in the expansion draft was laughable.
Boston acquired Hayes with the expectation that he replace Milan Lucic, and it hasn't happened.
Lucic turned a one-year deal with the Los Angeles Kings into a 7-year, $42 million contract with the Edmonton Oilers, while Hayes has struggled in Boston.  Hayes' biggest flaw has been his inability to use his 6-foot-5, 215-pound frame effectively. His size is what attracted the Bruins and his underwhelming stint with the Bs makes it an easy decision to expose him.  But if he winds up in Vegas as the player he was in 2014, he won't be a bad addition to the Golden Knights roster.
Matt Beleskey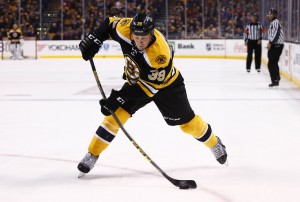 Arguably, Beleskey is the most tradeable asset on the Bruins among players that may not be protected this summer. Beleskey's first season in Boston was a good one. After seven years in Anaheim, he signed a cap-friendly 5-year, $19 million deal with the Bruins. The return on investment has been good as Beleskey had the best year of his career in 2015-16, appearing in 80 games and scoring a career-high 37 points.
This season hasn't been as memorable, with two goals and three assists before a knee injury against the Buffalo Sabres on December 3rd sidelined him for a projected six weeks.
Boston is in weird spot regarding what to do at the trade deadline. Most trade packages would likely involve Beleskey, but if he ends up in Vegas next season, fans are getting a seasoned veteran with considerable playoff experience for the inaugural Golden Knights squad.
[irp]
Riley Nash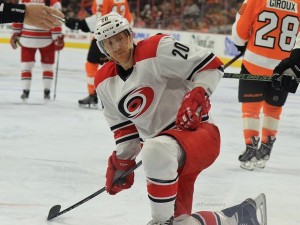 Nash is the sleeper. This season on the Bruins' fourth (sometimes third) line he's performed well enough, though one wonders if the bottom-six forward could reach top-six potential in Vegas. Nash can play
Nash can play center or wing, and his most attractive quality is his efficiency on the penalty kill. If unprotected, the 27-year-old, former first-round pick of the Edmonton Oilers, could be a win for the Vegas franchise. He's a versatile player who has skated shifts with Patrice
He's a versatile player who saw shifts with Patrice Beregeron and Brad Marchand when David Pastrnak was injured. The $900k he's owed next season isn't bad either. Rules of the expansion draft state that 20 of the 30 players selected by Vegas must be under contract for 2017-18, making Nash that much more viable of an option.