This might be the most exciting time of the year for a Vegas hockey fan. Perhaps it doesn't feel that way. But when the excitement of the first game in franchise history next October gives way to fighting to stay out of the Pacific Division cellar next December, Vegas Golden Knights fans will remember this time when the sky was the limit.
That's not to say that early success for Vegas is an impossibility. This summer's expansion draft should yield more talent than in years past, but the new kid on the block usually struggles.
So enjoy this time Golden Knights fans. Watch a lot of hockey. Every team, all the time, until you dive headfirst into your Vegas fandom. The Anaheim Ducks, in particular, are a team fans should be interested in.
Just four hours away from T-Mobile Arena (if you're driving through the week) there's a lot of talent at the Honda Center and one of those names will be playing his home games on The Strip next season. Arguably, Anaheim has the most to lose in the expansion draft, a credit to the team's depth, but also creating a difficult path for Ducks' management to navigate.
So while the window of opportunity to win a Stanley Cup is rapidly closing in Orange County, management must determine which players will stick around for the next chapter of Anaheim hockey history.
Here are four players that Vegas fans should watch closely for the remainder of the season.
Kevin Bieksa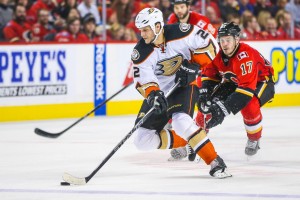 The biggest reason for Golden Knights fans to keep their eyes on Bieksa is his contract. While it's unlikely that the 35-year-old veteran of 11 NHL seasons finds himself in Vegas, his no-move clause could have a significant impact on whom the Ducks elect to expose in the expansion draft.
If the club asks Bieksa to waive that clause and he obliges, Anaheim could take that opportunity to protect some of their other younger assets. If not, the Ducks decision gets much more difficult.
Josh Manson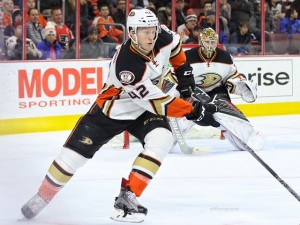 The 25-year-old defenseman was a critical piece to the Anaheim penalty kill a season ago, and while the team has taken a significant step back during the current campaign, his size and steady play on the blue line will likely keep him in a Ducks uniform. At 6'3″, 215 pounds, Manson is a piece Anaheim would love to retain, given that the team has been underwhelming on the defensive side of the ice at times in recent seasons.
Vegas fans should watch closely, though. If Bieksa refuses to waive his NMC it could mean that Manson and/or one of the following two skaters will be up for possible relocation.
Rickard Rakell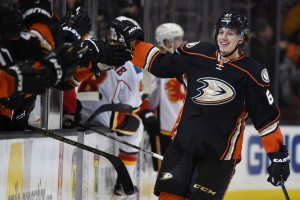 Rakell's breakout 2016-17 season just keeps getting better. He's collected 16 goals on the season, good for ninth in the league, and he's shooting 21.1-percent (fifth in the NHL).
While it's unlikely he's able to maintain this blistering pace, it would take a disastrous second half of the season for Anaheim to not protect the 23-year-old. His ceiling is simply too high. It's not impossible though, and regression from Rakell, combined with a spectacular performance from the next skater on our list could result in the Swede finding himself in a Golden Knights uniform next October.
Jakob Silfverberg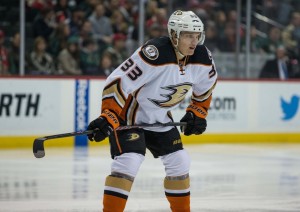 In all likelihood, this Duck will make the trip up I-15 towards Sin City next season. Silfverberg seems like the logical choice for the team with the most to lose in this summer's draft.
The 26-year-old will have the opportunity to carve out a legacy as the first great Vegas player, and for the Golden Knights, it's not a bad pace to start. Silfverberg has been a key piece for an Anaheim team with talent to contend for the Stanley Cup in recent seasons, only to fall disappointingly short.
The embarrassment of riches in Anaheim mean the Ducks will be left cringing when names are called this offseason. Arguments could also be made that Cam Fowler and Sami Vatanen will be possible names included in the inaugural Vegas class, though recent improved play makes the latter more likely than the former.
Anaheim general manager Bob Murray is in a precarious position until the trade deadline. While the Ducks currently sit second in what appears to be a wide-open Pacific Division, and it may behoove Carlyle to keep this squad together as currently assembled, he risks blowing past the deadline and netting nothing for a quality player the Ducks stand to lose anyway.
Vegas fans should watch Anaheim closely and the team's success in the second half will go a long way towards determining if players are jettisoned before Feb. 28. This can be especially hard to read for a team like Anaheim that seems to have done less with more in recent postseason history. In any event, Vegas stands to receive one of its top players from Anaheim in June.
Las Vegas local covering Golden Knights hockey since 2016.
Ball State University '05
Other work:
Credentialed NBA writer covering the Phoenix Suns,
Credentialed NCAA football writer covering the UNLV Rebels