The 2016 NHL Entry Draft wasn't exactly a great one for the OHL's Hamilton Bulldogs. Even though they had more than a few draft-eligible players, only defenseman Cole Candella was drafted. He had to wait until the fifth round, 140th overall, to hear his name called by the Vancouver Canucks. Coming into the 2017 NHL Entry Draft, the Bulldogs hoped to have a much better year.
The Bulldogs had at least three players that everyone was fairly certain would get picked, with a few others being wild cards. Matthew Strome and Mackenzie Entwistle were looked at as possible second-rounders and Marian Studenic would go somewhere between the third and fifth rounds. All three did hear their name called on day two of the draft, but it didn't go without a little drama.
Before we get to that, though, let's talk about Entwistle. He was expected to be the second Bulldog to be drafted but heard his name called by the Arizona Coyotes with their first of three picks in the third round (69th overall).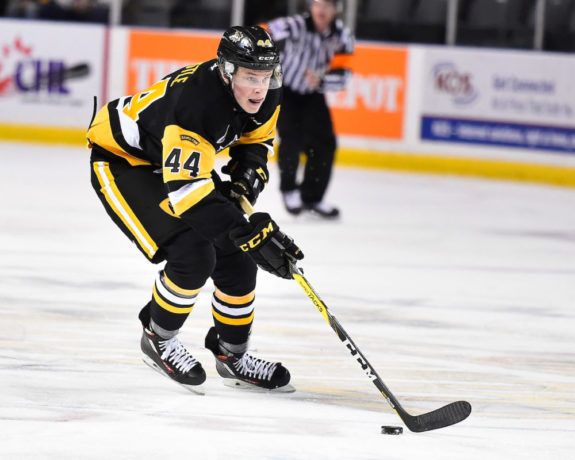 Now, there's not much flash about Entwistle's game, as he has focused on more on his defensive play, that's not to say there is no offense in his game as it did pick up in the second half of last season. If anything, he was a safe pick that has a good chance at making the Coyotes a few seasons from now.
The Fall of Strome
Remember the drama mentioned earlier, well it all concerned Strome. The youngest of the three Strome brothers, he was expected to be a first-rounder at the beginning of the season. Throughout the season his stock fell due to his skating. Even with that, he was still expected to be picked in the mid- to late-second round.
Well, that didn't exactly happen. He just continued to fall until the fourth round arrived. The Philadelphia Flyers had two consecutive picks in that round, 106 and 107. They used the first pick to finally end Strome's fall.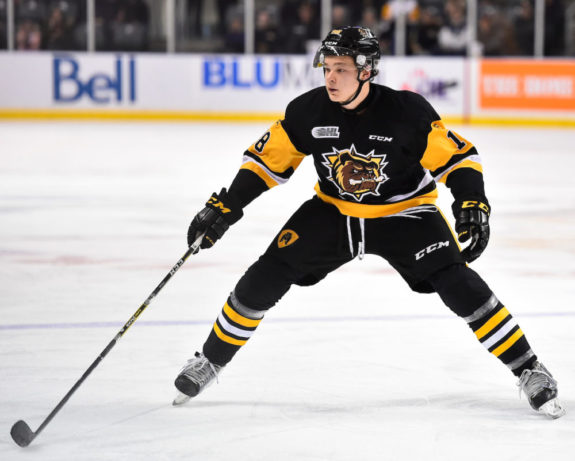 Expect Strome to be a motivated player, both this season in Hamilton and when he eventually tries to break into the Flyers lineup.
Studenic was taken by the Bulldogs in 2016 CHL Import Draft and was the only member of the team to participate in the 2017 World Juniors, where he represented Slovakia. He went in the fifth round (143rd overall) to the New Jersey Devils.
An offensive player that likes to get creative with the puck, Studenic will need to continue developing his defensive game with the Bulldogs. Once he does that, the Devils have quite the players on their hands.
Bulldogs winger @Studa_19 goes in the 5th round, 143rd overall to @NJDevils! #NHLDraft pic.twitter.com/SNL89saCaJ

— Hamilton Bulldogs (@BulldogsOHL) June 24, 2017
A Surprise Pick
After Studenic was picked, it looked like the Bulldogs had seen their last player picked. However, then a surprise came in the sixth round when the Detroit Red Wings selected defenseman Reilly Webb with the 164th pick.
It's not a surprise because he shouldn't have been picked — far from it — it's just that Webb has had some bad luck with injury troubles in his two-year OHL career. In those two seasons he has played a total of 20 regular season games. Add to that seven playoff games from last season and that's still not a lot of experience. Obviously, the Red Wings liked what they saw in the small sample size.
Reilly Webb goes 164th overall to @DetroitRedWings. Congrats @webb_reilly! #NHLDraft pic.twitter.com/fytG4ZJFP0

— Hamilton Bulldogs (@BulldogsOHL) June 24, 2017
Unfortunately, goaltender Kaden Fulcher did not hear his name called and he will have to wait another year to see if he can hear it in 2018. Second-year eligible players Ben Gleason and Brandon Saigeon also did not get picked and can now sign with an NHL team in the future.
Can the Bulldogs have more drafted players next year? Who knows at this point, but at least they will have more NHL prospects on their roster next season.