The Canucks have become the pop star of hockey drama in the years past. First the team makes it all the way to the 2011 Stanley Cup Final and proceeds to lose in seven games to Boston- violent riots break out in Vancouver- the goalie drama involving Roberto Luongo and Cory Schneider ensues. Then the team follows up with a fantastic season and a first round defeat, two years in a row.
Management changes the coaching and with that tries to change the team culture, that plan bombs. The team stuns the world by ridding themselves of not one, but both of their star goaltenders. New staff enters the scene, things are looking up, they commit to Eddie Lack being the teams starting goalie. Weeks later, the team signs aging veteran Ryan Miller to a 3-year $18-million contract.  The team has a respectable season but yet again, a goalie drama is brewing. By season's end the team has shown their true colors and their plans for a youth rebuild. Fans hope for Miller's exit after a disappointing season…
Then the team trades fan favorites Kevin Bieksa, Eddie Lack and Zack Kassian…
It's more than possible that General Manager Jim Benning and co. know something we don't- they've got the jobs to prove it. But thus far, it's been a head scratching summer for the Vancouver Canucks and it's got the hockey world whispering behind their backs.
Who Will Exit 2015-2016 as Vancouver's Starting Goaltender?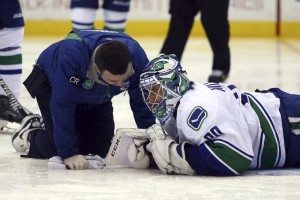 Ryan Miller has had a respectable career. He has made it to the Eastern Conference finals, Olympic Gold Medal game (where he earned himself a silver medal) and won the Vezina trophy. That's nothing short of impressive but at 34 years old (and turning 35 on July 17th, 2015) he has seen his peak years and is in an obvious decline. Miller posted a .911 SV%, his worst save-percentage since 2007-2008. His valiant return to the roster during the team's first round series against the Calgary flames ended in him being lit up much like he was the year prior with St. Louis.
The reality is that Miller is no longer an elite starting goaltender. So once again after almost a decade of having some of the best goaltending in the NHL, Vancouver is without a bonafide starter. If the Markstrom experiment flops, the next worthy heir to the throne is Thatcher Demko who is 3-4 years away from playing in the NHL. Miller has his work cut out for him and unless he can perform like a select few goalies that played at his age, the Canucks had better hope Markstrom lives up to management's expectations.
Which Young Players Will Earn a Roster Spot on Opening Night?
Last season Bo Horvat erased any disbelievers and proved his worth to the team. Horvat's strong stretch run and playoff performance may have even earned him second line duty over Nick Bonino. But Vancouver has a deep bag of offensive prospects including Ronalds Kenins, Linden Vey, Frank Corrado, Adam Clendening, Brendan Gaunce, Hunter Shinkaruk, Alexandre Grenier and Jake Virtanen. The team declined to resign veterans like Brad Richardson, Shawn Matthias and traded away Kevin Bieksa- leaving multiple open spots come October.
Ronalds Kenins was a huge surprise in the second half of the Canucks' season. He played like a true grit player and brought much needed physicality on the fourth line. Both Frank Corrado and Adam Clendening saw a handful of games and Hunter Shinkaruk had a solid first season of professional hockey under Utica coach Travis Green. In reality, all these players still need serious grooming before being impact players in the NHL but don't be surprised if you see Kenins, Vey, Corrado and Virtanen on opening night.
Are the Chris Higgins Trade Rumors Warranted?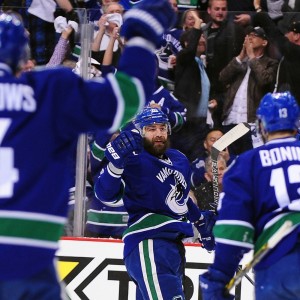 After the clouds seemed to pass post draft, the Canucks held their annual summer summit where season ticket holders were given an intimate chance to hear Canucks brass speak about the moves they made, where they were headed and field any questions fans might have. When Benning unveiled information that explained he had an opportunity to move Ryan Miller over Eddie Lack he was treated to raucous boos from fans. After the summit ended he and Trevor Linden took some select fans aside and had a deeper conversation. In that conversation it is believed the Linden revealed his attempt to move Chris Higgins out of town. This has been denied by Linden but if one were to look at the teams recent moves, players who apart of the Gillis regime have been systematically shipped out of town so why wouldn't Higgins be next? His $2.5 million contract for next season is a reasonable price for what could be a 45-point player.
If the Canucks Bomb This Year, Who Will Be Blamed?
Both Benning and Linden continue to say they think this is a playoff organization with a playoff roster, but besides Calgary's Cinderella story this past season, teams going into a youth rebuild typically don't contend for the playoffs with serious consideration for the cup. It seems Vancouver always has a scapegoat for it's woes. The goalies, the owners, the coaches, the general manager…
So if the Canucks fail to remain competitive in a tight Pacific Division who will be taking responsibility for not keeping their word?