Every year in the NHL we see no small number of complete surprises. Formerly unheralded players have huge coming out parties and establish themselves as new stars. Teams picked by experts and pundits to soar to the top of the standings falter early and never recover, disappointing their fans and surprising the league by missing the playoffs completely. On the other hand, sometimes teams left for dead in pre-season standings predictions will put a huge run together and sneak into the playoffs. The annual surprise stories are no small part of what makes being a hockey fan such a fun undertaking
Surely the 2015-2016 season is going to be no different. The NHL Entry draft is behind us. So is the bulk of the free agency period. The majority of the blockbuster trades there will be this offseason have already been completed. Basically, what we see now is what we're going to get in October. Sure, there will be a few more depth signings and maybe some minor trades, but the vast majority of player movement for the offseason is in the books.
That being said, we are now in the dog days of summer. The doldrums of the NHL offseason. There's not much to do for writers and fans alike to speculate and wonder about how the next season might unfold. So without further ado, here are my five bold predictions for what hockey fans may be treated to in what is sure to be a spectacular 2015-2016 season. I'll start with the Eastern Conference, and I'll follow it up with the same thing for the Western Conference in the near future, so stay tuned for that.
1. Cory Schneider will be the East's Best Goalie.
Now I know the fans in Montreal, New York, and Boston are breathing down my neck already for this one, but hear me out. This isn't a knock on Carey Price, Henrik Lundqvist, or Tuukka Rask. Cory Schneider really is just going to be this good in my opinion.
Here is an interesting visual at the performance of the East's goaltenders from this past season courtesy of war-on-ice.com.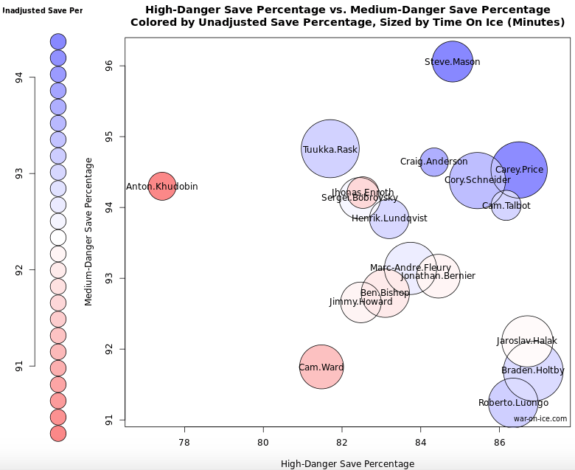 All of this data is from even strength play only. The X-Axis variable is high danger save percentage. The further to the right on the graph the goalie is, the better. The Y-Axis variable is medium danger save percentage. The higher up the goalie is, the better. The dots are sized by time on ice and colored by plain old even strength save percentage.
As you can see, Schneider performed extremely well last season. Price fared only slightly better all-around, and it took him having by far a career year to do so. Mason was far better on medium-danger shots, but Schneider was better on high-danger shots and carried a much heavier workload. Schneider was better than every goalie outside of Price (and arguably Mason) last season. The thing is that he didn't need to vastly outperform his career numbers to do what he did, while Price on the other hand did.
Again, this is no knock on Price. He was incredible last season and I fully expect him to be the favorite for the Vezina Trophy heading into next season. Price's career save percentage, however, is .919. Schneider's on the other hand sits at a sterling .925. Obviously Price won't regress all the way back to his career number, but expecting him to repeat last year's other worldly performance seems a tad unrealistic to me. Look for Schneider to turn in a better 2015-2016 campaign than Price just by the skin of his teeth.
2. Morgan Rielly will lead the Maple Leafs in points.
It's not very often that we see a defenseman come out on top as his team's leading scorer, but it does happen on occasion. Erik Karlsson is a solid bet to do it on a yearly basis in Ottawa if he remains healthy. Oliver Ekman-Larsson just did it for Arizona this year. I think we see the same thing from Morgan Rielly in Toronto this year.
One thing to keep in mind about this is that the Maple Leafs are going to be a very, very bad team next year. Additionally, the quality forwards that they do have will not be placed in very favorable situations to succeed. James van Riemsdyk should be reasonably productive, but with Tyler Bozak as his center and no Phil Kessel on his opposite side, is there really that much upside for JVR this year?
You could make a strong case for Nazem Kadri to take the Leafs' scoring title, but I personally don't really see it. He's never played 82 games in a season (though he did play the full 48 in 2013), and his past two seasons he's had 50 and 39 points. Even in the season where he did put up 50 points, he relied on a 13.5% shooting percentage to get him there. I estimate that Kadri and van Riemsdyk each finish with between 35-40 points. They're both better offensive players than that, but this is a team where they'll be sorely lacking the necessary offensive talent around them to hit their full production potential. This is especially the case if they are set to be on different lines as they have been for most of their tenures in Toronto.
Rielly on the other hand will get ample ice time with both Kadri and van Riemsdyk. He will also benefit from massive amounts of powerplay time. New head coach Mike Babcock will do everything in his power to ensure that Rielly has his big breakout season under his tutelage in his first year. Expect the highly talented defenseman to see top pairing ice time and top unit powerplay time. Rielly's skill set is drool-worthy, and as a 21-year-old in his third full season in the league, look for him to break out in a big way. I predict a 40-45 point season for Rielly in 2015-2016, assuming he stays healthy.
3. The New York Rangers will not win the Metropolitan Division.
This isn't really all that bold of a prediction, but the reigning President's Trophy winners definitely have to be considered the favorites to win the division heading into the season. I'm not buying it.
Say what you will about Martin St. Louis' lackluster performance in this year's playoffs, but he still put up over 50 points in the regular season. The Rangers will need to find a way to replicate that if they expect to be as successful this year as they were last year.
Further, how likely is it that Antti Raanta is capable of matching the contributions that Cam Talbot made as a back-up last season? Henrik Lundqvist isn't going to be playing 65 games per year anymore. Raanta will be expected to start 25 or so games. He was excellent over a very small sample size last season in Chicago, but the year before he wasn't nearly as effective. I expect this sharp downgrade in net for roughly a quarter of the season to cost them a few points in the standings.
Then there's the matter of possession. The Rangers' success last season was driven by a huge uptick in PDO, as their score-close corsi percentage was a highly mediocre 49.7%. Their even strength team shooting percentage checked in at 8.4%, while their even strength team save percentage was .932. Their 101.6 PDO was the highest in the league. That shooting percentage is especially troubling from a sustainability standpoint considering that the season prior they only managed a 7.0%. Expect them to find a happy medium somewhere in the 7.8-8.0% area this year that will cost them a few games.
All of these factors combined with the fact that each of Pittsburgh, Washington and Columbus will be drastically improved while the Islanders will be more developed leads me to believe that one of those four teams will overtake the Broadway Blueshirts as the regular season winners of the Metropolitan. I do like the depth signings the Rangers made, but they weren't able to add anyone who could combat the high-profile additions that their divisional rivals made. Though that isn't necessarily their own fault. Your guess as to which of those four teams it will be is as good as mine, but if I'm forced to call a winner I'm going with the Capitals.
4. The Florida Panthers will make the playoffs.
With all the talk about the Buffalo Sabres and the Edmonton Oilers and their respective stockpiles of high-powered youth, the Panthers often get lost in the shuffle. But with Dale Tallon at the helm, this has quietly been one rebuild that has been executed masterfully.
Allow me to run some names by you: Aleksander Barkov, Nick Bjugstad, Jonathan Huberdeau, Aaron Ekblad. In those four guys, the Panthers have set themselves up beautifully with a #1 center, a #2 center, a top line winger, and a future elite #1 defenseman. The group of youth that serves as depth to support that core is impressive as well. Brandon Pirri, Lawson Crouse, Reilly Smith, Erik Gudbranson, Dmitry Kulikov, and Alex Petrovic offer solid depth behind Florida's high-profile youngsters.
Not only is the young talent abundant in Fort Lauderdale, but there's a strong veteran presence in the locker room that offers a wealth of experience and championship pedigree. This comes in the form of Jaromir Jagr, Jussi Jokinen, Dave Bolland, Brian Campbell, Willie Mitchell, and starting netminder Roberto Luongo.
In my opinion, this is a roster that shapes up very nicely. I also like the prospects knocking on the door they have in Rocco Grimaldi, Quinton Howden, Vincent Trocheck, Ian McCoshen, and Michael Matheson. They've set themselves up very nicely for the long haul without turning very many heads in the process.
However, it isn't just on paper that this Florida team shows promise. They were an above average possession team just last year, and the 91 points they compiled in the standings is nothing to sneeze at. There's no reason at all to expect them to get worse and plenty of reason to expect them to get better. Further, the 98 points it took to qualify for the playoffs in the Eastern Conference this year was an abnormally high number. I expect both the Panthers to improve and the teams who finished above them to collectively regress.
I think Ekblad takes the next step and cements himself as an elite defenseman. Barkov, Bjugstad, and Huberdeau will all top 50 points. Jagr, Campbell, and Luongo will continue to be positive contributors and act as solid guidance for Florida's young stars. Their even strength corsi close last season came in at 50.8%, and with the development of the young players and the improvements to the roster, I fully expect that number to come up to around 52%. Barring an abnormally low shooting percentage, that combined with the steady goaltending of Luongo should be enough to push them into the playoffs. They may not be a big market team, but the Florida Panthers are definitely worth keeping an eye on in the coming season.
5. Noah Hanifin proves to be a top-pairing defenseman
The last two years have seen two highly regarded defenders go in the top five and immediately making the jump to being full-time NHL top four defensemen. In 2013, it was Seth Jones who went 4th overall to Nashville and proved in camp that he was immediately good enough to play his way onto their roster. Then in 2014, the aforementioned Ekblad followed suit, except he was even better than Jones was right away. To the surprise of many, Ekblad proved immediately to be a legitimate number one defenseman in the NHL.
This year, the only defenseman to go in the top five of the draft was Noah Hanifin, at fifth overall to the Carolina Hurricanes. Looking at Carolina's roster, it's almost as if there is a Hanifin-sized hole in their defensive unit. That blank space comes right next to Justin Faulk's name. Faulk broke out in a major way last season, nearly hitting 50 points on a Hurricanes team that was nothing short of disgraceful offensively. For the long term, Carolina will need a left-handed partner for Faulk who can both skate and think the game at the same high level that he does to act as his defensive counterweight. This is exactly the player that Hanifin projects to be.
There is no single aspect of Hanifin's game that does not jump out to me as being NHL-ready. His skating is already well above average even for high-end blueliners. His transition game is top notch. His hockey smarts have been praised ad nauseum. His offense may be questioned by Craig Button, but he's pretty much the only one raising those questions. Hanifin's production rate as a freshman at Boston College was very impressive.
There is the possibility that he does return to Boston College for his sophomore season, but I personally find that to be an unlikely scenario. He doesn't have anything left to prove at the collegiate level, and his professional team has a wide open slot right beside a young top pairing defenseman. That certainly sounds rather tantalizing.
I'm not expecting an Ekblad-esque breakout out of Hanifin. I don't see him doing quite that well, but I think his rookie season performance will fall nicely in between that of Jones in 2013 and that of Ekblad in 2014. He'll immediately serve nicely as a #2 to Faulk's #1, and that pairing will help make the Hurricanes competitive again in the coming years.
* * * * * *
So there you have my five bold predictions for what we will see unfold in the Eastern Conference next season. Be sure to let me know in the comments what you think is going to happen that maybe most others wouldn't expect, or just let me know what you thought about my predictions in general. Thanks for reading.