A Breath of Fresh Air in DC
The Washington Capitals have had a busy summer and have made some significant changes over the past few months.  There is new life in an organization that had no real direction in the previous season.
With fresh faces on the roster and training camps opening up soon, there is speculation on how the Capitals will perform under new coach Barry Trotz.  Will Alex Ovechkin continue to be a 50-goal scorer under Trotz?  How productive will the young guys like Tom Wilson and Evgeny Kuznetsov become?  Will Braden Holtby re-discover his elite magic in between the Capitals pipes?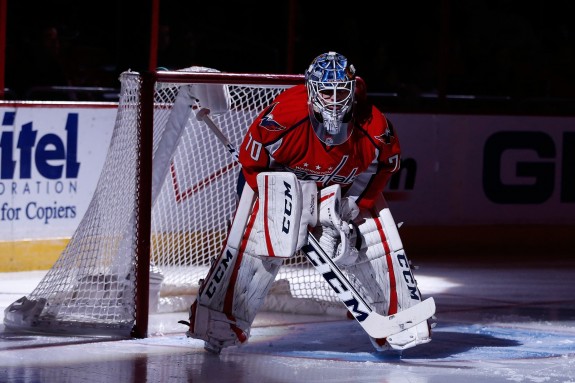 There is plenty of people speculating on how the Capitals will perform in 2014-2015.  I know what you are thinking.  You want to see someone make some bold predictions with the Capitals upcoming season.  What is going to happen this season?  Let me tell you what I think is going to happen.
Here are 5 bold predictions for the Washington Capitals in 2014-2015:
1) Alex Ovechkin will score 60 goals and return to being a plus player

I feel Barry Trotz can turn Alex Ovechkin into more of a complete player.  This will mainly focus on his defensive aspect of the game.  Alex will need to sacrifice a little bit more in the best interest for the team.  He will have to focus more on defensive assignments and a little attention to detail.  If Alex can do this, he should have better results in his offensive game.  Alex has the ability to excel in all areas of the rink, but he just needs to put some more time and effort into it.  Alex had a -35 plus/minus rating in 2013-2014, which is something he is not proud of.  Elite players know how to fix areas of their game.  Alex has the potential to come full circle and work on his defensive game and Barry Trotz is the guy to show him how to do so.
2) Tom Wilson will score 20 goals and still have 100+ penalty minutes

I am excited to see what Tom Wilson can do in a bigger role for the Capitals.  Wilson played the role of enforcer for the Capitals in 2013-2014, but he has shown that he can make some good skillful plays with his hands.  Wilson is a large intimidating skater who can be tough to play against.  He has the mold of a young Milan Lucic or David Backes.  The young Wilson is a power forward who needs to see some time with the Capitals top six forward group.  If Wilson sees a lot of time in the Capitals top six group, there is no reason why he could not chase the 20-goal plateau.
3) Mike Green will hit 20 goals and 45 points

It is possible that Mike Green could be placed on a third defensive pairing this season.  This should excite Capitals fans because this will create a possible matchup nightmare for the opposing club.  If Mike Green is unleashed and given the green light to be aggressive like he was under Bruce Boudreau, he should become one of the top producers on the Capitals blueline again.  Mike could have the opportunity to be on the ice against an opposing team's third and fourth lines.  If that is the case, he will be able to be creative and he will be able to push the pace on the ice.  I want to see Mike Green carry the puck in the offensive zone more this year.  He was prohibited from doing so under Adam Oates, but Barry Trotz should be able to play to Green's strengths.
4) Braden Holtby will hit 35 wins and have a 2.48 GAA and .924 SV%

Braden will be under the microscope this year to perform at a very high level.  A majority of the Capitals success will go through Holtby's performance.  Holtby needs to have a resurgence in his confidence that was mostly lost last season.  With Mitch Korn as his goaltending coach, there should be a reboot in Holtby's play.  With a better defensive core in front of him, Holtby's numbers should drastically improve.  Holtby knows he is the main guy in net and he knows he will be under a lot of pressure.  He also understands now that he does not have a main challenger for his time in between the pipes, which should automatically keep his confidence at a higher level.
5) Brooks Laich will score 25 goals

This is probably the biggest bold prediction of the group.  Brooks has been hindered by numerous injuries over the past couple of years.  He will be utilized in the Capitals top six at various positions.  The Capitals need production from Brooks and they desperately need his secondary scoring.  Brooks' health status will determine how well he performs in the upcoming season.  Hopefully this is a year where he can actually play an entire season.
Thanks for tuning in!
I am from Virginia. I am covering the Washington Capitals for The Hockey Writers. I love to write and I am a huge sports fanatic – especially hockey. Follow me on Twitter: @Canucksfin56