Back to Square One
As mentioned here yesterday, Raffi Torres is far from a goon, and the San Jose Sharks will sorely miss the 31-year-old's physicality and scoring ability. The news broke Wednesday that the veteran winger is back to square one when he tore his ACL last September. The injury occurred in an unfortunate but accidental collision with Anaheim Ducks forward Emerson Etem during the preseason. A recent procedure cleaned out an infection in the previously surgically repaired right knee. However in doing so, the original surgery must now be repeated. The Sharks have set no time table for his return but it sounds as if a January return date would be optimistic.
Through a team press release, GM Doug Wilson discussed the details:
"Raffi recently underwent a surgical procedure in Toronto to alleviate an infection in his previously surgically repaired right knee. The procedure involved removing the graft previously implanted in his repaired knee in September 2013 .Raffi has started a rehabilitation phase, but will need to repeat the surgical procedure to repair the ACL damage suffered on Sept. 20, 2013. We expect Raffi to return to the team during the 2014-15 season but no official timeline for his return is being set at this time."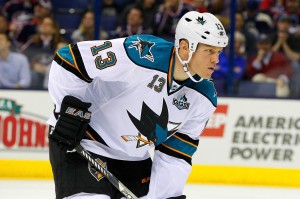 No Torres Nor Burns Up Front
As many have already pointed out, the loss of Torres combined with the move of Brent Burns to defense makes the Sharks forward group look rather vanilla. When it comes to creating turnovers on the fore-check with aggressive pressure, these two are absolute dynamos. Over the past three seasons, San Jose was most feared down the stretch of the 2012-13 season. At that time they were featuring the following top three lines:
T. J. Galiardi—Joe Thornton—Brent Burns
Patrick Marleau—Logan Couture—Martin Havlat
Raffi Torres—Joe Pavelski—Tommy Wingels
If it weren't for an injury to Havlat, suspension of Torres, and the subsequent move of Pavelski to wing (almost always the wrong choice), there is a good chance these Sharks could have been the team to break through and win the Stanley Cup.
But without Torres and Burns, and San Jose's inexplicable miscasting of Pavelski as a top line winger, the Sharks current projected top three lines look like the following:
Tomas Hertl—Joe Thornton—Joe Pavelski
Patrick Marleau—Logan Couture—Matt Nieto
Tyler Kennedy—James Sheppard—Tommy Wingels
The top two lines are fantastic, but the third is a far, far cry from what they featured in the spring of 2013. Not only does Pavelski's presence turn a third line into a first line quality unit but Torres provided the finishing touch.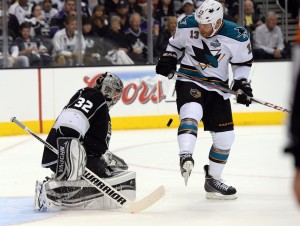 Considering the Sharks have failed to add any new forward talent this offseason, it is almost impossible to envision the current Sharks forward group being good enough to win the Stanley Cup. Even if the coaching staff does the wise thing and play Pavelski at center, it still might not be enough.
Tomas Hertl—Joe Thornton—Tyler Kennedy
Patrick Marleau—Logan Couture—Matt Nieto
James Sheppard—Joe Pavelski—Tommy Wingels
Rolling out the lines in this fashion would give San Jose the ability to roll three scoring lines but Kennedy and Sheppard are nothing compared to what Burns and Torres provide. After missing nearly all of last season and playing hurt in the playoffs, it's certainly possible that Sharks won't get anything out of Torres.
Counting on Sheppard
If there is one individual currently on the Sharks roster that could provide something of a fill in for Torres, Sheppard might be the best bet. While the Sharks seem to believe he is a capable third line center, the fact of the matter is the Sharks were 2-0 against the Kings last spring when he played left wing alongside Pavelski. When he centered the third line they were 1-3. Sheppard is not a good center but he can be a really good bottom-six winger.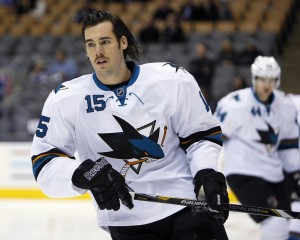 Even though Sheppard put up some nice point totals down the stretch of 2013-14 as a center, (9p in final 17g), his season face-off percentage was an abysmal 45%. Not to mention an eye ball test indicates the scoring was very opportunistic. His line actually spent a lot of time defending their own zone. The playoffs were more of the same. Yes Sheppard's six points in seven games looks fantastic but the short sample size doesn't mean a whole lot. Los Angeles was sloppy in the first two games and Sheppard benefited considerably from Hertl's on ice wizardry.
Contrary to popular belief, Sheppard played his best hockey last season on the wing. Arguably his best performance came in a 2-1 win against Chicago on February 1st. Sheppard didn't get on the score-sheet that night but it was the start of four strong games in a row (at left wing) leading into the Olympic break. After three of the four games (in which the Sharks went 3-1) I asked Sharks head coach Todd McLellan about Sheppard's strong performance. During his final post-game presser before the break, coach jokingly asked me if I was going on vacation with the Nova Scotia native.
At 6'1" 215 Sheppard is a big body that works well along the boards and on the periphery (where wingers often play). When on his game, Sheppard does a solid job shielding off defenders. One could say he is kind of like a poor man's Ryane Clowe with more speed than the former Shark. Obviously Sheppard doesn't have nearly the same finishing ability that Clowe brings but if next to Pavelski, a 30 point season wouldn't be out of the question.