When the 2013-14 season ended for the Winnipeg Jets, head coach Paul Maurice stressed fitness will be a vital part of training camp for the upcoming season.
"One of the areas that we will look to improve in is our overall group fitness, to be on that track, and I'm going to tell them, 'I want you to be prepared for a tougher training camp perhaps than you're used to. " Maurice told Kirk Penton of the Winnipeg Sun last April.
Changing The Culture
There were moments during Claude Noel's tenure as head coach that the Jets culture resembled a country club type atmosphere. Too many players making the same mistakes over and over again. Maurice has vowed to change the culture in the room, making the Jets a much more difficult team to play against on the ice, while remaining a tight-knit group off the ice.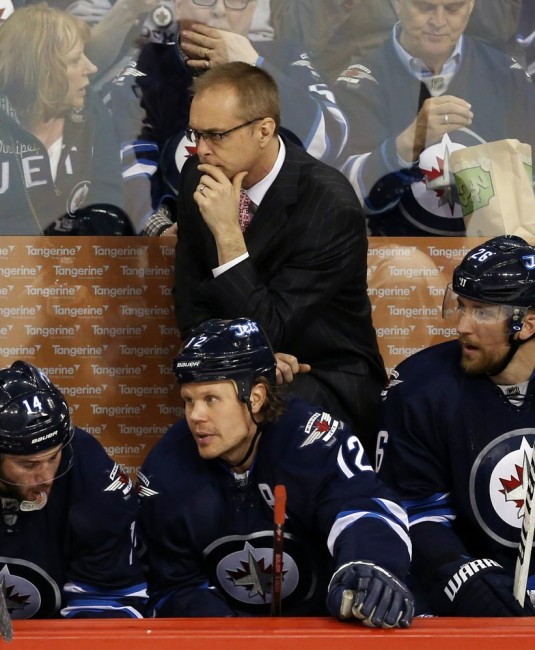 Maurice may have to channel Sgt. Hartman, the brutal drill instructor in the movie Full Metal Jacket, (great film by the way) but he also needs to remember he has a young group that can be fragile. Maurice will need to hone his authority in order for the Jets to play a fast, smart game he requires from his troops. Which means there is a time to scream and curse at his charges, as well as a time to teach and nurture his players.
Evander Kane on Team 1040: Paul Maurice was great when he came in. He brought a different mentality, intensity to #NHLJets.

— Chris Nichols (@NicholsOnHockey) August 20, 2014
Cheveldayoff Needs To Be Active
But it just isn't the players that need to step up their game. Management also needs to step up its game. The excuses are no longer valid for general manager Kevin Cheveldayoff. He needs to put his stamp on the team and decide which direction he wants to steer the Jets. Since the franchise moved to Winnipeg, Cheveldayoff has preached the Jets will use the draft and develop system to build the club. In theory, that makes sense. However, his actions have said otherwise. Cheveldayoff has actually traded away more draft picks, than acquired them through various transactions. This includes the misguided acquisition of Devin Setoguchi from the Minnesota Wild for a second round pick in the 2014 NHL draft. It should be noted that Cheveldayoff has yet to make a player for player trade since he's been on the job in 2011.
Kevin Cheveldayoff has completed only 5 trades that brought his team a player that played in the NHL for them. http://t.co/CmXOVDJFWH — Adam Gretz (@AGretz) August 4, 2014
What Did Chevy Do Today
The lack of activity from Cheveldayoff has not gone unnoticed. Some Jets fans have gone to Twitter to voice their frustrations. A hashtag called #WhatDidChevyDoToday has been a standard amongst the frustrated faithful.
Gave one of his best players a one year deal so he could walk next July #whatdidchevydotoday

— Ian Dmytriw (@IanDmytriw) July 29, 2014
@arby_18 realized 5 year plan was far too ambitious.sold tn on 7 year plan. #whatdidchevydotoday

— Birdman (@birdman2600) September 18, 2013

While Mathieu Perrault is a nice addition as a third line centre,  the Jets didn't change the core of its roster, nor did they stockpile draft picks in the form of trades. These lack of changes, which includes giving rugged winger Chris Thorburn a questionable three-year contract extension, has led some to believe the Jets are tanking this season in hopes of landing prized prospect Connor McDavid.
Some national outlets have suggested this notion. The Score's Justin Bourne is one of those voices as well as Down Goes Brown's Sean McIndoe. While McDavid would certainly help the Jets next season, there is no guarantee that the Jets will be a lottery team. Granted, this team won't make the playoffs playing in the ultra tough Conference III, but a lottery spot might be difficult to procure as well.
I feel like this is gonna end poorly. RT @TrendsWinnipeg: Justin Bourne, @jtbourne is now trending in #Winnipeg http://t.co/XYndQnOq4S

— Justin Bourne (@jtbourne) August 11, 2014

This season is a critical one for the Jets. If the franchise remains mired in another season without a playoff berth, changes are absolutely necessary. Players who don't perform up to standards will need to be moved. But change might need to happen on the management side as well. One coach has already been shown the door. Maurice did sign a four-year deal to coach the Jets so his job his safe. That means Cheveldayoff could be on the firing line. For Chevy, he needs to make a plan and stick with it. Or he could be the one that could be shipped out of town.