Despite solid gains in recent years, hockey is still an underrated sport, at least in the United States. Nobody reading this piece has to be convinced of the sport's unparalleled combination of speed, skill and physicality, but of course we're already sold.
That being said, there are millions out there in need of a gentle nudge or two (if not a full speed body check) to get them into the fold. To that end, clever and creative advertising efforts have been produced to do just that. As a result, there are plenty out there to choose from for a piece regarding the funniest hockey commercials ever made.
Hockey commercials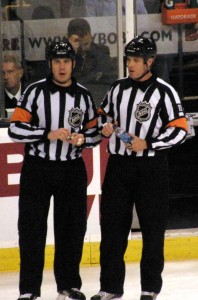 The need to grow a business is why marketing exists, and hockey is no different in that regard. Happily, its collective advertising portfolio features some of the most creative, imaginative sports-related commercials ever to hit the airways.
Almost exactly two years ago, I wrote a piece about ten of the greatest hockey commercials of all time. This time around, I'm going to focus solely on some of the most humorous commercials hockey has ever seen. So not to cannibalize my previous article, I've chosen not to include any of the commercials I featured the last time around.
So sit back, relax, and be prepared to enjoy some of the very best television commercials the sport has ever produced. And watch out for a body check or two along the way.
#5: "Bowling would be better if it were hockey"
This is one of those commercials that's almost understated in its brilliance. Particularly clever is how the announcers not only capture the essence of bowling perfectly, but don't flinch one iota when the one chick body slams the other:
If only bowling were hockey.
#4: "We couldn't put the Cat in the Hat"
Another simple-yet-effective bit of advertising. Everyone can relate to a post-game press conference filled with clichés, and like most good satire, it gets weirder and weirder as it goes along.
Gotta love the fedora.
#3: "That was a clean hit"
Commercials involving girls and bikinis rock on principle, but what the gal in the red does to the one in the pink is another form of rocking altogether.
The guy who wrote the Oh, Yeah" song must be a multi-millionaire by now.
#2: "Never leave early to beat traffic"
I love those Boston Bruins commercials. A perfect setup: some pinhead in a suit on his cell phone, leaving a game during overtime, and what's standing there at the bottom of the escalator to greet him? Blades the Bruin, that's who.
Blades "introduces" the guy to a window. Moral of the story: never leave early to beat traffic.
#1: "That wasn't offsides!"
I can't give this one away. It's one of those commercials you need to watch without a setup. One small hint: everyone would love to see this actually happen.
It almost makes you want to go out and take a swing at a ref yourself.
What about you? Can you think of others that you believe belong on the list of the funniest hockey commercials ever made? Feel free to add your thoughts below, or tweet me @McLaughlinWalt.