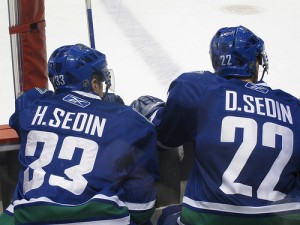 Here at The Hockey Writers, everyone is  impatient for the millionaires and billionaires to quit bickering over relative nuances over how to divide a $3.3 billion pie and get back on the frickin' ice.  We are as ardent a collection of hockey nerds behind keyboards as any group of nerds behind keyboards there is, but we're getting sick and tired of waiting for this interminable impasse to end. Something has to give, lest we explode.
When in doubt, turn to television. It's a scientific fact that alpha waves decrease while watching it, rendering us somnambulent drones. Short of an alcohol-induced stupor, maybe that's exactly what our frustrated souls need right now. Thus, that's the subject of this piece: great hockey commercials. You'll recognize some, laugh at others and otherwise enjoy the ten advertisements featured below.
#10: Loser, loser, best baby in the world!
Wouldn't it be great fun to do what this guy is doing in this Verizon Wireless commercial? We all think our progeny is vastly superior to the rabble. Why not loudly proclaim it while banging our palms on the glass? This guy should be slamming it about five times as hard, but other than that, he's a convincing rendition of a loutish hockey fan.
#9: Love hurts
Ordinarily, you couldn't turn the dial fast enough to extricate this song from your radio. It's that bad. And yet, strangely enough it works for this commercial. The addition of Morgan Freeman's soothing voice at the end probably helps.
#8: He shoots … he scores!
Even if we're not Canadian, every single one of us can relate to this video. How many times have we said "He shoots, he scores!" in one rendition of our hockey experiences or another, whether as a kid holding a stick, playing a video game or drunken frat boy impromptu hockey games. Growing up as a Kings fan, I must have heard Bob Miller utter that very phrase a thousand times over the years. Great music, too — reminds me of that Irish jig guy.
#7: Smile!
We can all relate to this video, too, at least up until the point that she flashes her pearly whites. Who'd have thought that an Australian ice hockey team called the Gold Coast Bluetongues would have such a clever marketing group? The fact that hot babes exist down under, on the other hand, isn't so surprising.
#6: Don't fence me in
This one reminds me of the battles Peter Griffin and the chicken have on Family Guy.
#5: Big fat goalie
Actually, I've always wondered why an NHL team couldn't put a huge, Sumo wrestler-type dude in net to block 90% of it with his massive girth. They have near-zero mobility, of course, but try putting the puck past that much goalie on the hoof.
#4: Never date within the division
I remember seeing this one when it first came out. I was watching a random Bruins game on Center Ice, and thought the initial close-up of the bear was priceless. The only thing better than the ending in this clip would have been had the bear actually mauled the poor doofus.
#3: Ovechkin!
Isn't this pretty much what happened in the 1998 Nagano Olympics? Where's Keith Tkachuk when you need him.
#2: Swedish twins
This may not help them shake the derisive "sisters" comments some make about the Sedins, but you have to give them credit for making one of the funnier hockey commercials you'll ever see. Check out the guys taking off their wedding rings, unbuttoning shirts, etc., only to see a smiling Daniel and Henrik at the door. The guy hits the music, and they start to dance! Hilarious.
#1: Amigos versus Generals
You'd have to be a heartless so-and-so not to like this one. Imagine being a 30-something beer league hockey player playing a for-fun game and suddenly seeing a crowd pour into the arena, with ice girls, tee shirt cannons and what appears to be the San Diego chicken in tow. And, true to form, the game goes to overtime where the home team Generals win it on a slapper from the slot, 4-3. After the game winner comes a shower of confetti.
Awesome commercial.