John Tavares and Steven Stamkos have a lot in common. Both are young superstar centers that were drafted first overall in their draft classes to struggling teams. Stamkos was drafted first overall in 2008 and Tavares first overall in 2009. In addition both players were the big pieces to the puzzle of reviving their struggling franchises on the ice. Stamkos and Tavares both did just that. They both are the top centers for their clubs and both wear the number 91.
Both players are known for their offensive capabilities and not so much what they do without the puck. When you talk about the top faceoff guys in the league you do not hear Stamkos or Tavares mentioned, it is an area they both can still improve on. The similarities do not end there. Both are from the province of Ontario and have had their names rumored to Toronto by the media at one point or the other in their careers. Did I mention Stamkos and Tavares are coming off injuries that kept them out of their respective lineups last season for substantial periods of time? Stamkos broke his leg, and in particular his right tibia, in November during a game against the Boston Bruins. Tavares suffered a torn MCL in his left knee at the Winter Olympics.
As good as these two are they are both returning to top form still. Stamkos has 1 year remaining on his current contract after this season and Tavares has 3 years remaining. Toronto fans should not get their hopes up of a homecoming any time soon however. Both of their current teams know these two are the franchises most important players and will do whatever it takes to make sure they are happy and stay where they are. It's not like their current situations are too shabby either. Let's take a look at why their current teams are off to a hot start and preview their matchup against each other on Saturday night.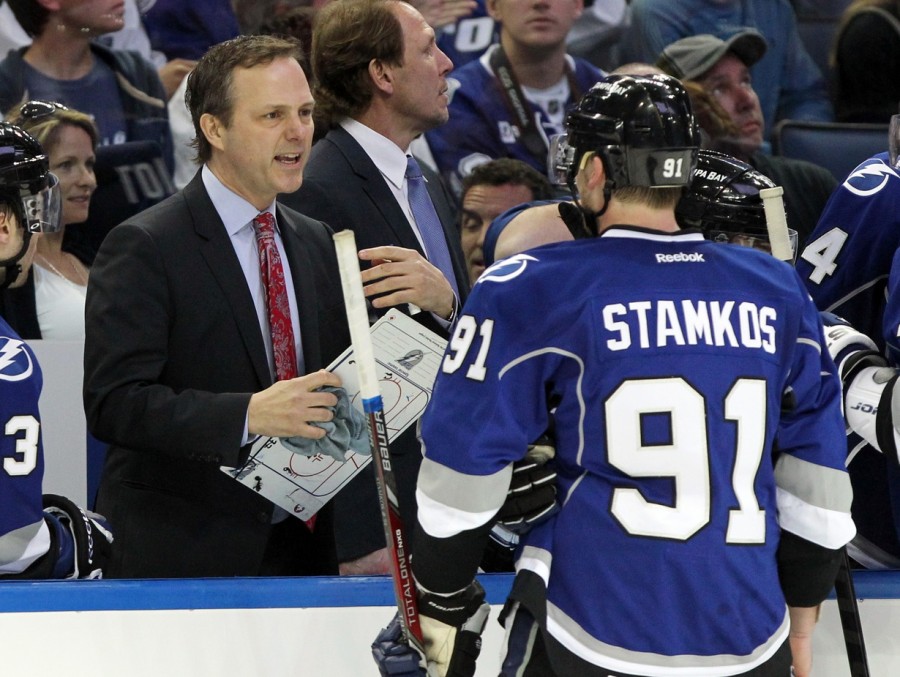 Tampa Bay Lights Up the Score Sheet
Stamkos' Tampa Bay Lightning currently sit second in the Atlantic Division with a record of 11-4-2. This is without their best defenseman in Victor Hedman and without Stamkos even playing on their most consistent line. The team has young guns galore in Tyler Johnson, Ondrej Palat, Nikita Kucherov, Cedric Paquette, Vladislav Namestnikov, and Jonathan Drouin. It's almost an embarrassment of young talented riches. Not to mention Anton Stralman has been better than advertised after being signed this offseason along with Brian Boyle from the New York Rangers. Stamkos has no reason to go anywhere because the Lightning are building a serious cup contending team of the future, where the future could even be now.
NY Islanders Most Improved Team in the East
As for Tavares, while his current team is not becoming the offensive juggernaut that Tampa Bay currently boasts, their future is beginning to look bright as well. Just like the Lightning, the Islanders had a great offseason. First they added a goalie capable of keeping them in games in Jaroslav Halak. Then out of nowhere it seemed they added Nick Leddy and Johnny Boychuk. These two defenseman changed the entire outlook of the 2014-2015 New York Islanders. Both players are getting more ice time then they were getting with their old clubs. Leddy has the talent of a 1st to 2nd defense pair player in the NHL, but was seeing 3rd pairing minutes on Chicago's stacked blueline. Boychuk, a hard hitting defenseman with a very good shot, has 11 points in 15 games this season and is a +6. Leddy, the fast puck-moving defenseman, has 7 points on the season and is a +7. Add that with the emergence of Kyle Okposo from last season and the emergence of Brock Nelson this season and the Islanders (11-5-0) equally hot start to Tampa Bay is not so surprising after all.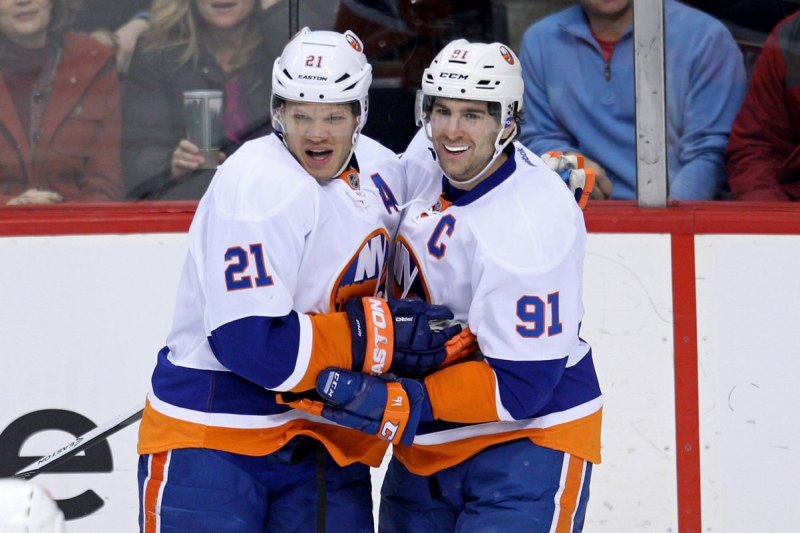 So Which Player is Better?
That is tough to say at this point in their careers. If you are a fan of the Tampa Bay Lightning you say Steven Stamkos. If you are a fan of the New York Islanders you say John Tavares. If you are not a fan of either team you might not know. If I was starting an NHL franchise today and I had to choose between the two players it would be a very tough decision. If you go based on goals and points then on paper the choice would be Stamkos. Stamkos has better point production and 2 Maurice "Rocket" Richard trophies to his resume, when he tied with Crosby for the league lead with 51 in 2009-2010 and led the league with 60 goals in 2011-2012. Stamkos has enjoyed 3 seasons in his career of 90 plus points while Tavares is yet to eclipse the point per game mark. Tavares had his career high in points the same season as Stamkos in 2011-2012 when Tavares put up 81 points to Stamkos' 97 points. Tavares was on pace to set a career high last season in points before his injury at the Olympics. John Tavares I would say is a better passer then Stamkos and has more of that Sidney Crosby affect then Stamkos, where Tavares significantly makes all players on his line better.
Look for the matchup of Stamkos against Tavares on Saturday night as both lines will likely matchup with one another. That should be interesting to see. Stamkos has 11 goals and 7 assists this season for 18 points and Tavares has 7 goals and 10 assists for 17 points. Both players are averaging just over a point per game. The Lightning have more depth at forward, but I like the Islanders defense right now over Tampa Bay's. I think the Islanders have a little more grit to their overall game, but I see the Tampa Bay Lightning winning at home on Saturday night 4-2. This game will come down to special teams. The Lightning boast a power play that clicked at 23.3 % this season, and that will be a tough test for the Islanders penalty killing unit which currently is 28th in the NHL with a 74.1% success rate. As for the Steven Stamkos versus John Tavares debate, both players are only 24-year-old so I believe who is a better hockey player is yet to be seen.