The Stars closed out 2014 on an emotional high winning 7 of their last 8 games. For the first time since last season's stretch run there is a buzz around town about the organization. Still 6 points out of a playoff spot, the Stars are now 17-14-5 on the season.  Recently the Stars seem to have solved or at least mitigated many problem areas.  Let's take a closer look at 5 keys to the Dallas Stars success in 2015.
Defensive Zone Coverage
Efficient puck movement out of the defensive zone is one of the key elements to coach Lindy Ruff's system. That, along with the wish to balance out his left-handed vs. right-handed defensemen led to the trade of Brenden Dillon to the Sharks for Jason Demers. It also changed the physical dimensions of the defense. While Demers is a considerably better puck mover than Dillon, he's also smaller in stature. Demers, 26 years old, is 6'1 195 lbs while Dillon, 24 years old, is 6'3 225 lbs. Even before the trade the Stars were lacking size on the blue line.  Rookie Jyrki Jokipakka is the only member of the Stars top 6 that tips the scales over 200 lbs, at modest 210. Stars 2011 1st round pick (14th overall) Jamie Oleksiak is a giant at 6'7 250 lbs, but in 46 games spread over the course of 3 NHL seasons he has yet to firmly assert himself into the Stars lineup. Veterans Trevor Daley (5'11, 195) and Alex Goligoski (5'11, 185), along with Jordie Benn (6'2, 200) in his 2nd full season and rookie John Klingberg (6'2, 180) make up the rest of the Dallas defense. While Daley, Goligoski and Klingberg are all at least average to above average puck moving defensemen none of them strike fear in opposing power forwards. Meanwhile the only imposing part of Jordie's game this season has been his beard. Perhaps shaving the Duck Dynasty look back down to a simple goatee will help him find the consistency he displayed last season.
Jordie Benn is developing into a nice defender independent of his brother Jamie (Jerome Miron-USA TODAY Sports)
Simply put the Stars lack a strong physical presence on their blue line. Being in the Western Conference the Stars often compete against the giant power forwards of Anaheim, San Jose and Los Angeles.  Therefore they must rely on their intelligence to play the angles correctly and get sticks into shooting lanes.  Also, the Stars forwards must be in the right place defensively and ultimately Kari must come up big when there are breakdowns.  Of course, if all else fails General Manager Jim Nill won't be shy about making a trade. There is no doubt, he very much covets the ever elusive number 1 defenseman. However, I don't think he'll be able to add one before the off-season.
Health
The Stars are near the middle of the league in terms of Man Games Lost due to injury in 2014-15.  According to stats from mangameslost.com as of December 30th, the Stars rank 12th out of 30 NHL teams with 96 Man Games Lost due to injury. Rookie defenseman Patrik Nemeth and second year power forward Val Nichushkin rank 1st and 2nd in individual Man Games Lost from the start of 2014 with 29 and 28 games lost. Add another 12 Man Games Lost for depth forward Patrick Eaves and you start to realize the Stars have been somewhat fortunate in terms of health in 2014-2015. After a long off-season contract negotiation, Cody Eakin had a slow start to the season, but to date he's only missed 3 games.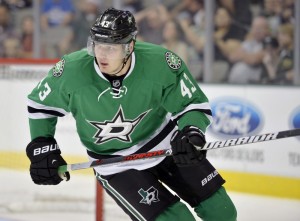 Nemeth's injury was due to a nasty accidental skate cut on his arm. He is unlikely to be back this season though he was only expected to play a depth role on defense. Nichushkin's loss on the other hand has affected the team. It was just over a year ago, after seeing Nichushkin play as an 18-year-old rookie, Devils beat writer Tom Gulitti reported, hockey legend Jaromir Jagr predicting Nichushkin would one day be "the best player in the NHL". Nichushkin had hip surgery in November and while he has been back in meetings and working out with the team, there is no set timetable for his return.
Finally, it's no secret that Alex Goligoski has played with some type of lower body issue. Ruff and the coaching staff will have to continue to monitor this as they can ill afford to lose Goligoski for any significant length of time. So far the Stars have been lucky enough to avoid the unusual "Mumps" epidemic that has swept across the league. If the Stars can avoid any other significant injuries and possibly get Nichushkin back for the stretch run they could be primed for deep playoff run.
Roussel-Eakin-Garbutt (aka The Pitbull line)
Let's face the facts.  When it comes to the Stars forward lines we know Tyler Seguin, Jamie Benn and Jason Spezza will be the most productive players.  However, perhaps the most important trio in my estimation is the Roussel-Eakin-Garbutt line.  When they are on their game they can match up with any line in the NHL. All three have excellent speed, and play with an in-your-face edge that gets opponents off their game. The Pitbulls as they are affectionately known also all have 20+ goal potential. They are truly an all-purpose line that can provide energy, shutdown opposing top lines, and contribute offensively.
Antoine Roussel has clearly developed into a fan favorite. The "Undrafted" 25-year-old from Roubaix, France plays much bigger than his 6 ft 200 lbs frame. Roussel's game has steadily progressed since he broke into the league in 2012-2013 with the Stars. Both the Bruins and Canucks gave up on Roussel as a minor league player. Despite his size Roussel will and has fought anyone who wants to drop the gloves. He had 14 goals and a whopping 209 PIM's last season. This year he has 8 goals and 80 PIM's in 35 games. The rare combination of goal production and PIM's has made him a rising star in Fantasy Hockey circles.
Cody Eakin is like the character who played "The Wolf", in Pulp Fiction. He can fix any problem. He wins face-offs, kills penalties, and can fill in on the 1st line (with Benn and Seguin) if they need a jump-start. Like Roussel, Eakin plays well above his size. The 23 yr old is 6ft 190 lbs and hails from the hockey loving city of Winnipeg, Manitoba.  As previously mentioned, he got off to a bit of a slow start this season, but seems to be finding his groove.  Eakin has 8 goals and 9 assists after 34 games this season.
Last two games, Cody Eakin has been the hardest working man on the ice. #GingerNinja

— Bruce LeVine (@BruceLeVinePuck) January 1, 2015
At 29 years old, Ryan Garbutt is the elder statesmen of this trio. Garbutt also hails from Winnipeg and like his two linemates Garbutt is 6ft and 195 lbs. Another "Undrafted" gem, Garbutt played his amateur hockey in the Ivy League for Brown University.  After a few seasons of minor league hockey and limited ice time with the Stars, Garbutt burst onto the scene last season with 17 goals in 75 games.  Garbutt like Roussel plays with a nasty edge (106 PIM's last season) but sometimes crosses the line. The NHL Department of Player Safety has suspended Garbutt on multiple occasions.  Surely we hope Garbutt can leverage his Ivy League intellect to adapt and eliminate the occasional reckless play.
Kari Lehtonen
Goalie Kari Lehtonen is a former #2 overall pick of the Atlanta Thrashers (now Winnipeg Jets) in 2002. Lehtonen now 31 years old, hails from Helsinki, Finland. This is Lehtonen's 6th season with the Stars. At 6'4 and 215 lbs Lehtonen covers a lot of the net. He is also athletic enough to make acrobatic saves.  His 230 career wins rank 8th among active NHL goalies and tied for 58th All Time with legendary Bruins goalie Gerry Cheevers and just 1 behind the great Chico Resch. Despite the regular season success Kari has only had 8 career playoff appearances and was a sub par 2-6 in those games (To be fair, 2 of the losses were back when he played for a weak Atlanta team). Along with the lack of playoff success, Kari's durability has come into question from time to time. In 10+ seasons in the NHL, Kari has only played more than 59 games 3 times. This season the Stars backup goalies have struggled so it will be critical that Kari avoids any significant injury time. To the Dallas fans, Kari has been often a "Romo-like" lightning rod widely criticized and held accountable for team results. As a goalie or quarterback for that matter, the expectations come with the territory. Perhaps 2015 will be the year Kari Lehtonen and Tony Romo silence the critics.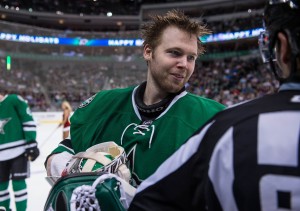 Special Teams
In the current salary cap era the margin between winning and losing is very small. On the season the Stars rank 7th in the league in average goals scored with 2.94 per game, but are 28th with 3.25 goals allowed per game. The tight scoring puts even more emphasis on power play and penalty killing success. The Stars power play is currently ranked 22nd in the league at 16.8%. However, recently they have trended over 20% on the PP. The Stars have too much fire power with Tyler Seguin, Jamie Benn and Jason Spezza for this number not to continue to rise. In recent NHL history some teams have been successful despite having a weak power play. However, in a season where 3.23 goals per game leads the league, an effective power play can only help.
Meanwhile effective penalty killing is critical for regular season and playoff success. As current St. Louis Blues and former Stars coach Ken Hitchcock recently pointed out in an interview with the Canadian Press,"I've seen a lot of (teams) who have had bad power plays do really well in the playoffs, but I've never seen any team play worth a damn if you can't kill penalties."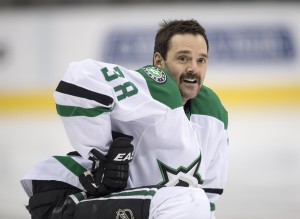 Currently, the Stars PK ranks 21st in the league at 79.2%.  Ideally the Stars want to get close to the 82-85% range to have a top 10 PK.
As the old hockey adage goes, good penalty killing starts with the goaltender. Therefore, Kari needs to set the tone and rely on his teammates to win key face-offs and clear loose pucks. Veteran Vern Fiddler has excelled at face-offs with a 53.0% overall success rate and a whopping 49 out of 70 shorthanded face offs won. Cody Eakin is also above 50% on shorthanded face off wins.
Of course, strong attention to detail and disciplined play should also cut down on opposing power play opportunities.