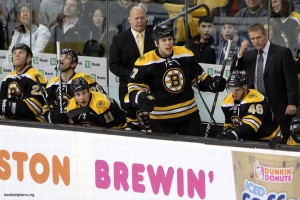 After Saturday's 3-2 overtime loss to the Ottawa Senators, Boston Bruins coach Claude Julien stressed that the team's effort overall in the past two games was good enough to win. In fact he said that, in some variation, five different times throughout his less than five-minute press conference.
"It was good enough that we could've won a game," said Julien. "We're not winning those and it's frustrating for everybody, including you guys, so I know we can nitpick every little detail of our game, but you know we've played the last two games well enough to win."
In some capacity, Julien is right. The Bruins have four losses in extra time, either overtime or a shootout, in their last ten games. An additional two games went to overtime, which the Bruins won. That means that four games in their last ten were decided in regulation. The Bruins record in those four games? 2-2.
But can Julien really say that the Bruins effort is good enough to win hockey games when they're not winning hockey games?
"They're not perfect, but they're good enough to win," said Julien. "I think that's where I'm going to be careful with how I talk about this thing with you guys and with the team, because you know we're working hard. We still have some areas we got to get better at. We still forced some plays that ends up giving us some issues, but you know overall, I thought the effort was good."
It's not just Julien who thinks this way, either. Most of the Bruins truly think that they're playing well enough to win hockey games. It's weird to hear because for what it's worth, it seems so off. The Bruins currently sit outside of the playoff bubble with games in-hand. The team finally has a full lineup but still, the Bruins look like a team that regressed more than anything. And on top of that, they're picking up loser points. Going back to that stat mentioned earlier, the Bruins only have two regulation wins in their last ten games. That's not very good.
"No reason for any excuses," said David Krejci. "You get the lead, two to one at home, division game, just keep the puck away from our net and we didn't do that. Could be questionable calls or not, it doesn't matter the ref still calls it. Still, we stuck with it and killed a big one but bad bounce and nothing you can do about it. "
The Bruins are playing well enough to stay in games, but not well enough to win them. So maybe the effort is there but the finish isn't. The Bruins are saying the same thing game-to-game, but it's still not resonating.
"I think we all need to produce," said Brad Marchand, who scored one of the Bruins two goals on Saturday. "The effort is there every night, but right now we need results. So every night we need everybody to step it up and play their best."
So, who's right? No one, really. Claude Julien and the Bruins can talk about how their effort is "good enough" all they want but until they start getting the wins to show for it, it doesn't matter. It's the equivalent of the participation award in youth sports. The mindset of the Bruins is that they're trying and that should be good enough. It's not. The Bruins are seriously in danger of missing the playoffs for the first time since the 2006-07 season and have most definitely lost the moniker of being the dangerous team they once were.
"You're going to say, 'well maybe it's not perfect,'" said Julien. "Every team has the same issues except when you win a game you pack your bags, and you leave you're happy.  When you don't then, you critique every little area of your game. So right now, the effort of the team is there overall throughout our whole game. Good enough to win hockey games, little things right now are what we need to do a little bit better in order to turn those overtime losses into victories."
Unfortunately for the Bruins, it takes more than just playing "good enough to win" to be a successful hockey team.
Follow Mike on Twitter for more Bruins news, updates, and commentary.
Mike Miccoli covers the Boston Bruins for The Hockey Writers and has been a credentialed member of the media for all Bruins' home games for the past five years. As a former player, coach and official, Miccoli has been around the game of hockey since the age of three. Along with his work on THW, Miccoli has also been published in the New England Hockey Journal, Improper Bostonian magazine and on BostInno.