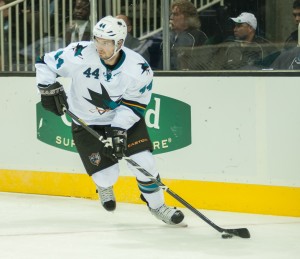 There has certainly been a lot of negativity surrounding the Sharks in recent weeks. Losing eight out of their last eleven games and falling out of the playoff picture will do that to a club. However, they are still just a couple points out of the playoff spot and would have a great chance to get back in said picture if they were to acquire help by the March 2nd trade deadline. In the spirit of trying to up the mood, here is a look back at the five most exciting Sharks goals this season.
5. Marc-Edouard Vlasic OT Winner
https://www.youtube.com/watch?v=dlTIQvbpDqY
When Joe Thornton missed four straight games earlier this season the Sharks won two of them, both in dramatic fashion. Both game winning goals were scored late by Marc-Edouard Vlasic on back-to-back nights. This goal against Minnesota was on the second of back-to-backs, a bit of a softie by Darcy Kuemper but still a quality shot on net from Vlasic.
4. Marc-Edouard Vlasic Buzzer Beater
https://www.youtube.com/watch?v=bt6INFU9VSU
OK, so it wasn't exactly a buzzer beater like in basketball, but 4.5 seconds left to score a go-ahead goal in hockey is basically as good as it gets. This one from Vlasic was the more exciting goal because it was a significantly better scoring chance as Vlasic is a bit closer with his head up and multiple options at his disposal.
3. Patrick Marleau Last Minute Tying Goal
The Sharks were struggling to get back to form after that brutal stretch to start the season on the road. Losing to Florida at home in regulation would have been another tough loss but Marleau was there for the clutch tying goal.
2. Marc-Edouard Vlasic Tying Goal
Who would have thought Vlasic would appear three times on this list? Known as a shut down defenseman with limited ability in the offensive zone, Vlasic has been clutch this year. He may not have the puck handling skills of other elite defenseman but he knows where to be, makes great passes, and gets his shots through traffic and on net.
1. Matt Nieto Buzzer Beater
https://www.youtube.com/watch?v=1l3n_F5MFTs
No goal was more exiting than Nieto's game winner with just over 10 seconds remaining because it came after a breakaway. Marleau streaked in all alone getting fans juiced up, Tommy Wingels had a chance and finally Nieto buried the rebound for the game winner. No more thrilling end to a game than that.
Andrew has been credentialed to cover the Sharks since 2010 and the 49ers since 2012. He graduated with his BA in Broadcast Electronic Communication Arts in 2013 from San Francisco State University.